An Exploration of English Language Teachers' Strategies for Disciplining Unauthorized Behavior in Iranian Public and Private Language Schools
Marjan Vosough

English Department Sabzevar Branch, Islamic Azad University, Sabzevar Iran

Zohreh Nafissi

English Department Al-Zahra University, Tehran, Iran
Keywords:
Class Management (CM), Misbehavior, Private schools, Public schools
Abstract
In this article, an attempt was made to explore English language teachers' strategies for disciplining unauthorized behavior (misbehavior) in public high schools and private language institutes. To this end, two sets of general and specific teacher strategies for disciplining misbehavior were surveyed in two successive stages. First, American Teacher Strategies Questionnaire from the Incredible Years Programs (IYP) incorporation (2012) was examined to decide on the most appropriate teacher techniques for general Class Management (CM) scheme; secondly, teacher interview logs were used to decide on the specific CM strategies, which were characteristic of language classes. Then, a researcher-developed questionnaire with a five-point Likert scale was constructed and distributed among some fifty-five Iranian teachers from public high schools and private language institutes in four large cities in Tehran, Isfahan, and Khorasan Razavi Provinces, and their responses were analyzed using Multinomial Logistic Regression method. The findings showed that only seven strategies  could significantly differentiate language teachers' disciplining mannerism; three strategies in general CM and four strategies in specific CM for a language class were then interpreted. Finally, implications for discipline matters in formal and informal settings were critically discussed.


Downloads
Download data is not yet available.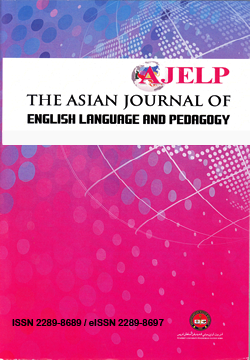 How to Cite
Vosough, M., & Nafissi, Z. (2018). An Exploration of English Language Teachers' Strategies for Disciplining Unauthorized Behavior in Iranian Public and Private Language Schools. AJELP: Asian Journal of English Language and Pedagogy, 6, 65-84. https://doi.org/10.37134/ajelp.vol6.6.2018