Profiles and Experiences of Drug Use and Criminal Involvement among Malay Offenders in Malaysia
Profil dan Pengalaman Menggunakan Dadah dan Keterlibatan Jenayah Dalam Kalangan Banduan Melayu di Malaysia
Keywords:
drug offenders, Malay, drugs, crime, experience
Abstract
The problem of drug use and crime worries many people as it threatens the well-being, harmony and security of the country and society. Over the years, this problem has been often associated with Malays compared to other ethnics. This study aims to identify the profiles and experiences of drug use and crime among Malay offenders. The study was conducted using a quantitative cross-sectional survey. A total of 301 Malay offenders who were charged for drug-related offences and serving their sentences in the Malaysian Prison Department were selected to participate in the study. The study has found that the majority of offenders involved in drug use and crime offences are young people aged 21-39 years old, unmarried, attained at least lower and/or upper secondary education SRP/SPM, employed prior to custody, and had income below than RM3,850 per month (B40). Based on their experiences of drug use, most offenders reported that they obtain drugs from the dealers and the average age of first drug use is between 30 to 35 years old. Methamphetamine is a popular drug used by majority of Malay offenders, and it is due to incredible enjoyment and peer pressure. The study also reported offenders spent between RM50 and RM100 to buy drugs in a day. Based on the experiences of crime, most of offenders reported to commit crimes at least twice a week and preferred to commit crime alone than in groups. The type of crime offences reported by most of Malay offenders are drug dealing, theft and burglary instead of drug use. Findings of this study have implications for the implementation of effective intervention and management offenders in terms of providing counseling services, skills, education, prevention, treatment and rehabilitation among offenders.
Abstrak
Masalah dadah dan jenayah merupakan masalah yang membimbangkan banyak pihak kerana ia menggugat kesejahteraan, keharmonian dan keselamatan negara dan masyarakat. Masalah ini sejak dari dahulu sering dikaitkan dengan bangsa Melayu berbanding dengan bangsa-bangsa yang lain. Oleh itu kajian ini dilakukan bertujuan untuk mengenal pasti profil, pengalaman menggunakan dadah dan jenayah dalam kalangan banduan Melayu.  Kajian dijalankan dengan menggunakan reka bentuk kuantitatif secara tinjauan keratan-lintang (cross-sectional survey). Seramai 301 orang banduan Melayu yang terlibat dengan kes dadah dan sedang menjalani pemulihan dan tahanan di Jabatan Penjara Malaysia telah dipilih sebagai responden kajian. Hasil kajian mendapati majoriti banduan Melayu terlibat dengan dadah dan aktiviti jenayah adalah terdiri daripada golongan muda berusia 21-39 tahun, masih bujang, pendidikan pada tahap SPM, mempunyai pekerjaan tetap sebelum dipenjarakan dan pendapatan adalah di bawah RM3,850 sebulan (B40). Berdasarkan pengalaman menggunakan dadah, kebanyakan banduan Melayu memperoleh sumber bekalan dadah daripada pihak pengedar dan usia pertama kali menggunakan dadah dalam lingkungan usia 35-30 tahun. Dadah syabu merupakan dadah popular yang digunakan oleh kebanyakan banduan Melayu dan faktor menggunakan dadah adalah disebabkan oleh inginkan keseronokan dan pengaruh kawan.  Kajian juga mendapati sejumlah RM50-RM100 diperuntukan oleh banduan Melayu untuk membeli dadah dalam tempoh sehari. Berdasarkan pengalaman keterlibatan dengan jenayah, hasil kajian juga mendapati kebanyakan banduan Melayu melakukan aktiviti jenayah melebihi dua kali dalam tempoh seminggu dan mereka lebih gemar melakukan jenayah secara bersendirian berbanding secara berkumpulan. Jenis jenayah yang dilakukan oleh kebanyakan banduan Melayu adalah sebagai pengedar dadah, mencuri dan melakukan pecah rumah selain menggunakan dadah. Hasil kajian ini memberi implikasi terhadap pelaksanaan intervensi dan pengurusan banduan yang berkesan dari aspek penyediaan perkhidmatan kaunseling, kemahiran, pendidikan, pencegahan, rawatan dan pemulihan dalam kalangan banduan.
Kata kunci: banduan dadah, Melayu, dadah, jenayah, pengalaman
Downloads
Download data is not yet available.
References
Agensi Antidadah Kebangsaan (AADK). (2019). Maklumat Dadah 2019. Selangor: Kementerian Dalam Negeri.
Agensi Antidadah Kebangsaan (AADK). (2012). Buku Maklumat Dadah 2012.
Arikunto, S. 2006. Prosedur Penilaian Suatu Pendekatan Praktik. Edisi ke-6. Jakarta: Penerbit PT Rineka Cipta.
Bao Y.P, Qiu Y, Yan S.Y, Jia Z. Y, Li S. X, Lian Z, et al. (2013). Pattern of Drug Use and Depressive Symptoms among Amphetamine Type Stimulants Users in Beijing and Guangdong Province, China. PLoS ONE 8(4): e60544. https://doi.org/10.1371/journa.pone.0060544
Breet, E., Goldstone, D & Bantjes, J. (2018). Substance use and suicidal ideation and behaviour in low- and middle-income countries: A systematic review. BMC Public Health, 18(549), 2-18. https://doi.org/10.1186/s12889-018-5425-6
Chua Yan Piaw. (2014). Kaedah Penyelidikan. Kuala Lumpur: McGraw-Hill.
Darke S, Kaye S, McKetin R, Duflou J. (2008). Major physical and psychological harms of methamphetamine use. Drug Alcohol Rev. 27, 253–62. https://doi.org/10.1080/09595230801923702
Darshan, S., Suresh, N., Krishnan, H., Balber, S & Balasingam, V. (2020). The relationship between amphetamine-type stimulant (ATS) use and violent crime in Penang, Malaysia: findings from a preliminary study. Drug: Education, Prevention and Policy. 1-10. https://doi.org/10.1080/09687637.2020.1833836
Ezarina Zakaria. (2020). Jenayah Jalanan dan Sumber Pekerjaan. Dlm. Fauziah Ibrahim, Ezarina Zakaria & Norulhuda Sarnon. Jenayah Jalanan Isu, Punca dan Mekanisme Pencegahan, hlm 68-79. Bangi: Penerbit UKM
Fauziah Ibrahim. (2015). Perbandingan tahap pengekalan kepulihan antara bekas klien tamat menjalani program penyingkatan CCRC dalam tempoh 6-11 bulan dan pembebasan antara 12-24 bulan. Laporan Akhir Penyelidikan Ilmiah AADK, Selangor.
Fauziah Ibrahim, Ezarina Zakaria, Wan Shahrazad Wan Sulaiman, Mohammad Rahim Kamaluddin dan Nazirah Hassan. (2020). Penilaian Situasi Berisiko Tinggi Relaps Terhadap Kelompok B40 Banduan Dadah. Laporan Penyelidikan Fundamental Research Grant Scheme (FRGS), Bangi UKM.
Fauziah Ibrahim. (2020). Dadah dan Penglibatan Jenayah Jalanan. Dlm. Fauziah Ibrahim, Ezarina Zakaria & Norulhuda Sarnon. Jenayah Jalanan Isu, Punca dan Mekanisme Pencegahan, hlm 68-79. Bangi: Penerbit UKM.
Fauziah Ibrahim, Suzana Mohd Hoesni, Ezarina Zakaria, Salina Nen, Norulhuda Sarnon, Khadijah Alavi, Nasrudin Subhi & Mohd Suhaimi Mohamad. (2020). Drug Abuse and the Involvement of Prisoners in Street Crimes. International Journal of Psychosocial Rehabilitation, 24(4), 4508-4516. https://doi.org/10.37200/ijpr/v24i4/pr201553
Fauziah Ibrahim, Bahaman Abu Samah, Mansor Abu Talib & Mohamad Shatar Sabran. (2012). Penagih dadah dan keadaan berisiko tinggi kembali relaps. Journal of Sciences and Humanities Vol. 7(1): 38-49.
Gallie, D., Paugam, S., & Jacobs, S. (2003). Unemployment, Poverty and Social Isolation: Is There a Vicious Circle of Social Exclusion? European Societies. 5(1): 1-32. https://doi.org/10.1080/1461669032000057668
Hafid, E. (2011). Kemiskinan (Al-Faqr) dalam perspektif hadis. Jurnal Al-Hikmah, 12 (1), 11-27.
Habibie Ibrahim, Mazni Mustapha, Joki Perdani, Puteri Hayati Megat Ahmad & Nurul Hudani Md Nawi. (2018). Peranan dan Tanggungjawab Ibu Bapa dalam Pengasuhan Anak dan Remaja. Asian Social Work Journal, Volume 3 (5), 18–24. https://doi.org/10.47405/aswj.v3i5.61
Ismail, R., Ghazalli, M.N & Ibrahim. N. (2015). Not all developmental assets can predict negative mental health outcomes of disadvantaged youth: A case of suburban Kuala Lumpur. Mediterranean Journal of Social Sciences 6 (5), 452-461. https://doi.org/10.5901/mjss.2015.v6n5s1p452
James, N. (2015). Offender re-entry: Correctional statistics, reintegration into the community and recidivism. Report prepared for Analysis in Crime Policy at the 2015 Congress Research Service, United States
James, N. (2015). Offenders re-entry: Correctional statistic, reintegration into the community and recidivism. CRS Report, Prepared for Members and Committee of Congress.
Jabatan Penjara Malaysia. (2018). Statistik Banduan Kesalahan Jenayah dan Dadah. Diakses pada 10 Januari 2021. https://www.data.gov.my/data/ms_MY/dataset/statistik-pelaksanaan-perkhidmatan-psikologi-banduan- kesalahan-jenayah-dadah
Langfield, C.T & Payne, J.L. (2021). What Factors Predict the Self-Identification of Drug Dependency Among Australian Police Detainees? Prevalence, Correlates, and Implications for the Criminal Justice System. Journal of Drug Issues. 51(1), 3-22.
Marshall, B.D & Werb, D. (2010) Health outcomes associated with methamphetamine use among young people: a systematic review. Addiction 105: 991–1002. https://doi:10.1111/j.1360-0443.2010.02932.x
Mihai, M., Titan, E. & Manea, D. (2015). Education and Poverty. Procedia Economics and Finance, 32: 855 – 860. https://doi:10.1016/S2212-5671(15)01532-4
Mohamad Johdi Salleh. (2012). Permasalahan penagihan dadah: Tinjauan di pusat serenti Selangor. In Universiti Malaysia Terengganu, Terengganu: International Seminar in Community Development-SAPKO
Manshor, Z., Abdullah, S., & Hamed, A. B. (2020). Poverty and the Social Problems. International Journal of Academic Research in Business and Social Sciences, 10(3), 614–617. https://doi:10.6007/IJARBSS/v10-i3/7076
Mohamad Khairi Othman dan Asmawati Suhid. (2010). Peranan sekolah dan guru dalam pembanguan nilai pelajar menerusi penerapan nilai murni: Satu sorotan. MALIM-SEA Journal of General Studies, 11, 117-130
Njong, A.M. (2010). The effects of educational attainment on poverty reduction in Cameroon. Journal of Education Administration and Policy Studies Vol.2 (1), 1-8. https://doi:10.5897/IJEAPS10.058
Normala Abu Hassan & Mohd Azhar Abd Hamid. (2017). Kepentingan peristiwa pencetus dalam transformasi perspektif bekas penagih dadah. Sains Humanika. 9(1-5), 93-99. https://doi:10.11113/sh.v9n1-5.1182
Norruzeyati Che Mohd Nasir, Noor Noor Azizah Ahmad, Ahmad Shukri Abdul Hamid, Mariny Abdul Ghani & Mohd Alif Jasni. (2020). EDUCATUM – Journal of Social Science (EJOSS), 6(1), 22-32.
Panjaitan, D.S., dan Daulay, W. (2012). Pola Asuh Orang Tua Dan Perkembangan Sosialisasi Remaja Di Sma Negeri 15 Medan. Jurnal Keperawatan Holistik. 1, 40-46
Ross, C. dan Wu, C.L. (1996). Education, age, and the cumulative advantage in health. Journal of Health and Social Behaviour. 37:104-120. https://doi.org/10.2307/2137234
Riordan, K. (2017). The connection between drug use and crime in Western Australia. https://ro.ecu.edu.au/theses/1973
Richard, B.F & Jeremy, S. (2015). Committing Economic Crime for Drug Money. Crime & Delinquency. 63(4), 375-390. https://doi.org/10.1177/0011128715591696
Sutcliffe C.G, German D, Sirirojn B, Latkin C, Aramrattana A, et al. (2009). Patterns of methamphetamine use and symptoms of depression among young adults in northern Thailand. Drug Alcohol Depend 101: 146–151. https://doi:10.1016/j.drugalcdep .2008.11.014
Sujit Kumar Sarker, and Faller, Erwin Martinez (2016) An exploratory framework of drug related crime in forensic sciences and criminology. Malaysian Applied Biology, 45(2), 93-97.
Spohn, C. 2015. Race, crime, and punishment in the twentieth and twenty-first centuries. Crime and Justice, 44(1), 49 - 97. https://doi:10.1086/681550
Suppiah Nachiappan. (2015). Analisis Faktor Penyumbang Terhadap Penyalahgunaan Dadah dan Usaha Pemulihan dari Segi Kognisi di Pusat PENGASIH Malaysia. EDUCATUM – Journal of Social Science (EJOSS), 1(1), 34-39.
Victor Isaacs, Nasir Mohamad, Liyana Hazwani Mohd Adnan, Wan Hanis Aisyah Wan Rosdi, Nor Suliana Mustafa, Nurul Farah Aina Md Fauzi & Nur Husna Zakaria. (2019). Hubungan antara Penagihan dadah dengan Keganasa Rumah Tangga. Jurnal Undang-Undang dan Masyarakat, 25: 1-14. https://doi:10.17576/juum-2019-25-02
World Health Organization (WHO). (2016). Comprehensive mental health action plan 2013–2020. http://www.who.int/mental_ health/action_plan_2013/en/. Akses pada 15 November 2020
Wolfe, D. A., & Mash, E. J. (2006). Behavioral and emotional disorders in adolescents: Nature, assessment, and treatment. Guilford Publications.
Zarina Othman & Mohamad Daus. (2015). Ancaman sindiket dadah terhadap juvenile di Malaysia. Malaysia Journal of Society and Space, 11(1), 62-72).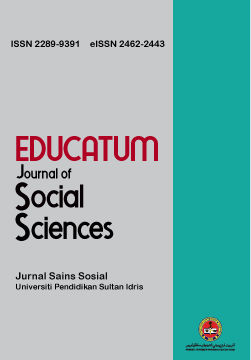 Downloads
How to Cite
Ibrahim, F. binti, Zakaria, E. binti, Hassan, N. binti, Kamaluddin, M. R. bin, Wan Sulaiman, W. S. binti, & Yunos, N. A. binti. (2021). Profiles and Experiences of Drug Use and Criminal Involvement among Malay Offenders in Malaysia: Profil dan Pengalaman Menggunakan Dadah dan Keterlibatan Jenayah Dalam Kalangan Banduan Melayu di Malaysia. EDUCATUM Journal of Social Sciences, 7(1), 55–66. https://doi.org/10.37134/ejoss.vol7.1.6.2021