Stateless Issue in Semporna, Sabah: Impact on the Stateless Children's Education (Sea Gypsies)
Isu Stateless di Semporna, Sabah: Kesan ke atas Pendidikan Kanak-Kanak Tanpa Negara (Bajau Laut)
Keywords:
Bajau Laut, stateless, education, Semporna, Sabah
Abstract
The study examines the impact of the stateless issue on the education of Bajau Laut children in Semporna, Sabah by focusing its analysis on the status and origin of the stateless people, the impact of statelessness on the education of the Bajau Laut children, and the efforts taken in resolving the issue of the education for the stateless Bajau Laut in Semporna. By using a qualitative method which is case study through in-depth interviews and document analysis as instruments in collecting data, this study finds that the status as stateless have greatly limited their access to basic human rights such as education. The effects of lack of access to education have left these Bajau Laut children illiterate, involve in social problems, exploited in economy, and further backward in social life. There are various efforts made by the non-governmental bodies to provide education to the stateless children such as setting up 'Alternative Schools' and 'Sunday Schools'. However, the failure of the government to resolve the issue of citizenship has resulted these stateless children to continue to drop out from the access to education.
Downloads
Download data is not yet available.
References
Arce, W. F. (1963). Social organization of the Muslim people of Sulu. Philippines Studies, 2(2), 244.
Andaya, L. Y. (2008). The Orang Laut and the Malayu', Leaves of the Same Tree: Trade and Ethnicity in the Straits of Melaka. https://doi.org/10.21313/hawaii/9780824831899.003.0007.
Badariah, S., Ong, P. L., Sivapalan, S., Marsitah, M. R., Nor Adlyizan, T., & Ong, P.H. (2013). Kepelbagaian sistem persekolahan di Malaysia: Tinjauan awal pengalaman komuniti Pulau Mabul di Sabah, Malaysia. Prosiding abstrak Simposium Kebudayaan Indonesia-Malaysia XIII, hlm. 224. Anjuran kerjasama Universitas Padjadjaran dengan Universiti Kebangsaan Malaysia. Bandung, 12–14 November.
Berita Harian. (2015). Status kerakyatan kebanyakan Pala'u masih samar. Diperoleh dari https://www.bharian.com.my/node/47649.
Berita Harian. (2019). Kanak-kanak tanpa dokumen berhak mendapat pendidikan. Diperolehi daripada https://www.bharian.com.my/berita/nasional/2019/10/613778/kanak-kanak-tanpa-dokumen-berhak-dapat-pendidikan.
Chen, L., Nahmias, P., & Steinmueller, S. (2019). UNHCR statistical reporting on statelessness. UNHCR Statistics Technical Series, 1, 1-13.
Gusni, S. (2010). Sama Bajau dalam kanca urbanisasi: Pengalaman di Teluk Bone, Sulawesi Selatan. Kota Samarahan, Sarawak: Universiti Malaysia Sarawak.
Gusni Saat. (2010). Sama Bajau dalam kanca urbanisasi: Pengalaman di Teluk Bone, Sulawesi
Selatan. Kota Samarahan, Sarawak: Universiti Malaysia Sarawak
Gusni, S., & Kassim, M. (2016). Issues in Diaspora of SamaDilaut and its consequences. International Conference on Bajau-Sama Diaspora & Maritime South East Asian Culture, Semporna, Sabah.
Hafijah, S., & Azmi, A. (2017). Kedudukan dan keberadaaan masyarakat Orang Asli Bajau Laut dalam sejarah pendudukan Jepun di Sabah, 1942-45: Satu tinjauan awal. Persidangan Nasional Sejarah Dan Sejarawan Malaysia 2017. Memperkasa Sejarah Nasional dalam Melestarikan Pembanggunan Negara. Universiti Sains Malaysia, pp. 137-148.
Ismail, A. (2008). Penglibatan dan sumbangan kanak-kanak warga Filipina dalam ekonomi perikanan di Sabah: Satu pengadilan moral, Sosiohumanika, 1 (2), 365-390
Ismail, A. (2011). Komuniti orang tanpa Negara (Stateless People) di Sabah: Kajian kes komuniti Bajau Laut di Pulau Mabul, Semporna. Malaysia dari Segi Sejarah, 39, 69-81
Jabatan Kebajikan Masyarakat. (2019). Konvensyen mengenai hak kanak-kanak. Diperoleh dari https://www.jkm.gov.my/jkm/index.php?r=portal/left&id=VGZjZ3NqOHhhV0dSS3lFU0w3YTB5UT09.
Jabatan Perangkaan Malaysia. (2019). Statistik populasi Malaysia 2019. Putrajaya: Jabatan Perangkaan.
Khairul Jamain. (2019, 20 Oktober). 1Moment4them. [Temu bual].
Liu, O. P., Sivalan, S., Ong, P. H., Marsitah, M. R., Ong, P.T. (2015). Stateless di Sabah: Antara Authority-Defined atau Everyday-Defined. Bangi: Institut Kajian Etnik (KITA).
Mohd Azwan, I. (2019, 29 Oktober). Sekolah Alternatif Tawau, Sabah. [Temu bual].
Mukmin Nantang. (2019, 29 April). Misi Jelajah Kempen Anak Tanpa Negara, Bicara Kemanusiaan: Pendidikan Anak Tanpa Negara. [Temubual].
Rodziana, M. R. (2017). Addressing statelessness in Malaysia: New hope and remaining challenges. Statelessness Working Paper, 09, 4-10.
Sopher, D. E. (1977). The Sea Nomads. New York: Syracuse University.
Sperfeldt, C. (2021). Legal identity and statelessness in Southeast Asia. East-West Center. Diperole dari http://www.jstor.org/stable/resrep28879.
UNHCR. (1961). Convention on the reduction of stateless. Diperoleh dari https://www.unhcr.org/ibelong/wp-content/uploads/1961-Convention-on-the-reduction-of-Statelessness_ENG.pdf.
United Nation Human Rights. (2001). Commission on human rights. Diperoleh dari https://www.un.org/press/en/2001/hrcn986.doc.htm.
Vanessa, S. (2019, 27 Oktober). Gereja Anglikan St Mathhew Semporna, Sabah. [Temu bual].
Wallace, B. J. (1965). Village life in insular Southeast Asia. Boston: Methodist University & Little Brown Company.
Wan Roslili, A. M. (2020). Pendidikan: Tiada yang wajar ditinggalkan. Diperoleh dari http://www.ikim.gov.my/new-wp/index.php/2020/01/13/pendidikan-tiada-yang-wajar-ditinggalkan/.
Yap, B. L. (1977). Orang Bajau Pulau Omadal, Sabah: Satu kajian tentang sistem budaya, Tesis Sarjana, Jabatan Pengajian Melayu, Fakulti Sastera dan Sains Sosial, Universiti Malaya.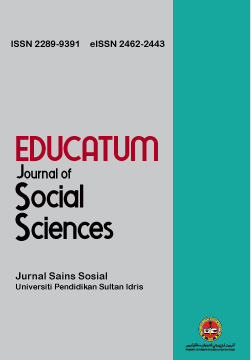 Downloads
How to Cite
Mohd Hed, N., Oskar, A., & Yaacob, N. H. (2022). Stateless Issue in Semporna, Sabah: Impact on the Stateless Children's Education (Sea Gypsies): Isu Stateless di Semporna, Sabah: Kesan ke atas Pendidikan Kanak-Kanak Tanpa Negara (Bajau Laut) . EDUCATUM Journal of Social Sciences, 8(2), 32–43. https://doi.org/10.37134/ejoss.vol8.2.4.2022
License
Copyright (c) 2022 Norhafiza Mohd Hed, Aprina Oskar, Norazlan Hadi Yaacob
This work is licensed under a Creative Commons Attribution-NonCommercial-ShareAlike 4.0 International License.