Pengaruh gaya keibubapaan terhadap penggunaan internet kanak-kanak
The Influence of Parenting Style on Childrens' Internet Used
Nor Hamizah Razak

Fakulti Kepimpinan dan Pengurusan, Universiti Sains Islam Malaysia, Bandar Baru Nilai, Nilai, Negeri Sembilan, MALAYSIA

Nur Alya Hashim

Fakulti Kepimpinan dan Pengurusan, Universiti Sains Islam Malaysia, Bandar Baru Nilai, Nilai, Negeri Sembilan, MALAYSIA
Keywords:
Gaya keibubapaan, internet, pelajar, kaunseling
Abstract
Gaya keibubapaan yang diamalkan oleh ibubapa akan mempengaruhi tingkahlaku anak-anak selain membentuk personaliti dan juga sikap mereka. Tingkahlaku dan sikap ini juga akan diserlahkan oleh anak-anak ketika remaja dan dewasa kelak. Di era teknologi ini, penggunaan internet dan pelajar tidak dapat dapat dipisahkan. Kewujudan internet sangat membantu perkembangan pelajar dan membuka peluang untuk mengorak langkah jauh kehadapan dari segi pencapaian mahupun kerjaya. Namun, dalam masa yang sama sumber dan pengaruh internet yang tidak terkawal  turut menjejaskan kesihatan mental pelajar. Oleh itu, adalah menjadi peranan ibu bapa untuk mendidik dan mengawal penggunaan internet dalam kalangan anak-anak melalui gaya keibubapaan yang tepat. Justeru, kajian ini bertujuan untuk mengkaji pengaruh gaya keibubapaan terhadap penggunaan internet dalam kalangan pelajar. Kajian ini adalah berbentuk tinjauan menggunakan kaedah persampelan rawak mudah yang melibatkan  subjek  kajian  yang  terdiri  daripada 382 orang pelajar. Analisis statistik deskriptif  digunakan untuk  menghuraikan tahap penggunaan internet pelajar. Manakala, analisis regresi digunakan bagi melihat pengaruh gaya keibubapaan terhadap penggunaan internet pelajar. Dapatan kajian dapat dirumuskan seperti berikut; (i) majoriti pelajar mencatatkan tahap yang tinggi terhadap penggunaan internet dan (ii) gaya keibubapaan yang paling mempengaruhi penggunaan internet pelajar adalah jenis gaya keibubapaan autoritatif. Kajian ini berjaya membuktikan bahawa gaya keibubapaan mampu membentuk tingkahlaku anak-anak terhadap penggunaan internet.  Implikasi dan cadangan kajian akan datang turut dibincangkan dalam kajian ini.
The parenting style practiced by parents will influence the behavior of children and shaping their personality and attitude. This behavior and attitude will be practiced by them in adolescence and adulthood. In the age of technology, internet use and students are inseparable. The existence of the internet greatly helps the development of students and opens up opportunities to go a long way in terms of achievement and career. However, at the same time, the resources and uncontrollable influence of the internet also affect the students mental health. Therefore, it is the role of parents to shape the wise use of the internet among children through the right parenting style. Thus, this study aims to examine the influence of parenting style on students' internet use. This study is a survey using a simple random sampling method involving subjects consisting of 382 students. Descriptive statistical analysis was used to describe the level of student' internet use. Meanwhile, regression analysis was used to see the influence of parenting style on students' internet use. The findings of the study can be summarized as follows; (i) the majority of students recorded a high level of internet use and (ii) the parenting style that most influenced students' internet use was the authoritative parenting style. This study successfully proved that parenting style is able to shape children's behavior towards internet use. Implications and recommendations for future studies are also discussed in this study. 
Keywords:Parenting style, internet, students, counseling
Downloads
Download data is not yet available.
References
Abdul Aziz, A., Mohd Sukor, N., & Ab Razak, N. (2020). Wabak Covid-19: Pengurusan Aspek Kesihatan Mental Semasa Norma Baharu. International Journal Of Social Science Research, 2(4), 156-174.
Baumrind D. (1967). Child care practices anteceding three patterns of preschool behavior. Genet Psychol Monogr, 75,43–88.
Buri, J. R. (1991). Parental authority questionnaire. Journal of Personality Assessment, 57, 110-119.
Goldenberg, H. & Goldenberg, I. (2008). Family therapy an overview. USA: Brookscole, Cengage Learning.
Gupta, S. & L. Bashir. (2018). Social Networking Usage Questionnaire: Development and Validation in an Indian Higher Education Context. Turkish Online. Journal of Distance Education, 19(4), 214-227.
Habibie Hj Ibrahim, Mazni Mustapha, Joki Perdani, Puteri Hayati Megat Ahmad, Nurul Hudani Md Nawi.2018. Peranan dan Tanggungjawab Ibu Bapa dalam Pengasuhan Anak dan Remaja. Asian Social Work Journal, 3(5), 18-24.
Hanisah Halim, Jusiah Idang, Guan Teik, Murnizam Halik, Sabariah Sharif. (2020). Tinjauan Perspektif Guru terhadap Kepentingan Pembelajaran Sosio-Emosi dalam Meningkatkan Kompetensi Sosio-Emosi Pelajar Sekolah Rendah di Sabah. Journal of Advanced Research in Social and Behavioural Sciences, 18(1), 1-1.
Muhamad Yusuf, Doli Witro, Rahmi Diana, Tomi Apra Santosa, Annisa 'Alwiyah Alfikri, Jalwis. (2020). Digital Parenting to Children Using The Internet. Pedagogik Journal of Islamic Elementary School, 3(1), 1–14.
Muhammad Azrin, Muhammad Fiqri, Moorthy, Vishnukumar Krishna, Jasmi, Kamarul Azmi (2019). Media Sosial Dan Perhubungan Sesama Manusia Menurut Islam. Prosiding Seminar Sains Teknologi dan Manusia 2019 (SSTM'19) pada 15hb. Disember 2019. Fakulti Kejuteraan Kimia dan Tenaga, UTM.
Nordin, N. & Bacotang, J. (2021). Issues and trends the usage of information and communication technology in early childhood education. Jurnal Pendidikan Awal Kanak-Kanak Kebangsaan, 10(1), 99-107.
Nurhamizah Hashim & Asbah Razali. (2019).Teknologi dan Media Sosial dalam Komunikasi Ibubapa dan Anak-anak. Jurnal Komunikasi: Malaysian Journal of Communication, 35(4),337-352.
Renny, T. ,Shahin, S. (2020). Parenting Style And Internet Use In Higher Secondary Students: The Interconnect, UGCCare Journal, 40(92).
Rickless, D., Ferlis, B & Habibie Ibrahim. (2014). Penggunaan Internet Dan Kesannya Terhadap Kesejahteraan Subjektif Dalam Kalangan Remaja: Perbandingan Peranan Tanggungjawap Jenis-Jenis Gaya Keibubapaan. Seminar kebangsaan integrity keluarga. 11 disember 2014. SKIK 2014 UMS
Robiah Sidin & Nor Sakinah Mohamad. (2007). ICT dalam Pendidikan: Prospek dan Cabaran dalam Pembaharuan Pedagogi. Jurnal Pendidikan, 32(2): 139-152.
Santrock, J. W. (2004). Life Span Development. Ed. ke 9. Boston: McGraw Hill.
Suruhanjaya Komunikasi dan Multimedia Malaysia. (2020). Diakses pada 19 Feb 2022. https://www.mcmc.gov.my/skmmgovmy/media/General/pdf/IUS-2020-Report.pdf
Tur-Porcar A. (2017). Parenting styles and Internet use. Psychol Mark, 34:1016–1022
Yu, Lu and Luo & Tingyu. (2021). social Networking Addiction Among Hong Kong University Students: Its Health Consequences and Relationships With Parenting Behaviors. Frontiers in Public Health. 1-11.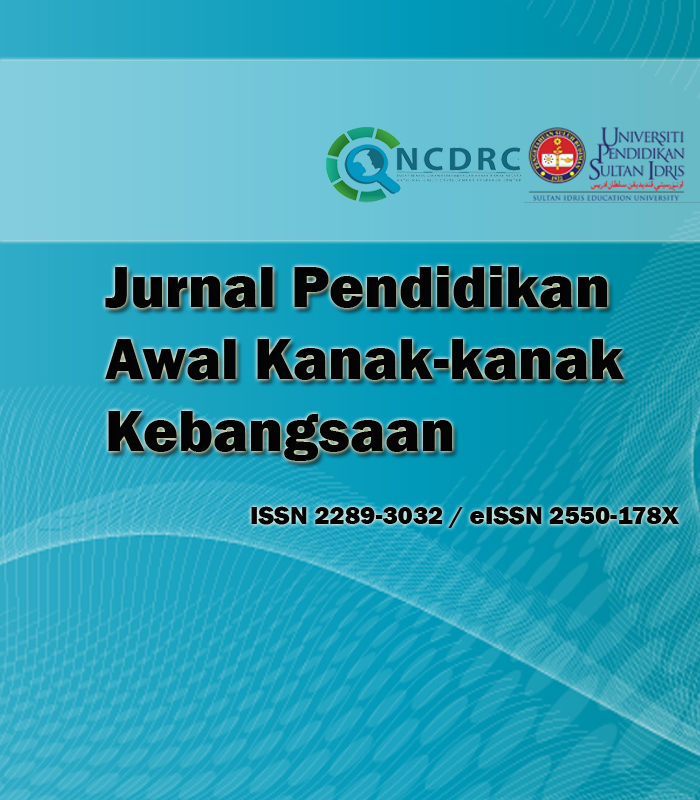 How to Cite
Razak, N. H., & Hashim, N. A. (2022). Pengaruh gaya keibubapaan terhadap penggunaan internet kanak-kanak. Jurnal Pendidikan Awal Kanak-Kanak Kebangsaan, 11(1), 50-57. https://doi.org/10.37134/jpak.vol11.1.5.2022
Copyright (c) 2022 Nor Hamizah Razak, Nur Alya Hashim
This work is licensed under a Creative Commons Attribution-NonCommercial-ShareAlike 4.0 International License.