KREATIVITI KANAK-KANAK PRASEKOLAH DI EMPAT BUAH KELAS PRASEKOLAH KEMENTERIAN PENDIDIKAN MALAYSIA DI NEGERI SELANGOR DAN HUBUNGANNYA DENGAN AMALAN PENGAJARAN GURU
CHILDREN'S CREATIVITY IN FOUR MINISTRY OF EDUCATION MALAYSIA'S PRESCHOOL CLASSES IN THE STATE OF SELANGOR AND RELATIONSHIP BETWEEN TEACHERS TEACHING PRACTICES
Keywords:
pemikiran kreatif, amalan pengajaran guru, kebebasan, kepatuhan, motivasi, creative thinking, teaching practices, freedom, compliance, motivation
Abstract
Kebolehan berfikir secara kreatif atau pemikiran kreatif merupakan suatu elemen kreativiti yang perlu ada pada seseorang individu. Pemikiran kreatif perlu dipupuk di peringkat prasekolah kerana di peringkat ini kanak-kanak kecil telah mempunyai kebolehan menyelesaikan masalah. Namun, terdapat kajian yang menjelaskan guru kurang berjaya mencungkil kreativiti pelajar. Oleh itu, kertas kerja ini membincangkan hubungan kreativiti dengan amalan pengajaran guru yang terdiri daripada tujuh komponen: (i) Kebebasan, (ii) Integrasi, (iii) Motivasi, (iv) Penyoalan, (v) Komunikasi Bukan Lisan, (vi) Kemesraan dan (vi) Pematuhan. Kajian ini merupakan kajian tinjauan yang melibatkan kanak-kanak di empat buah kelas prasekolah Kementerian Pendidikan Malaysia di Negeri Selangor. Responden terdiri daripada 50 kanak-kanak yang mengambil ujian kreativiti dan melalui soal selidik. Statistik deskriptif dan korelasi digunakan bagi melihat hubungan kreativiti dengan amalan pengajaran guru. Hasil kajian menunjukkan wujud hubungan yang signifikan (r=.373**, P < 0.05) antara komponen kebebasan dan kreativiti. Namun, tidak terdapat hubungan yang signifikan antara komponen-komponen amalan pengajaran guru yang lain dan secara keseluruhannya dengan kreativiti kanak-kanak. Kesimpulan kajian menunjukkan bahawa; kebebasan yang diberi oleh guru mempengaruhi kreativiti kanak-kanak. Oleh itu, kajian lanjut dengan sampel yang lebih besar perlu dijalankan untuk mendapatkan gambaran yang lebih jelas. Faktor lain seperti persekitaran keluarga dan tingkah laku kanak-kanak juga perlu dikaji untuk mendapatkan gambaran yang lebih menyeluruh tentang faktor-faktor yang mempengaruhi kreativiti kanak-kanak prasekolah.
Ability to think creatively or creative thinking is an essential element of creativity that exists in an individual. Creative thinking needs to be fostered in preschool because at this level the young child has had the ability to solve problems. However, there are studies that show teachers less successful to elicit students' creativity. Therefore, this paper discusses the relationship between creativity and teaching practice that consists of seven components: (i) Freedom, (ii) Integration, (iii) Motivation, (iv) Questioning, (v) Non-Verbal Communication, (vi) Friendliness and (vi) Compliance. This study represents a survey involving children in four Ministry of Education Malaysia's preschool classes in the State of Selangor. Respondents consisted of 50 children who took the creativity test and through questionnaires. Descriptive statistics and correlations are used to determine the correlation between creativity and teachers' teaching practice. The results showed significant relationship (r = .387 **, P <0.05) between the components of freedom and creativity. However, there was no significant relationship between the components of other teachers teaching practices and overall with childrens creativity. Conclusion, the study shows that; the freedom given by teachers influence children's creativity. Therefore, further studies with larger samples should be carried out to obtain a clearer picture. Other factors such as family environment and children's behavior also need to be studied to obtain a more comprehensive picture of the factors that affect the preschool children's creativity.
Downloads
Download data is not yet available.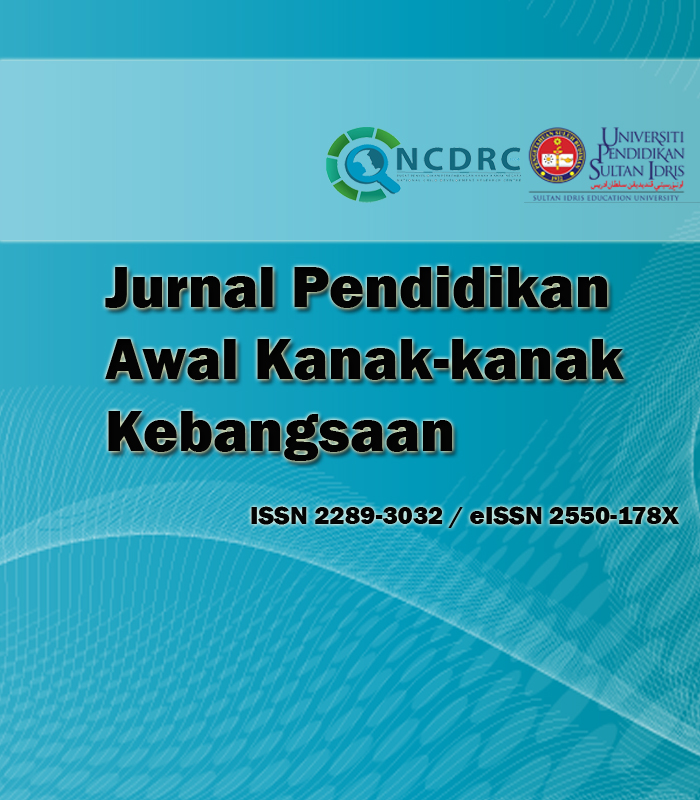 Downloads
How to Cite
Ali, N., Madon, Z., & Mahat, H. (2015). KREATIVITI KANAK-KANAK PRASEKOLAH DI EMPAT BUAH KELAS PRASEKOLAH KEMENTERIAN PENDIDIKAN MALAYSIA DI NEGERI SELANGOR DAN HUBUNGANNYA DENGAN AMALAN PENGAJARAN GURU: CHILDREN'S CREATIVITY IN FOUR MINISTRY OF EDUCATION MALAYSIA'S PRESCHOOL CLASSES IN THE STATE OF SELANGOR AND RELATIONSHIP BETWEEN TEACHERS TEACHING PRACTICES. Jurnal Pendidikan Awal Kanak-Kanak Kebangsaan, 4, 50–63. Retrieved from https://ejournal.upsi.edu.my/index.php/JPAK/article/view/796