Analisis Tahap Pengetahuan Pedagogi Kandungan (PCK) Guru Pelatih Matematik
Analysis Pedagogical Content Knowledge (PCK) Level of The Mathematic Trainee Teachers
Kugan Mahendran

Sekolah Jenis Kebangsaan Tamil Barathi, Jalan Sabak Bernam, Hutan Melintang, Perak, Malaysia

Nur Hamiza Adenan

Jabatan Matematik, Fakulti Sains dan Matematik, Universiti Pendidikan Sultan Idris, Tanjong Malim, Perak, Malaysia

Nor Suriya Abd Karim

Jabatan Matematik, Fakulti Sains dan Matematik, Universiti Pendidikan Sultan Idris, Tanjong Malim, Perak, Malaysia

Rawdah Adawiyah

Jabatan Matematik, Fakulti Sains dan Matematik, Universiti Pendidikan Sultan Idris, Tanjong Malim, Perak, Malaysia

Noor Wahida Md Junus

Jabatan Matematik, Fakulti Sains dan Matematik, Universiti Pendidikan Sultan Idris, Tanjong Malim, Perak, Malaysia
Keywords:
Pengetahuan isi kandungan, matematik, guru pelatih
Abstract
Kajian ini dijalankan bertujuan untuk mengenal pasti tahap PCK guru pelatih matematik berlainan jantina di sebuah universiti pendidikan di Malaysia. Kajian ini melibatkan seramai 22 orang guru pelatih matematik sebagai sampel kajian yang dipilih secara rawak. Kajian dilaksanakan secara kaedah campuran yang melibatkan kaedah kualitatif dan kuantitatif. Instrumen yang digunakan dalam kajian ini adalah set soal selidik maklum balas terbuka berkenaan pengetahuan dan kemahiran guru dalam menangani keperluan murid dalam pembelajaran dan konstruk pengajaran. Dapatan kajian menunjukkan bahawa tahap PCK guru pelatih matematik adalah rendah dan terdapat perbezaan tahap PCK antara guru pelatih perempuan dengan guru pelatih lelaki. Maka, kajian ini dapat dijadikan panduan bagi memperbaiki tahap penguasaan PCK dalam guru pelatih matematik dan seterusnya dapat meningkatkan lagi mutu pengajaran.
This study aimed to identify the level of PCK on mathematics trainee teachers with different gender at one of education university in Malaysia. This study involved a total of 22 mathematics trainee teacher as samples which were selected by using random sampling. The study is carried out using mixed methods involving qualitative and quantitative methods. The instruments used in this study were a set of open response questionnaires on the trainee teachers' knowledge and skills in addressing the needs of students in learning as well as teaching constructs. Findings of the study showed that the level of PCK in mathematics trainee teachers is low and there is a significant difference in level of PCK between a female trainee teachers and male trainee teacher. Thus, this study can be used as a guidance to improve trainee teachers' level of PCK and hence will enhance the quality of teaching.
Keywords: Pedagogical content knowledge, mathematics, trainee teacher
Downloads
Download data is not yet available.
References
Ali, M. F. (2012). Kompetensi guru sejarah di Malaysia: Isu dan cabaran. Penerbit Universiti Pendidikan Bandung.
Bunyamin, M. A. H., & Sulaiman, S. (2011). Tahap Pengetahuan Pedagogi Kandungan Pelajar Pendidikan Fizik UTM dan Hubungannya Dengan Pencapaian dalam Latihan Mengajar. faculty of education.
Chick, H. L., & Baker, M. K. (2005). Investigating Teachers' Responses To Student Misconceptions. International Group for the Psychology of Mathematics Education, 249–256. Melbourne, Australia.
Coombs, B. (2009). Mengajar Secara Efektif. Heinmann Publisher (Oxford)Ltd., Halley Court, Jordan Hill, Oxford.
Groisser, P. L. (1964). How to Use the Fine Art of Questioning. New York: eachers Practical Press.
Hassan, N., & Ismail, Z. (2008). Pengetahuan Pedagogi Kandungan Guru Pelatih Matematik Sekolah Menengah. Seminar Kebangsaan Pendidikan Sains Dan Matematik, 1–14. Universiti Teknologi Malaysia & Jabatan Pendidikan Negeri Johor.
Hlas, A., & Hildebrandt, S. (2010). Demonstrations of Pedagogical Content Knowledge: Spanish Liberal Arts and Spanish Education Majors' Writing. L2 Journal, 2(1), 1–22.
Kaviza, M. (2020). Motivasi Intrinsik dan Kemahiran Berfikir Kritis dalam Pembelajaran Sejarah Berasaskan Analisis Sumber-Sumber Teks: Satu Kajian Faktorial. Jurnal Pendidikan Bitara UPSI, 13(1), 17–26.
Mok, S. S. (2008). Pedagogi untuk Pengajaran dan Pembelajaran. Penerbit Multimedia.
Nixon, R. S., Luft, J. A., & Ross, R. J. (2017). Prevalence and Predictors of Out‐Of‐Field Teaching in The First Five Years. Journal of Research In Science Teaching, 54(9), 1197–1218.
Nor, M. A., & Mahamod, Z. (2014). Penterjemahan Pengetahuan Pedagogi Kandungan dalam Proses Tindakan Guru Bahasa Iban Baharu dan Berpengalaman Bukan Opsyen. Jurnal Pendidikan Malaysia, 39(1), 37–49.
Rajendran, N. S. (2001). Pengajaran Kemahiran Berfikir Aras Tinggi: Kesediaan Guru Mengendalikan Proses Pengajaran Pembelajaran. Pengajaran Kemahiran Berfikir Aras Tinggi: Kesediaan Guru Mengendalikan Proses Pengajaran Pembelajaran., 1–13. Pengajaran Kemahiran Berfikir Aras Tinggi: Kesediaan Guru Mengendalikan Proses Pengajaran Pembelajaran.
Shulman, L. S. (1987). Knowledge and Teaching: Foundations of the New Reform. Harvard Educational Review, 57, 1–22.
Walle, J. A. Van de, Bay-Williams, J. M., & Karp, K. S. (2001). Elementary and Middle School Mathematics: Teaching Developmentally. New York: Addison Wesley Longman Inc.
Yusoff, N. M., & Osman, R. (2010). Hubungan Kualiti Penyeliaan Pengajaran dan Pembelajaran di Bilik Darjah Dengan Efikasi Guru. Journal of Educators and Education, 25, 53–71.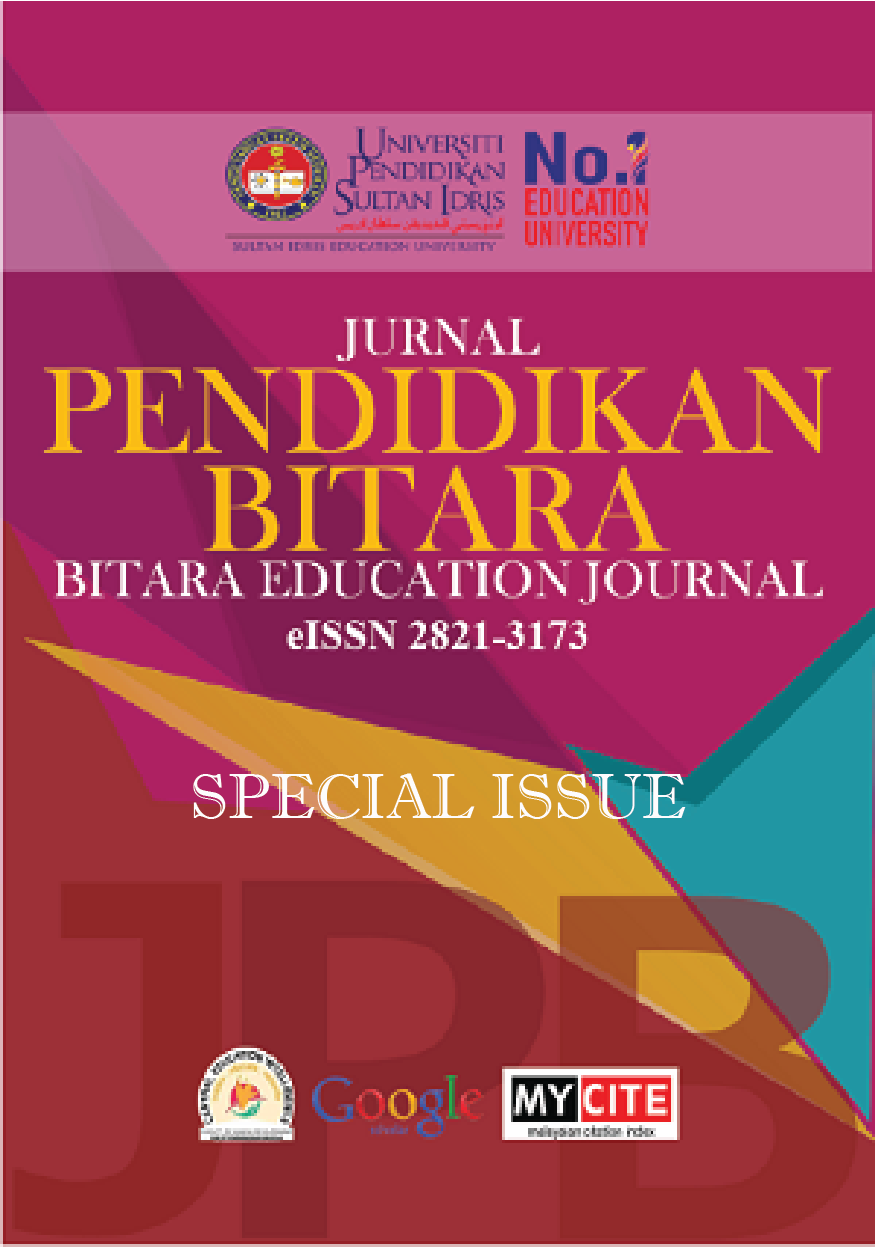 How to Cite
Mahendran, K., Adenan, N. H., Abd Karim, N. S., Adawiyah, R., & Md Junus, N. W. (2021). Analisis Tahap Pengetahuan Pedagogi Kandungan (PCK) Guru Pelatih Matematik. Jurnal Pendidikan Bitara UPSI, 14, 72-81. https://doi.org/10.37134/bitara.vol14.sp.8.2021
Copyright (c) 2021 Kugan Mahendran, Nur Hamiza Adenan, Nor Suriya Abd Karim, Rawdah Adawiyah, Noor Wahida Md Junus
This work is licensed under a Creative Commons Attribution-NonCommercial-ShareAlike 4.0 International License.