Implications of Enrichment and Poetry Learning on the Cognitive Development of Primary School Students
Implikasi Pengayaan dan Pembelajaran Pantun Terhadap Perkembangan Kognitif Murid Sekolah Rendah
Ros Anita Kartini Mohamed

Fakulti Bahasa dan Komunikasi, Universiti Pendidikan Sultan Idris, Tanjong Malim, Perak, MALAYSIA

Abdul Halim Ali

Fakulti Bahasa dan Komunikasi, Universiti Pendidikan Sultan Idris, Tanjong Malim, Perak, MALAYSIA
Keywords:
Critical Thinking, Higher Order Thinking Skills, Taxonomy, Pantun
Abstract
Among the goals of the application of literature in enrichment and learning in primary schools is to strengthen language teaching, instill an interest in reading and emphasize noble values, produce students who think critically and derive lessons from such learning. The application of pantun in primary schools, for example, is believed to help 21st century students in enrichment and learning towards critical thinking. This is because in the pantun are implied moral values ​​that are expressed in daily life. Teaching pantun in teaching also guides students to entertain, interpret and evaluate their phenomena so that children's emotional intelligence can develop. With its structured nature and easy to manipulate, the pantun seeks to support this role. Descriptive qualitative and literature review methods were used to analyze the pantun in styling and learning in the classroom. Next, the findings of the discussion of this paper are focused on the ability of students to express the author's thoughts critically concerning children's lives using Bloom Anderson & Krathwohl's 2001 Revised Edition Taxonomy theory in learning.
Downloads
Download data is not yet available.
References
Anderson, Lorin W. & Krathwohl, David R. (2010). Kerangka Landasan Untuk Pembelajaran, Penagajaran, dan Asesmen. Pustaka Murid.
Anderson, Lorin W. & Krathwohl, David R. (2017). Kerangka Landasan Untuk Pembelajaran.Pustaka Murid.
Barak, M. (2009). Idea focusing versus idea generating: a course for teachers on inventive problem solving, Innovations. Education and Teaching International Journal, 46(4), 345–356.
Dokumen Falsafah Pendidikan Kebangsaan. (2018). Kementerian Pendidikan Malaysia.
Harun Mat Piah. (1989). Puisi Melayu Tradisional: Satu Pembicaraan Genre dan Fungsi. Kementerian Pendidikan Malaysia.
Kamaruzaman Moidunny (2021, Julai 20). Taksonomi Bloom: Perubahan Yang Diperlukan? http://kamaruzamanmoidunny.blogspot.com/2012/09/taksonomi-bloom-perubahan-yang.html
Kartini, Ros Anita., Ali, Abdul Halim. (2021). Implikasi Elemen Sastera Melayu Terhadap Perkembangan Kognitif Murid Dalam Pengajaran Dan Pembelajaran Sejarah Di Sekolah Rendah. Jurnal Dunia Pendidikan, [S.l.], 3(4) 116-126. https://myjms.mohe.gov.my/index.php/jdpd/article/view/16163
Krathwohl, David R. (2002). A Revision of Bloom's Taxonomy: An Overview. Theory Into Practice, 41(4), Number 4, 11-16.
Mariam Awang Lah. (2010). Dengarlah Ini Sayang. Dewan Bahasa & Pustaka.
Mohamed Isa, Z. (2019). The Use of the Storybook Stages and Its Effect On The Appearance of Children's Literacy (1-23). Jurnal Pendidikan Bitara UPSI, 3(1), 1-23. Retrieved from https://ejournal.upsi.edu.my/index.php/JPB/article/view/2390
Mohamed, Ros Anita Kartini., Ali, Abdul Halim., Kata, Norawi. (2021). Unsur Sastera Melayu dalam Pengajaran dan Pembelajaran di Sekolah Rendah Melahirkan Murid Berfikiran Kritis. Jurnal Dunia Pendidikan, [S.l.], 540-550. https://myjms.mohe.gov.my/index.php/jdpd/article/view/14364
Mohd Radzi, M.S. (2010). Aplikasi Kemahiran Berfikir Aras Tinggi Melalui PembelajaranBerasaskan Masalah. Fakulti Pendidikan UTM
Mohd Taib Osman. (1987). Warisan Puisi Melayu. Dewan Bahasa & Pustaka.
Moidunny, K. (2012, Disember 25). Artikel 5: Taksonomi Bloom: Perubahan Yang Diperlukan?. Institut Aminuddin Baki http://kamaruzanmoidunny.blogspot.my/2012/09/taksonomi;-bloom.html,
Molenda, M., Reigeluth, C. M., & Nelson, L. M. (2003, Januari 4). Instructional Design. http://mizanis.net/edu3105/artikel/ID_CogSci.pdf
Muhammad Ariff Ahmad (2004). Mari kita Berpantun. Majlis Bahasa Melayu Singapura
Nashrud-din, N. b. (2012, November 4). Kemahiran Berfikir Secara Kritis dan Kreatif. Retrieved from Pusat Sumber Pendidikan Negeri http://btpn.moe.edu.my/pspnns/Unit_PSM&HE.PKG/kbkk.htm
Putu Ayub. (2013). Revisi Taksonomi Pembelajaran Benyamin S. Bloom. Kristen Satya Wacana
Quek Khiok Seng, H. K,. (2008). Implicit theories of creativity: a comparison of student-teachers in Hong Kong and Singapore. Routledge, 71-86.
Ramlah Jantan dan Mahani Razali. (2004). Psikologi Pendidikan: Pendekatan Kotemporari Edisi Revisi. Mc Graw Hill Education.
Ridzuan Hussin. (2013). Pendekatan Teori Pembelajaran Kognitive dalam Pendidikan Seni Visual (PSV). Jurnal Sains dan Pendidikan Seni, Volume (1), 59-66.
Ruwaidah, Mohamed Noh, N., & Abdullah, N. (2021). Analysis of the level of knowledge attitude of activity and fun towards library usage among primary school pupils. Jurnal Pendidikan Bitara UPSI,14(1), 23-36. https://doi.org/10.37134/bitara.vol14.1.3.2021
Sue Gregory, Y. M. (2012). Real thinking with virtual hats: A role-playing activity for pre-service teachers in Second Life. Australasian Journal of Educational Technology, 420-440.
Zaaba. (1965). Ilmu Karang-mengarang Melayu. Dewan Bahasa dan Pustaka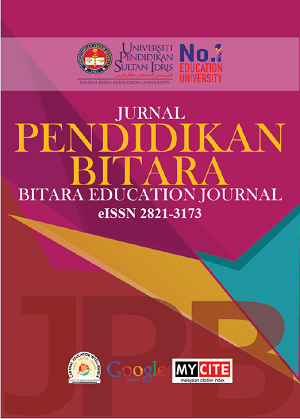 How to Cite
Mohamed, R. A. K., & Ali, A. H. (2022). Implications of Enrichment and Poetry Learning on the Cognitive Development of Primary School Students. Jurnal Pendidikan Bitara UPSI, 15(1), 12-18. https://doi.org/10.37134/bitara.vol15.1.2.2022
Copyright (c) 2022 Ros Anita Kartini Mohamed, Abdul Halim Ali
This work is licensed under a Creative Commons Attribution-NonCommercial-ShareAlike 4.0 International License.