Eksplorasi lakaran bertema kenderaan serta kesan terhadap kreativiti kanak-kanak
Exploration theme of sketches and effects on preschool children's creativity
Rofidah Musa

Fakulti Seni, Komputeran dan Industri Kreatif, Universiti Pendidikan Sultan Idris, Tanjong Malim, Perak, MALAYSIA

Muhamad Firdaus Ramli

Fakulti Seni, Komputeran Dan Industri Kreatif, Universiti Pendidikan Sultan Idris, Tanjong Malim, Perak, MALAYSIA

Norkhaizatul Erma Mohd Khairuddin

Fakulti Seni, Komputeran dan Industri Kreatif, Universiti Pendidikan Sultan Idris, Tanjong Malim, Perak, MALAYSIA

Zainuddin Abindinhazir

Fakulti Seni, Komputeran dan Industri Kreatif, Universiti Pendidikan Sultan Idris, Tanjong Malim, Perak, MALAYSIA
Keywords:
Lakaran, Kreativiti, Kanak-kanak
Abstract
Kajian ini berkaitan dengan Eksplorasi lakaran secara bertema serta kesan terhadap kreativiti kanak-kanak prasekolah. Hasil kajian yang telah dijalankan, mendapati bahawa guru prasekolah menjalankan aktiviti pengajaran dan pembelajaran terbatas kepada tema yang telah ditetapkan. Guru kurang memberikan kebebasan kepada kanak-kanak dalam aktiviti melakar dan mereka tidak dapat membuat penerokaan yang menyeluruh. Ini akan memberikan kesan yang negatif terhadap perkembangan kreativiti kanak-kanak diperingkat prasekolah. Kajian ini telah dijalankan terhadap 25 orang kanak-kanak prasekolah di sekolah daerah Kuala Terengganu dengan menggunakan pendekatan lakaran bertemakan kenderaan. Hasil lakaran kanak-kanak dijadikan dokumen utama dalam proses analisis. Dapatan daripada kajian ini, menunjukkan bahawa kanak-kanak yang menghasilkan lakaran bertema, kurang menonjolkan kreativiti mereka. Ini adalah kerana masih kurang penguasaan terhadap asas lakaran, aktiviti atau latihan, sekaligus asas lakaran secara bertema yang diketengahkan telah menyekat kreativiti mereka dalam melakar.
Downloads
Download data is not yet available.
References
Bahagian Pembangunan Kurikulum. (2011). Buku Panduan Kreativiti Pembanguna Dan Amalan Dalam Pengajaran & Pembelajaran. Kementerian Pelajaran Malaysia.
Barbara Sicherl Kafola, Olga Denacb, & Jerneja Znidarsic (2015). Opinion of the Slovenian preschool teachers about arts and cultural education in kindergarten. 7th World Conference on Educational Sciences, (WCES-2015), 05-07 February 2015, Novotel Athens Convention Center, Athens, Greece.
Chua Yan Piaw. (2014). Kaedah Penyelidikan: Mc Graw Hill Education, Malaysia.
Daniel Fasko. (2001). Education and Creativity. Jr. Bowling Green State University. Creativity Research Journal by 2000–2001, Vol. 13, Nos. 3 & 4, 317–327.
Idayu Abdul Said, Mohd Nazri Abdul Rahman & Mariani Md. Nor. Analisis Kandungan Terhadap Aktiviti Seni Bagi Pendidikan Awal Kanak-Kanak Dalam Jurnal Terpilih Dari Tahun 2010-2016. Jurnal Kurikulum & Pengajaran Asia Pasifik. Januari 2017, Bil. 5, Isu 1.
Jessie Wright-Jackson. (2012). Visible Ideas: Communication And Learning Through Drawing In The Early Childhood Setting.
Karnes, M. B., McCoy, G.F. Zehrbach, R.R., Wollersheim, J. P., Clarizio, H.F. Costin, L & Stanley, L.S. (1961). Factors associated with under achievement and over achievement of intellectually gifted children. Champaign, IL: Champaign Community Unit Schools.
Sue Dockett & Bob Perry. (2005). Children's drawings:experiences and expectations of school Journal: International Journal of Equity and Innovation in Early Childhood ISSN: 1448-6318.
Yahya Buntat, Mat Nasir & Noor Sharliana. (2011). Faktor-faktor yang mendorong kreativiti di kalangan pelajar, Universiti Teknologi Malaysia. Journal of Educational Psychology and Counseling, 2(7), 175-208. ISSN: 2231735x.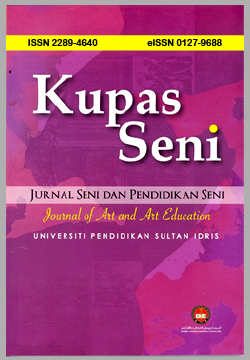 How to Cite
Musa, R., Ramli, M. F., Mohd Khairuddin, N. E., & Abindinhazir, Z. (2019). Eksplorasi lakaran bertema kenderaan serta kesan terhadap kreativiti kanak-kanak. KUPAS SENI, 7, 72-80. https://doi.org/10.37134/kupasseni.vol7.8.2019
Copyright (c) 2019 Rofidah Musa, Muhamad Firdaus Ramli, Norkhaizatul Erma Mohd Khairuddin, Zainuddin Abindinhazir
This work is licensed under a Creative Commons Attribution-NonCommercial-ShareAlike 4.0 International License.