Pengaruh gaya seni barat dalam arca Anthony Lau (1933-2016)
Thei ifluence of western art style in Anthony Lau's (1933-2016)
Zainuddin Abindinhazir

Universiti Pendidikan Sultan Idris, Tanjong Malim, Perak, MALAYSIA

Amir Hashim

Universiti Pendidikan Sultan Idris, Tanjong Malim, Perak, MALAYSIA

Hafizul Fahri Hanafi

Universiti Pendidikan Sultan Idris, Tanjong Malim, Perak, MALAYSIA
Keywords:
Pengaruh, "Ayam Jantan / Cockerel" (1963), "Rimba / Forest" (1967), "Hasil Laut / Sea Harvest" (1968)
Abstract
Aliran dan gaya seni barat meninggalkan pengaruh besar terhadap perkembangan senirupa Malaysia. Pendokongan terhadap seni tradisi, persoalan identiti, jatidiri budaya dan desakan kemodenan membuka luas ruang komentar seni berkaitan pengaruh dalam tempoh yang panjang. Makalah ini adalah sebahagian dari siri-siri komentar seni diusahakan sebagai inisiatif untuk meneliti, memahami dan membahas kesinambungan isu pengaruh gaya barat dalam sinario perkembangan seni arca tempatan. Penulisan ini mengkhususkan hanya tiga buah karya arca oleh Anthony Lau. Penulisan ini menggunakan kerangka analisis formal melalui kaedah komparatif dan pembacaan ikonografi. Pembacaan ikonografi bertujuan memahami makna-makna simbolik dan mengandaikan keberadaan asimilasi, adaptasi dan aplikasi elemen dan prinsip gaya barat berdasarkan aspek-aspek yang boleh dilihat dan dinilai melalui karya tampak.  Karya-karya yang dipilih adalah untuk perbandingan sampel bagi tujuan perbincangan akademik.
Downloads
Download data is not yet available.
References
Ahmad, Mohd Yusof; Tan Sei Hon; Amizan, Anis, et.al., SeniKini#13: Khazanah seni visual negara, siri II, Balai Seni Visual Negara, Keluaran 11/2011, 25 Sept. 2011. Kuala Lumpur: BSVN. 2011. p. 6.
Baharuddin Mohammad Arus. (1996). Dialog kurator tamu dalam persoalan tradisi & kemodenan: pameran seni arca kontemporari Malaysia. Balai Seni Lukis Negara: Kuala Lumpur.
Baverly Yong. (2003). Formative: contemporary Malaysian sculpture. Valentine Willie Fine art: Kuala Lumpur.
B.N. Marbun. (1996). Kamus politik. Jakarta: Pustaka Sinar Harapan.
Bernadette. What is my spirit animal? https://whatismyspiritanimal.com/spirit-totem-power-animal-meanings/birds/rooster-symbolism-meaning/. Web., 10/11.2016.
Carl G. Liungman. Dictionary of syimbols., New York: W. W Norton & Company., 1991.p.,357.
Cirlot, J. E. A Dictionary of Symbols. 2nd Ed. London: Routledge. 1971. pp.51,52,143.
Christie's. Seymour Lipton. (American, 1903-1986).: Maquette for "Wheel"., http://www.christies.com/lotfinder/Lot/seymour-lipton-american-1903-1986-maquette-for-5481782- details.aspx. Web.5/01/2017. (Rujukan Imej).
Dolores D. Wharton. Contemporary artists of Malaysia: A Biographic survey. 1971. Selangor: Malaya Publishing & Printing Co. p.,49.
Eduard Trier. Form and space: sculpture of the twientieth century. London: Thames and Hudson. 1960 p.,158. (Rujukan Imej).
Eduard, Trier. Sculpture of the twentieth century. London: Thames and Hudson. 1960. p.160.
Fontana, David. The secret languages of symbols: A visual key to symbols and their meanings. San Francisco: Chronicle Books. 1994. p.,84.
Galerie Riviera. Michel Anasse Zoomorphic Sculpture. http://www.galerieriviera.com/en/ collection/sold/michel-anasse-zoomorphic-sculpture-58.html.Web.,26/08/15. (Rujukan Image).
Harold Cousins. 'Plaiton' sculpture: its origin and development. Leornardo, Vol.4, pp.351-354.Great Britain: Pergamon Press. 1971. p.35.
Harold B. Cousins. Harold B. Cousin.Gallery. http://www.haroldcousins.com/AllWorks/page8.html. Web.,22/05/2012. (Rujukan Image).
Harold Cousins. Biography. http://www.haroldcousins.com/.Web.5102013. (Rujukan Imej).
Liza Marziana, Mohammad Noh, Hamdzun Haron, Abdul Latiff Samian, Ahmad Rashidi Hasan. The malay cultural symbol in malaysian modern sculpture in proceedings of the 2nd International colloquium of art and design education research (i-CADER 2015).Singapore: Springer., 2016., pp261- 271.
Lori Verderame. An american sculptor: seymour lipton., Palmer Museum of Art (Pennsylvania State University), Marion Koogler McNay Art Museum., New York: Hudson and Hill Press. 2000. p.,10.
Ooi Kok Chuen. Anthony Lau's imposing sculpture in fort canning park. Art & Leisure, New Sunday Times, Nov. 6. Kuala Lumpur: NST. 1988. p,15.
Rosenfeld, Michael., Seymour Lipton: "Abstract Expressionist Sculptor". http://images.michael
rosenfeldart.com/www_michaelrosenfeldart_com/The_New_York_Times_May_6_2005.pdf.Web.,16/01/2017.
Symbols and their Meaning. http://www.crossroad.to/Books/symbols1.html
Tamyez Bajuri. (1996). Dialog kurator tamu dalam persoalan tradisi & kemodenan: pameran seni arca kontemporari Malaysia. Balai Seni Lukis Negara: Kuala Lumpur.
T.K Sabapathy. (1976). Tinjauan seni arca moden di Malaysia. Balai Seni Lukis Negara. United Selangor Press: Kuala Lumpur.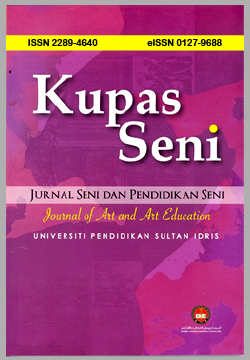 How to Cite
Abindinhazir, Z., Hashim, A., & Hanafi, H. (2019). Pengaruh gaya seni barat dalam arca Anthony Lau (1933-2016). KUPAS SENI, 7, 49-63. https://doi.org/10.37134/kupasseni.vol7.6.2019
Copyright (c) 2019 Zainuddin Abindinhazir, Amir Hashim, Hafizul Fahri Hanafi
This work is licensed under a Creative Commons Attribution-NonCommercial-ShareAlike 4.0 International License.