Contribution of Expertise in Ergonomic Design in Dealing with Inadequacy of Personal Protection Equipment for Front-liners in Issue of COVID-19
Sumbangan Kepakaran Rekaan Ergonomik dalam Menangani Kekurangan Peralatan Perlindungan Diri bagi para petugas Barisan Hadapan (Frontliners) dalam Isu Covid 19
Keywords:
Personal Protective Equipment (PPE) expertise ergonomic design, clothing that practices innovative thinking
Abstract
The World Health Organization (WHO) has declared the outbreak of the Novel Corona virus (COVID-19) on January 30, 2020. The virus is very dangerous and needs to be addressed worldwide. PPE aims to ensure the safety of the health workers and prevent them from being infected with COVID-19. Therefore, frontline staff should wear personal protective equipment (PPE) to prevent the virus from spreading while treating patients. PPE aims to ensure safety and prevent health workers from being infected with COVID-19 but the lack of PPE supply is so acute at this time as the demand for PPE use becomes higher. The orientation in lacking of PPE supply has initiated the contribution of expertise to meet the needs of declining in PPE stock storage of the Ministry of Health (MOH) in Malaysia. The contribution of expertise from volunteers tends to the activities to produce equipment and clothes through practicing innovative thinking to provide PPE to address the issue of shortage in PPE stock of MOH. In concern to that case, the universities and NGOs began to contribute their expertise to produce PPE and the other protective equipment. This concept paper aims to explore the current issues of PPE and the contribution of expertise from the public universities and NGOs in the production of PPE to increase its stock in MOH. This paper also aims to examine the ergonomic suitability of innovation and design of PPE whether it is referring to the specifications provided by the MOH to combat with COVID-19.
Downloads
Download data is not yet available.
References
Ahmad Sofian Shminan., Rehman Ullah Khan., Wan Norizan Wan Hashim., Iswandy Jamaludin. (2020). Design and development of 3D Face Mask Clips for Hijab. Dimuat naik daripada http://publisher.unimas.my/ojs/index.php/JCSHD/issue/view/164
Ambigapathy, S., Rajahram, G. S., Shamsudin, U. K., Khoo, E. M., Cheah, W. K., Peariasamy, K. M., Goh, P. P., & Khor, S. K., et al. (2020). How should front-line general practitioners use personal protective equipment (PPE)? Malaysian family physician: the official journal of the Academy of Family Physicians of Malaysia, 15(1), 2–5.
Anderson, M. (2020). Optimizing the Supply of Personal Protective Equipment (PPE) during the COVID-19 Pandemic dilayari dari file:///C:/Users/user/Documents/PENULISAN%20ILMIAH/jurnal%20luar/Ontario_Health_Optimizing_PPE_During_COVID19_April_10_2020.pdf
Bankole I. Oladapo, Sikiru O. Ismail, Temitope D. Afolalu, David B. Olawade, Mohsen Zahedi. (2020). Review on 3D printing: Fight against COVID-19,.Volume 258, Materials Chemistry and Physics, Dimuat naik daripada http://www.sciencedirect.com/science/article/pii/S0254058420313031)
Berita Harian Date of Publication: 10 March 2015 Page number: 30 Publication:
Cohen, J., & Rodgers, Y. (2020). Contributing factors to personal protective equipment shortages during the COVID-19 pandemic. Preventive medicine, 141, 106263. Advance online publication. https://doi.org/10.1016/j.ypmed.2020.106263
KKM. (2020). Makluman Ujian Fit Test Item N95 Mask Dan KN95 Mask Oleh Jawatan Kuasa Kawalan Infeksi Dan Antibiotic Kebangsaan.
KKM. (2015). Pelan Transformasi Perkhidmatan Kesihatan, Kementerian kesihatan Malaysia.
KKM. (2017). Garis Panduan Kawalan Infeksi di Fasiliti Kesihatan Fasiliti. Kementerian Kesihatan Malaysia.
Lockhart, S. L., Duggan, L. V., Wax, R. S., Saad, S., & Grocott, H. P. (2020). Personal protective equipment (PPE) for both anesthesiologists and other airway managers: principles and practice during the COVID-19 pandemic. Canadian journal of anaesthesia.
NIOSH. (2015). Amalan yang betul menggunakan kelengkapan diri. Malaysia.
NIOSH. (2020). Dimuat naik daripadahttps://www.cdc.gov/niosh/npptl/topics/protectiveclothing/
Nur Amalina Mohd Amin, Universiti mendepani pandemik Covid-19. Dimuatnaik daripada https://www.hmetro.com.my/rencana/2020/04/571619/universiti-mendepani-pandemik-covid-19
Park, C,Y. (2020). An Updated Assessment of the Economic Impact of COVID-19 (ADB Brief 133) https://www.adb.org/sites/default/files/publication/604206/adb-brief-133-updated-economic-impact-covid-19.pdf
Shahbudin, M. S. I. (2020). Kepanikan Pengguna Media Sosial Terhadap Virus Covid 19. PENDETA: Journal of Malay Language, Education and Literature, 11, 1-10. https://doi.org/10.37134/pendeta.vol11.edisikhas.1.2020
Talha Burki. (2020). Global shortage of personal protective equipment. Dimuat naik daripada https://www.thelancet.com/journals/laninf/article/PIIS1473-3099(20)30501-6/fulltext
Tan, W., Ye, Y., Yang, Y., Chen, Z., Yang, X., Zhu, C., Chen, D., Tan, J., & Zhen, C. (2020). Whole-Process Emergency Training of Personal Protective Equipment Helps Healthcare Workers Against COVID-19: Design and Effect. Journal of occupational and environmental medicine, 62(6), 420–423
Trisha Greenhalgh, T. (2020). Editor's commentary: Rapid Riviews of PPE –an update. Dilayari dari https://www.cebm.net/covid-19/editors-commentary-rapid-reviews-of-ppe-an-update/
UMK. (2020). Dimuat turun daripada https://www.umk.edu.my/index.php/ms/penerbitan/berita-terkini/4-latest-news/438-covid-19-prihatin-dengan-pelajar-dan-warganya-umk-keluarkan-9-garispanduan
UMNO online. (2020). https://umno-online.my/2020/04/04/covid-19-persiapan-operasi-pengurusan-pelajar-usim-teratur-noraini/
UPM (2020). Makmal Teknologi Pakaian FPP hasilkan PPE untuk petugas barisan hadapan COVID-19 Dimuat naik daripada https://pnc.upm.edu.my/berita/makmal_teknologi_pakaian_fpp_hasilkan_ppe_untuk_petugas_barisan_hadapan_covid_19-56654
Vordos, N., Gkika, D. A., Maliaris, G., Tilkeridis, K. E., Antoniou, A., Bandekas, D. V., & Ch Mitropoulos, A. (2020). How 3D printing and social media tackles the PPE shortage during Covid - 19 pandemic. Safety science, 130, 104870. https://doi.org/10.1016/j.ssci.2020.104870
WHO. (2020). Rational use of personal protective equipment for coronavirus disease 2019 (COVID-19). Dimuat naik pada https://www.who.int/publications/i/item/rational-use-of-personal-protective-equipment-for-coronavirus-disease-(covid-19)-and-considerations-during-severe-shortages.
WHO. (2019). Novel Coronavirus (2019-nCoV): Strategic Preparedness And Response Plan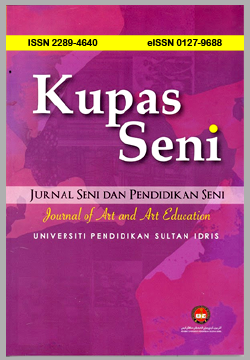 Downloads
How to Cite
Mohd Nor, N., Hoi Yeh, L., Jamaldin, S. S., & Mohd Arif, M. F. (2021). Contribution of Expertise in Ergonomic Design in Dealing with Inadequacy of Personal Protection Equipment for Front-liners in Issue of COVID-19: Sumbangan Kepakaran Rekaan Ergonomik dalam Menangani Kekurangan Peralatan Perlindungan Diri bagi para petugas Barisan Hadapan (Frontliners) dalam Isu Covid 19. KUPAS SENI, 9(1), 36–44. https://doi.org/10.37134/kupasseni.vol9.1.4.2021