21st Generation International Art Exhibition: Ministry Support and Work Tendency of Generation Z
Pameran Antarabangsa Seni Visual Generasi 21: Sokongan Kementerian dan Kecenderungan Karya Generasi Z
Keywords:
Art Exhibition, Ministry support, Z-generation, artwork
Abstract
Generasi 21 International Art Exhibition is an initiative art programme of Katarsis Seni. It is implemented for Z generation, which consists of teenagers aged between 13 to 21 years. The initiative, which includes worldwide participation, aims to ensure the continuation of art education in order to construct generation Z's identity in the future. The goal of this study is to determine how the Malaysian Ministry of Education (MOE) and the Malaysian Ministry of Tourism, Arts and Culture (MOTAC) promote teenage art activities, as well as the trend of artwork made by generation Z adolescents throughout the pandemic season. The study employs a qualitative method of interviewing and document analysis. The findings revealed that, due to the current situation, the MOE did not promote youth involvement; however, MOTAC completely supported the organization and participation of youths by providing venue services, expertise, and exhibition consultation to the organizers. The response to artwork involvement is relatively low. Teenagers, on the other hand, generate high-quality artwork. Support from the government is critical for exhibition activities in order to unearth and nurture young people's artistic talents. Teenagers can demonstrate the level of content and the relationship between the work and social, cultural, and educational ties via the artwork in this exhibition.
Downloads
Download data is not yet available.
References
A. Aziz Deraman. (2002). Tamadun Melayu dan Pembinaan Bangsa Malaysia. Kuala Lumpur. Dewan Bahasa dan Pustaka.
Amiruddin Osman., Rosli Zakaria., & Shahrul Munir Mohd Kaulan. (2016). Penilaian Pengunjung Terhadap Pameran Karya Seni "Travelog" Pelajar Seni Halus UiTM Melaka. ISME Colloquium.
Arif Fiyanto. (2018). Cita-Cita Hidup Bahagia Sebagai Tema Dalam Penciptaan Karya Seni Lukis 1. DosenJurusan Seni Rupa, Universitas Negeri Semarang.
Astari Clara Sari., Rini Hartina., Reski Awalia., Hana Irianti., & Nuril Ainun. (2018). Komunikasi Dan Media Sosial. Fakultas Sastra, Universitas Muslim Indonesia.
Borang Geran sokongan Pelancongan Seni Dan Budaya. (2021) https://www.tourism.gov.my/files/uploads/GSPSB_pascacovid.pdf
Burke, K., & Cleaver, D. (2019). The Art of Home Education: An Investigation into the Impact of Context on Arts Teaching and Learning in Home Education. Journal of Education. 49:6. 771-788. doi:10.1080/0305764X.2019.1609416.
Farhan, K. (2020). Tambah Baik Sistem Pendidikan Sesuai Norma Baharu. https://www.Bharian.Com.My/Rencana/Komentar/2020/12/765191/Tambah-Baik-Sistem-Pendidikan-Sesuai-Norma-Baharu
Fatimah Mustaffa., & Ahmad Esa. (2013). Amalan Pengurusan Risiko Sukan Pensyarah Institusi Pendidikan Guru Malaysia. Proposal kajian.
Indar Sabri. (2019). Peran Pendidikan Seni Di Era Society 5.0 untuk Revolusi Industri 4.0. Seminar Nasional Pascasarjana 2019.
Jakob Sumarjo. (2020), "Filsafat Seni", Bandung: ITB.
Kementerian Pendidikan Malaysia. (2013). Pelan Pembangunan Pendidikan Malaysia 2013-2025. Kementerian Pendidikan Malaysia (Pendidikan Prasekolah hingga Lepas Menengah).
Kementerian Pendidikan Malaysia. (2020). Surat Pekeliling Penangguhan Program Aktiviti Sukan, Kokurikulum, Seminar, Bengkel, Serta Aktiviti Lain Selaian Pengajaran dan Pembelajaran Secara Bersemuka. KPM.100-1/3/1 jld.3 (92).
Mardi. (2021). Pameran Seni Siswa di Era Modern Sebagai Upaya Menggali Potensi Kreasi Bangsa Mardi SMKN 12 Surabaya. Indonesia Jurnal Inovasi dan Riset Akademik.
Moh. Rondhi. (2021). Apresiasi Seni dalam Konteks Pendidikan Seni 1. Vol XI No 1-Januari 2017, Jurnal Imajinasi.
Mohammad Ahmad Bani Salameh. (2021). Contemporary Arab Art and It's Relate to Contemporary Societal Issues (During the Covid-19 Pandemic). Palarch's Journal of Archaeology of Egypt/Egyptology 18(8).
Muhammad Izzat., Zuriani Hanim., & Nur Hafizaliyana. (2020). Persepsi Pelajar Kolej Universiti Islam Melaka Terhadap Pelaksanaan Pembelajaran Secara Atas Talian Dalam Era Pandemik Covid-19. Jurnal Kesidang Volume 5 88-99.
Mukhsin Patriansyah. (2020). Kajian Strukturalisme dalam Melahirkan Sebuah Karya Seni Besaung. Jurnal Seni Desain Dan Budaya Volume 5. No 2 Maret 2020. ISSN: 2502-8626 ISSN ONLINE: 2549-4074. Universitas Indo Global Mandiri.
Naomi Diah Budi Setyaningrum. (2018). Budaya Lokal di Era Global. Ekspresi Seni, Jurnal Ilmu Pengetahuan dan Karya Seni. https://journal.isi-padangpanjang.ac.id/index.php/Ekspresi
Nurzulaikha Amran., & Noor Aslinda Abu Seman. (2021). Hubungan antara Faktor Sokongan Pendidikan dan Minat Pelajar dalam Bidang Keusahawanan. 2(1), 1499-1508. https://publisher.uthm.edu.my/periodicals/index.php/rmtb/article/view/1874
Pelan Pembangunan Pendidikan Malaysia. (2013-2025). https://www.moe.gov.my/en/dasarmenu/pelan-pembangunan-pendidikan-2013-2025.
Pirontha Kalaiselvan., & Megat Ahmad Kamaluddin Megat Daud. (2021). Pengurusan Risiko Dalam Pelaksanaan Kokurikulum Murid Sekolah Rendah Daerah Sepang. Jurnal Kepimpinan Pendidikan. Bil. 8, Isu 1. Fakulti Pendidikan, Universiti Malaya.
Rubiyantika Astutiningtyas., & Setyo Yanuartuti. (2020). Relokasi Pembelajaran Seni dalam Bentuk Daring Online untuk Meningkatkan Kreativitas Selama Pandemi Covid-19. Pendidikan Seni Budaya Pascasarjana Universitas Negeri Surabaya.
Sandoval, C., Pirogova, E., & Lech, M. (2019). Two-stage deep learning approach to the classification of fine-art paintings. IEEE Access, 7, 41770-41781.
Sedivy, S. (2018). Aesthetic properties, history and perception. The British Journal of Aesthetics, 58(4), 345-362.
Siti Humaini. (2020). Elemen Budaya Dalam Karya Seni Catan Malaysia: Satu Tinjauan Faculty of Art & Design, Universiti Teknologi MARA Cawangan Perak Idealogy. Journal Vol. 5 Issue 1, 157-164.
Takeshi, O., & Kentaro, I. (2017). Imitation, Inspiration, and Creation: Cognitive Process of Creative Drawing by Copying Others' Artworks. Cognitive Science A Multidisciplinary Journal, 41(7). DOI:10.1111/cogs.12442
United Nation. (2020). Policy Brief: Education during COVID-19 And Beyond. https://www.un.org/development/desa/dspd/wpcontent/uploads/sites/22/2020/08/sg_policy_brief_covid-19_and_education_august_2020.pdf
Yasdinul Huda., & Delsina Faiza. (2019). Desain Sistem Pembelajaran Jarak Jauh Berbasis Smart Classroom Menggunakan Layanan Live Video Webcasting. Jurnal Teknologi Informasi Dan Pendidikan.
Yokochi, S., & Okada, T. (2021). The Process of Art‐making and Creative Expertise: An Analysis of Artists' Process Modification. The Journal of Creative Behavior, 55(2), 532-545.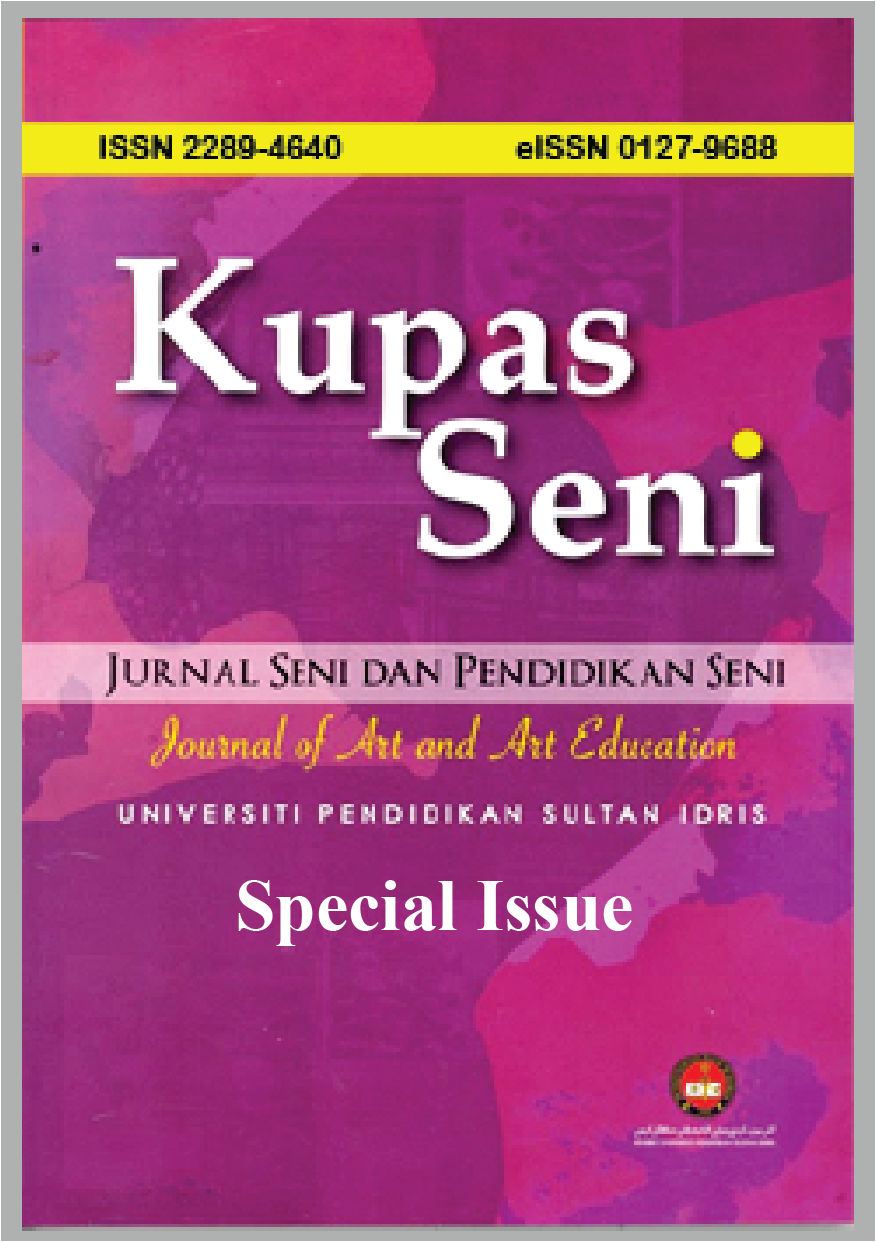 Downloads
How to Cite
Mohd Nor, N., Yoke Seng, W., & Hoi Yeh, L. (2022). 21st Generation International Art Exhibition: Ministry Support and Work Tendency of Generation Z: Pameran Antarabangsa Seni Visual Generasi 21: Sokongan Kementerian dan Kecenderungan Karya Generasi Z. KUPAS SENI, 10, 56–66. https://doi.org/10.37134/kupasseni.vol10.sp.7.2022