Isu Bahasa dan Budaya dalam Penterjemahan Label Makanan
Language and Culture Issues in the Translation of Food Label
Keywords:
bahasa, budaya, terjemahan, makanan, label
Abstract
Terjemahan berperanan sebagai jambatan penghubung antara khalayak daripada kebudayaan yang berbeza-beza. Terjemahan juga merupakan aktiviti antarabahasa pada peringkat bahasa, serta proses komunikasi antara budaya. Namun, terdapat pelbagai perkataan dan penjelasan sekitar budaya makanan dalam terjemahan label yang menimbulkan kekeliruan kepada pengguna. Penterjemahan nama makanan melibatkan konotasi budaya yang mungkin sukar untuk difahami dan menimbulkan pelbagai cabaran kepada penterjemah. Oleh itu, artikel ini akan menyorot kajian lampau untuk mengenal pasti serta menjelaskan isu-isu bahasa dan budaya dalam penterjemahan label makanan. Setelah penjelasan berkaitan isu-isu yang mempengaruhi pemilihan strategi dan prosedur terjemahan yang dipilih oleh penterjemah, makalah ini akan mengetengahkan impak positif dan negatif penterjemahan label makanan. Dapatan kajian ini diharapkan dapat dijadikan panduan kepada penterjemah dalam menentukan langkah-langkah menterjemah. Walaupun analisis dokumen memfokuskan pada sorotan kajian terpilih sahaja, diharapkan artikel ini menyumbang perspektif baharu dalam penterjemahan label makanan serta memberikan pencerahan untuk kajian masa hadapan di sekitar isu ini.
Downloads
Download data is not yet available.
References
Anis Shahirah Abdul Sukur. (2020). Fenomena keinggerisan dalam iklan versi terjemahan. Penerbit Universiti Sains Malaysia: Pulau Pinang.
Al- Rushaidi, S.M. dan Ali, H. I. (2017). Translating food menus from English into Arabic: Linguistic and cultural dilemmas. Arab World English Journal for Translation & Literary Studies, 1(1), 201-212.
Azman Che Mat. (2014). Translation of brand and food label products into Arabic: A preliminary linguistically analysis. International Journal of Languages and Literatures, 2(2), 121-135.
Basem Abbas Al Agha. (2006). The translation of fast-food advertising texts from English into Arabic. (Tesis Ijazah Sarjana tidak diterbitkan) University of South Africa. Diakses dari uir.unisa.ac.za/bitstream/handle/10500/2325/dissertation.pdf
Braginsky, V. dan Suvorova, A. (2008). A new wave of Indian inspiration: Translations from Urdu in Malay traditional literature and theatre. Indonesia and the Malay World, 36(104), 115-153. doi: 10.1080/13639810802017867.
Chiaro, D. dan Rossato, L. (2015). Food and translation, translation and food. The Translator, 21(3), 237-243. doi.org/10.1080/13556509.2015.1110934.
Cronin, M. (2015). The moveable feast: translation, ecology and food. The Translator, 21(3), 244–256. doi:10.1080/13556509.2015.1103094
De Marco, A. (2015). Are green-lipped mussels really green? Touring New Zealand food in translation. The Translator, 21(3), 310–326. doi:10.1080/13556509.2015.1103098
Dore, Margherita. (2019). Food and Translation in Montalbano: Linguistic Insights in Transcultural Tastes. 10.1007/978-3-030-11153-3_2.
Garzone, G. (2017). Food, culture, language and translation. Journal of Multicultural Discourses, 12(3), 214–221. doi:10.1080/17447143.2017.1364255
Ghafarian, M., Kafipour, R. dan Soori, A. (2016). Domestication and foreignisation strategies in restaurant menu translation. Pertanika J. Soc. Sci. & Hum, 24 (4), 1417 – 1429.
Guzzo, S. (2014). Cross-cultural adaptation as a form of translation: Trans-lating food in the uk Italian community. testi e linguaggi, 8, 161-169.
Hatim, B. dan Munday, J. (2004). Translation: an advanced resource book. London dan New York: Routledge.
Holzwarth, H. (2009). Penterjemahan novel Siddhartha ke dalam bahasa Melayu. Jurnal Penterjemah, XI (1&2), 26 - 39.
Huo, C. Q., Du, X. M., Gu, W. C., dan Yuan, X. F. (2017). Strategies for English translation of foods with Hebei characteristics. Creative Education, 8, 383-388.
Ismail Dahaman. (1997). Kata nama khas dan iklan. Kuala Lumpur: Dewan Bahasa dan Pustaka.
Mohd Farhan Md Ariffin. (2019). Isu keselamatan makanan menurut perspektif al-Hadith: Analisis terhadap perusahaan kecil dan sederhana di Lembah Klang. (Tesis Ijazah Doktor Falsafah tidak diterbitkan) Universiti Malaya. Diakses dari https://www.academia.edu/40661098/TESIS_PhD_PENUH_ISU_KESELAMATAN_MAKANAN_MENURUT_PERSPEKTIF_AL_HADITH_ANALISIS_TERHADAP_PERUSAHAAN_KECIL_DAN_SEDERHANA_DI_LEMBAH_KLANG_
Mohd. Zubir, S. K. (2011). Bahasa Melayu dan sastera mempunyai hubungan simbiosis dalam membina jati diri generasi moden. PENDETA: Journal of Malay Language, Education and Literature, 2, 86-98.
Nguyen Thi My Duyen. (2012). An investigation into linguistic features of names of food and drinks in restaurant menus in HOI AN ancient town in Vietnamese and English (Tesis Ijazah Sarjana tidak diterbitkan) Universiti of Danang. Diakses dari http://tailieuso.udn.vn/bitstream/TTHL_125/4032/3/Summary.pdf
Nord.C. (2006). Text analysis in translation: Theory, methodology, and didactic application of a model for translation-oriented text analysis. Beijing: Foreign Language Teaching and Research Press.
Norul Hajar Nordin, Muhammad Rizal Razman dan Sharifah Zarina Syed Zakaria. (2018). The safety of packaged food: Focus on environmental management and the food regulation 1985. International Journal of the Malay World and Civilisation, 6 (1), 41 – 46.
Nur Anis Fadzil dan Anis Shahirah Abdul Sukur. (2020). Strategi penterjemahan kata tabu dalam teks sastera. PENDETA: Journal of Malay Language, Education and Literature, 11(2), 70-84. https://doi.org/10.37134/pendeta.vol11.2.6.2020
Nurul Suhada Ismail. (2018). Isu perundangan dalam sekuriti makanan. Analisis dari perspektif tasawur Islam. Jurnal Islam dan Masyarakat Kontemporari, 19. 135-146.
Ong, K. (2019). Food, Language, and Identity in Singapore's Hawker Centers. Dalan Brunn S., Kehrein R. (editor) Handbook of the Changing World Language Map. Springer, Cham. https://doi.org/10.1007/978-3-319-73400-2_164-2
Oster, U. dan Molés-Cases, T. (2016). Eating and drinking seen through translation: A study of food-related translation difficulties and techniques in a parallel corpus of literary texts. Across Languages and Cultures. 17(1):53-75. doi:10.1556/084.2016.17.1.3
Peraturan-Peraturan Makanan 1985. Bahagian Keselamatan dan Kualiti Makanan. Kementerian Kesihatan Malaysia. Diakses dari http://fsq.moh.gov.my/v6/xs/page.php?id=72
Peng, A.M. (2015). Translating dish names: Food culturalr in Hong Lou Meng. Open Access Library Journal, 2: e1316. http://dx.doi.org/10.4236/oalib.1101316
Senarai Nama dan Ungkapan Umum Sajian. (2004). Kuala Lumpur: Dewan Bahasa dan Pustaka.
Sun, X. dan Sun, J. (2017). A study of Chinese-English menu translation in light of Skopos theory. Advances in Social Science, Education and Humanities Research, 90, 95-96.
Venuti, L. (1995). The translator's invisibility. London/New York: Routledge.
Yamakata, Y., Carroll, J., dan Mori, S. (2017). A Comparison of Cooking Recipe Named Entities between Japanese and English. Proceedings of the 9th Workshop on Multimedia for Cooking and Eating Activities in Conjunction with The 2017 International Joint Conference on Artificial Intelligence - CEA2017. doi:10.1145/3106668.3106672
Yue, S. (2013). Functionalism theory applied in C-E translation of Chinese food culture text. Theory and Practice in Language Studies, 3(1), 61-68.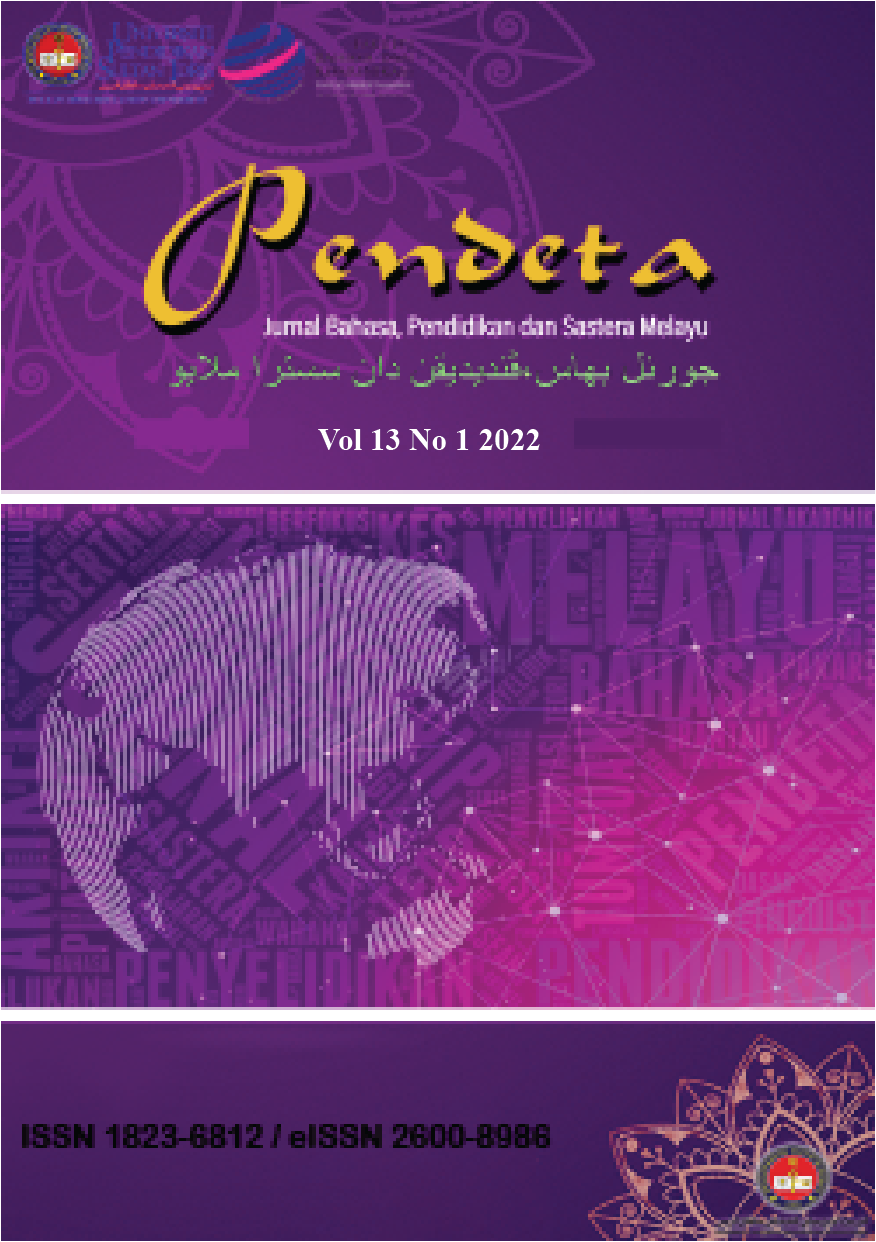 Downloads
How to Cite
Abdul Sukur, A. S. (2022). Isu Bahasa dan Budaya dalam Penterjemahan Label Makanan: Language and Culture Issues in the Translation of Food Label. PENDETA, 13(1), 58–69. https://doi.org/10.37134/pendeta.vol13.1.6.2022