Analisis program sokongan akademik di rumah kebajikan kanak-kanak persendirian
Analysis of academic support programmes at private children welfare home
Syed Lamsah Syed Chear

Jabatan Pengajian Awal Kanak-Kanak, Fakulti Pendidikan dan Sains Sosial, Universiti Selangor, Bestari Jaya, Selangor, Malaysia

Saturia Amiruddin

Jabatan Pengajian Awal Kanak-Kanak, Fakulti Pendidikan dan Sains Sosial, Universiti Selangor, Bestari Jaya, Selangor, Malaysia

Amiraa Ali Mansor

Jabatan Sains Sosial, Fakulti Pendidikan dan Sains Sosial, Bestari Jaya, Universiti Selangor, Selangor, Malaysia
Keywords:
rumah kebajikan, kanak-kanak, program sokongan akademik, perancangan dan pengurusan, welfare homes, children, academic support programs, planning and management
Abstract
Kelangsungan hidup sesuatu masyarakat sangat bergantung kepada kesediaan setiap anggota untuk memikul tanggungjawab dan menyedari setiap seorang mempunyai peranan yang saling melengkapi. Pendidikan seringkali dikaitkan sebagai senjata paling ampuh untuk menangani masalah kemiskinan. Jika individu dewasa dan berkeluarga tidak mampu berhadapan dengan tekanan kemiskinan, bagaimana pula kanak-kanak yang hidup dalam persekitaran serba kekurangan? Objektif kajian ini adalah untuk meninjau perlaksanaan program sokongan akademik di Rumah Kebajikan Kanak-Kanak (Persendirian/Berkediaman) serta menilai keupayaan institusi untuk merancang program sedemikian. Pengkaji telah melawat 35 buah institusi di Selangor untuk meninjau, mengedar borang soal selidik dan menemubual. Didapati kanak-kanak di institusi mengikuti pendidikan wajib dan pelbagai program pembangunan diri yang dianjurkan oleh institusi, sukarelawan dan organisasi luar. Program sokongan akademik di institusi dapat dikategorikan kepada dua bentuk iaitu penyediaan fasiliti dan penganjuran program bimbingan dan motivasi kepada penghuni termasuk menguatkuasa tindakan disiplin. Ia diperkukuh dengan adanya hubungan baik institusi dengan sekolah dan sukarelawan serta latihan berterusan. Institusi ditadbir oleh individu yang berkelayakan dan berpengalaman, manakala pengasuh memiliki latar belakang akademik yang sesuai. Para pentadbir menunjukkan skor median yang tinggi terhadap kemahiran merancang dan melaksanakan program sokongan akademik. Hasil kajian ini mempunyai signifikan terhadap fungsi agensi kebajikan di peringkat persekutuan dan negeri, orang awam dan korporat agar lebih proaktif dan sistematik memberikan bantuan dan sokongan. Suatu dasar yang lebih menyeluruh menyentuh peranan kerajaan, masyarakat dan institusi kebajikan adalah dicadangkan menuju kepada konsep de-institutional sepertimana diamalkan di Eropah. Ia penting untuk memastikan setiap kanak-kanak daripada institusi kebajikan mendapat hak dan peluang pendidikan sama seperti kanak-kanak dalam jagaan institusi keluarga.
The survival of a society depends heavily on the willingness of every member of the society to assume responsibility and realize each one has a role that complements each other. Education is often associated as the most powerful weapon to solve poverty problems. If an adult is not able to deal with relative poverty to meet a minimum level of living standards, what about the children living in a versatile environment? The objective of this study is to overview the implementation of academic support programmes at Children Welfare Home (Private/Residential) as well as to analyze the ability of the institution to plan and organize such programmes. The researcher visited 35 institutions in Selangor to survey, distribute questionnaires, and conduct interview sessions. The findings showed that activities in private children welfare homes were not only limited to care but the children were also given compulsory education and attended various personal development programmes organised by the institutions, volunteers and external organisations. Academic support programmes within the institutions can be categorised into two forms, that are providing facilities and organizing activities. Academic support encompasses the guidance and motivational activities given to the children including enforcing disciplinary action. This activity is strengthened by ensuring the institution having a good relationship with schools and external volunteers as well as providing continuous training to staff. Generally, the institutions have qualified and experienced administrators, while the staff has appropriate academic qualifications. Administrators at the institutions demonstrate high median scores on planning skills and implementing academic support programs. The study recommended that social and community service agencies to pay more attention to private children's welfare homes. It is important to ensure the children are well prepared and able to face challenges after exiting the institutions.
Downloads
Download data is not yet available.
References
Abdullah, F. (2019). Berkongsi tanggungjawab dalam penjagaan tidak formal. Dalam Paradigma Sosial 2019. Institut Sosial Malaysia, Kementerian Perumahan dan Kerajaan Tempatan. Kuala Lumpur. http://www.ism.gov.my/en/services/publications-journals/publications
Abdul Rashid, S. M., & Samad, N. (2018). Kemiskinan keluarga dan pengaruhnya terhadap tahap pendidikan rendah masyarakat luar bandar: Kajian kes di jajahan Bachok, Kelantan. e-Bangi Journal of Social Sciences and Humanities, 13(2), 11-23. http://ejournal.ukm.my/ebangi/article/download/26796/8239
Abd Wahab, M. A., Abdul Ghani, N., & Yusof, H. (2017). Perbincangan awal kajian lepas berkaitan kesejahteraan hidup. Proceeding of International Conference of Empowering Islamic Civilization, Kuala Terengganu, Malaysia. https://www.unisza.edu.my/icic2017/images/37_Muhammad_Ammar_Norizan__Hafiah_Yusof_Perbincangan_Awal_Kajian_Lepas_Berkaitan_Kesejahteraan_Hidup.pdf
Ah, S. H. A. B., Omar, N., & Azman, Z. (2017). Penyertaan sosial dan indeks kesejahteraan sosial subjektif kanak-kanak miskin di Malaysia. Akademika, 87(2), 105-118. http://ejournals.ukm.my/akademika/article/view/13621/6202
Alzahrani, M., Alharbi, M., & Alodwani, A. (2019). The effect of social-emotional competence on children academic achievement and behavioral development. International Education Studies, 12(12): 141-149. https://doi.org/10.5539/ies.v12n12p141
ASEAN Secretariat. (2019). ASEAN statistical yearbook 2019. https://www.aseanstats.org/wp-content/uploads/2020/10/ASYB_2019-rev20201031.pdf
Awang, A., Hadi, A. S., Md Jahi, J., Ahmad, A., & Harman Shah, A. H. (2006). Mendefinisi semula makna kualiti hidup masyarakat bandar dalam konteks ilmu sosial. Malaysian Journal of Environmental Management, 7, 19-32. https://www.researchgate.net/publication/305682704_Mendefini_semula_makna_kualiti_hidup_masyarakat_bandar_dalam_konteks_ilmu_sosial/link/579960db08aeb0ffcd08d2c5/download
Azman, A. S., Mat Nor, F., & Mawar, M. Y. (2016). Realiti kemiskinan bandar di kalangan asnaf di Selangor: Satu kajian empirikal. Proceeding of the 2nd International Conference on Economics & Banking 2016 (2nd ICEB), 24th – 25th May 2016. Bandar Seri Putera, Selangor, Malaysia. http://conference.kuis.edu.my/iceb2016/eproceedings/EB015.pdf
Bani Ismail, L., Hindawi, H., Awamleh, W., & Alawamleh, M. (2018). The key to successful management of child care centres in Jordan. International Journal of Child Care and Educational Policy, 12(3), 1-19. https://ijccep.springeropen.com/articles/10.1186/s40723-018-0042-5
Dahlan, T. (2016). Mindful parenting program in improving parenting skills of orphanage caregivers at Rumbela Muthamainnah-Bandung. Southeast Asia Early Childhood Journal, 5, 57-64. https://ejournal.upsi.edu.my/index.php/SAECJ/article/view/991
de Nijs, R., & Klausen, T. L. (2013). On the expected difference between mean and median. Electronic Journal of Applied Statistical Analysis, 6(1), 110-117. https://doi.org/10.1285/i20705948v6n1p110
Fisher, E. A. (2009). Motivation and leadership in social work management: A review of theories and related studies. Administration in Social Work, 33, 347–367. https://doi.org/10.1080/03643100902769160
Godino, J. D. (n.d.). Studying the median: A framework to analyse instructional processes in statistics education. https://www.researchgate.net/profile/Juan_Godino/publication/335170114_STUDYING_THE_MEDIAN_A_FRAMEWORK_TO_ANALYSE_INSTRUCTIONAL_PROCESSES_IN_STATISTICS_EDUCATION/links/5d543390458515304074da93/STUDYING-THE-MEDIAN-A-FRAMEWORK-TO-ANALYSE-INSTRUCTIONAL-PROCESSES-IN-STATISTICS-EDUCATION.pdf
Idris, N. (2013). Penyelidikan dalam pendidikan (Edisi kedua). McGraw Hill Education.
Jabatan Kebajikan Masyarakat (2018). Pelan strategik kerja sosial 2018-2020. http://www.jkm.gov.my/jkm/uploads/files/penerbitan/Pelan%20Strategik%20Kerja%20Sosial%20JKM%202018%20Final.pdf
Jabatan Kebajikan Masyarakat (2018). Laporan statistik tahunan 2018. https://www.jkm.gov.my/jkm/uploads/files/Bahagian%20Kawalan%20Standard/OP%E2%80%A2Latest%20FINAL%E2%80%A2Buku%20Laporan%20Statistik%202017%20JKM(1).pdf
Jabatan Kebajikan Masyarakat (2017). Laporan statistik 2017. http://www.jkm.gov.my/
Job, K. E. O. M. (2013). The role of education in national development: Nigerian experience. European Scientific Journal, 9(28), 1857-7881. https://eujournal.org/index.php/esj/article/viewFile/1900/1842
Klein, S. (2016). Promising evidence regarding the benefits of early care and education for children in the child welfare system, OPRE Report # 2016-68, Washington, DC: Office of Planning, Research and Evaluation, Administration for Children and Families, U.S. Department of Health and Human Services. https://pdfs.semanticscholar.org/39a9/9d69e1e79d3800b30768a210df2f08a4cf55.pdf
Krejcie, R. V., & Morgan, D. W. (1970). Determining sampel size for research activities. Educational and Psychological Measurement, 30, 607-610. https://home.kku.ac.th/sompong/guest_speaker/KrejcieandMorgan_article.pdf
Kementerian Pembangunan Wanita Keluarga dan Masyarakat. (2019). Perangkaan wanita, keluarga dan masyarakat. https://www.kpwkm.gov.my/kpwkm/uploads/files/Penerbitan/Buku%20Perangkaan/buku%20KPWKM%202019%20pdf.pdf
Kementerian Pembangunan Wanita Keluarga dan Masyarakat. (2018). Laporan statistik tahunan Jabatan Kebajikan Masyarakat 2018. https://www.jkm.gov.my/jkm/uploads/files/penerbitan/inlay_statistik_v5_final.pdf
Kementerian Pembangunan Wanita, Keluarga dan Masyarakat. (2014). Pelan strategik KPWKM 2013-2017. https://www.kpwkm.gov.my/kpwkm/uploads/files/Penerbitan/Plan/Pelan%20Strategik%20KPWKM.pdf
Kementerian Pendidikan Malaysia. (2020). Perangkaan pendidikan Malaysia 2020. https://www.moe.gov.my/menumedia/media-cetak/penerbitan/terbitan/buku-perangkaan-pendidikan-malaysia
Meka, J. A. (2013). When caring isn't enough: Meeting the needs of refugee children through culturally responsive teaching. Southeast Asia Early Childhood Journal, 2, 85-104. https://ejournal.upsi.edu.my/index.php/SAECJ/article/view/941
Mohamad Ashray, F. S. (2017). The role of government and voluntary welfare sector in Malaysia. International Journal of Social Policy and Welfare, 13, 29-47. http://www.ism.gov.my/en/services/publications-journals/publications
Mohd Dahlan, M. F., & Bullare, M. I. (2017). Kesejahteraan hidup dalam kalangan gelandangan. Jurnal Psikologi dan Kesihatan Sosial, 1, 53-62. https://www.researchgate.net/publication/325191003_Kesejahteraan_Hidup_Dalam_Kalangan_Gelandangan/link/5afce5530f7e9b98e03e9768/download
Mokshein, S. E., Wong, K. T., & Ibrahim, H. (2016). Trends and factors for dropout among secondary school students in Perak. Journal of Research, Policy & Practice of Teachers & Teacher Education, 6(1), 5-15. https://ejournal.upsi.edu.my/index.php/JRPPTTE/article/view/208
Osher, D., Kendziora, K., Spier, E., & Garibaldi, M. L. (2014). School influences on child and youth development. https://www.researchgate.net/publication/300827881_School_Influences_on_Child_and_Youth_Development/citation/download
Ozturk, I. (2001). The role of education in economic development: A theoretical perspective. Journal of Rural Development and Administration, XXXIII(1), 39-47. https://papers.ssrn.com/sol3/papers.cfm?abstract_id=1137541&download=yes
Singar, S. N., & Zainuddin, A. (2017). Exploring the school dropout factors among indigenous students in Melaka. Journal of Administrative Science Special Edition: Socio-Economic Issue, 14(3), 1-13. https://jas.uitm.edu.my/images/SPECIALEDITIONVOL3_2017/3.pdf
Stewart, K. (2012). The connection between permanency and education in child welfare policy, 9 Hastings Race & Poverty L.J. 511 (2012). https://repository.law.miami.edu/cgi/viewcontent.cgi?article=1114&context=fac_articles
SUHAKAM. (2005). Konvensyen mengenai hak kanak-kanak. http://www.suhakam.org.my/wp-content/uploads/2013/11/Kon-HakKanak22005.pdf
Talib, K. A. (2016). Dilema kemiskinan: Falsafah, budaya dan strategi. Akademika, 86(2), 65-78. http://doi.org/10.17576/akad-2016-8602-05
UNICEF Malaysia (2019). Children out of school. Malaysia: The Sabah context. https://www.unicef.org/malaysia/media/921/file/Out%20of%20School%20children%20%20(OOSCI)%20Accessible%20version.pdf
UNICEF Malaysia (2018). Kanak-kanak pinggiran: Satu kaji selidik mengenai kemiskinan dan penafian hak kanak-kanak bandar di flat kos rendah di Kuala Lumpur. United Nations Childrens' Fund. www.unicef.org/malaysia
Universiti Putra Malaysia. (2017a). Siri kuliah umum. Kemiskinan & kerentanan: Penelitian konsep dan pengukuran dalam era Revolusi Industri 4.0 oleh Profesor Dr. Laily Paim. Serdang: Universiti Putra Malaysia. http://www.pnc.upm.edu.my/upload/dokumen/20181019172347PROF._LAILY_INAUGURAL.pdf
Universiti Putra Malaysia. (2017b). Laporan akhir. Kajian keberkesanan bantuan kewangan Jabatan Kebajikan Masyarakat, Kementerian Pembangunan Wanita, Keluarga dan Masyarakat. UPM Consultancy & Services Sdn bhd (A subsidiary of UPM Holdings). http://www.jkm.gov.my/
University of Birmingham. (2007). De-institutionalising and transforming children's services: A guide to good practice. http://www.globaldisabilityrightsnow.org/sites/default/files/related-files/262/De-institutionalizing%20and%20Transforming%20Children%E2%80%99s%20Services%20A%20Guide%20to%20Good%20Practice.pdf
Vashisth, S. (2018). Role of education in nation building. Journal of Humanities and Social Science, 23(7), 52-54. http://www.iosrjournals.org/iosr-jhss/papers/Vol.%2023%20Issue7/Version-7/F2307075254.pdf
Young, P. H., & Hee, C. Y. (2017). Factors affecting emotional, behavioral problems in early adolescence: A multilevel model study. Journal of Korean Academy of Community Health Nursing, 28(4): 482-493. http://dx.doi.org/10.12799/jkachn.2017.28.4.482
Zakaria, M. Z., Yunus, F., & Mohamed, S. (2021). Drawing activities enhance preschoolers socio emotional development. Southeast Asia Early Childhood Journal, 10(1), 18-27. https://doi.org/10.37134/saecj.vol10.1.2.2021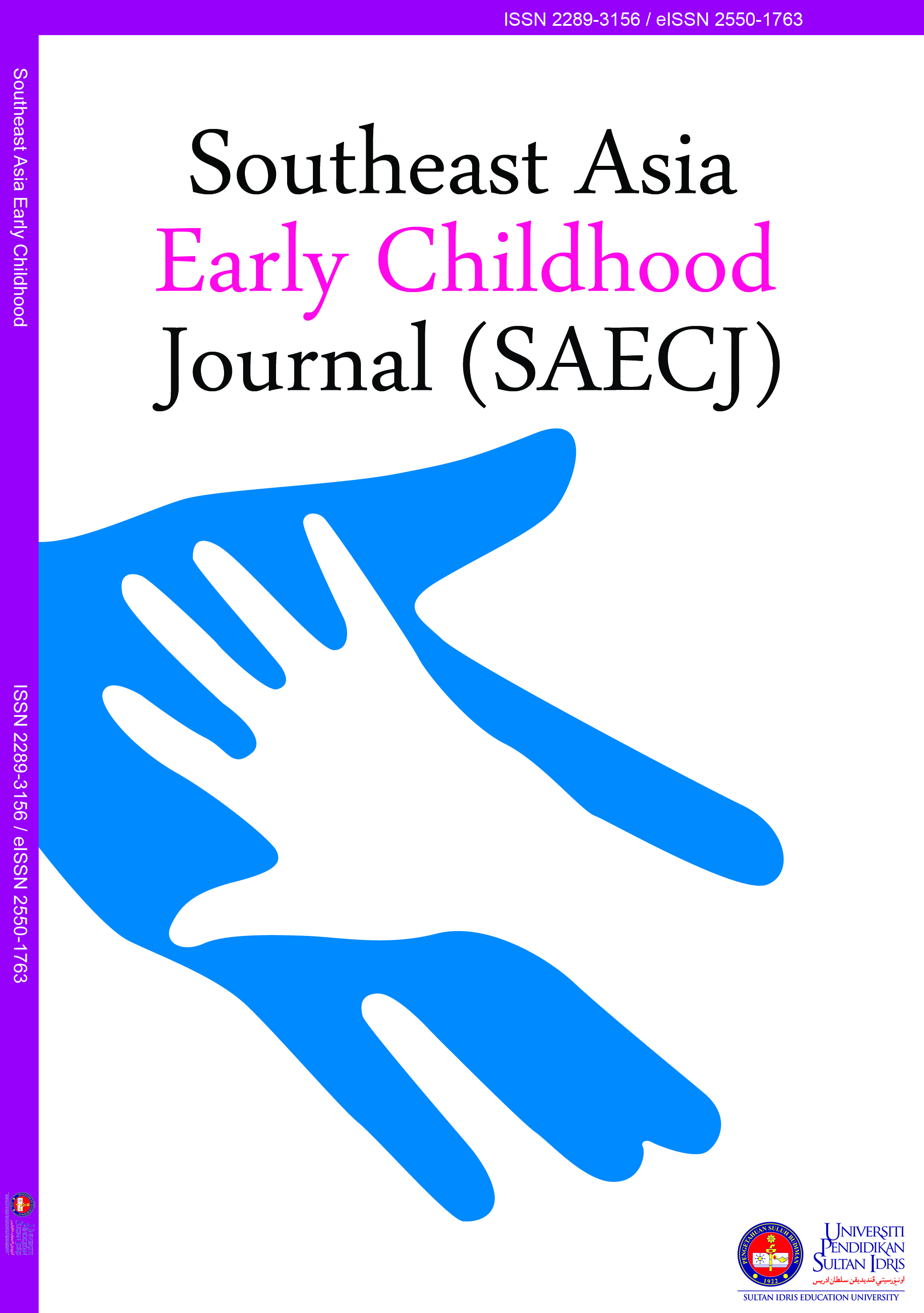 How to Cite
Syed Chear, S. L., Amiruddin, S., & Ali Mansor, A. (2021). Analisis program sokongan akademik di rumah kebajikan kanak-kanak persendirian. Southeast Asia Early Childhood Journal, 10, 97-113. https://doi.org/10.37134/saecj.vol10.sp.9.2021
Copyright (c) 2021 Syed Lamsah Syed Chear, Saturia Amiruddin, Amiraa Ali Mansor
This work is licensed under a Creative Commons Attribution-NonCommercial-ShareAlike 4.0 International License.