الجوانب الأخلاقية والتربوية في شعر أبي فراس الحمداني في أسر الروم دراسة وصفية بلاغية (320-357هـ)
he ethical and educational aspects of Abu Firas al-Hamdani's poetry in The Roman Families Rhetorical descriptive study (320-357H)
Keywords:
Poetry, Abi firas al-ham dani, courage, fulfillment, patriotism
Abstract
This research shows us the morals and educational aspects in the poetry of abi firas al-hamdani in the prison of Byzantium the research consists of three chapters as follows: The first chapter includes translation for the life of abi firas al- hamdani since his birthday until his assisnation in the year of three hundred and fifty seven in the fourth century of higrah. The second chapter includes the morals and educational aspects in the poetry of abi firas al-ham dani such as: Honoring ones parents- patience – courage-fulfillment-patriotism –trust in god and so on. The third chapter in cludes texts of study in the sector of rhetoric and criticism then the research proved that the poet had succeeded in all texts of study because he was having emotional experience and achieved organic unity and used the rhetorical methods. At the end of the study the research urges all students of knowledge to do their best and read the more about abi firas al-hamdani especially his divan because it has so many morals and educational aspects.
Downloads
Download data is not yet available.
References
The Holy Quran

Ibn al-Atheer Abu al-Hasan (Ali), Full in History, C8, Dar SaderBeirut, 1979 p. 588

Ibn Taghrei Bardi Jamal al-Din (Youssef), the star-studded, presented and achieved by Mohammed Hussein Shamseddine, C4, The House of Scientific Books, Beirut, Lebanon, first edition, 1992. P. 21.

Al-Thaalbi Abu Mansour (Abdul Malik), orphan of the age in the merits of the people of the era, c1, explanation and realization, Dr. Mufid Mohammed Qameiha, The House of Scientific Books, Beirut, second edition 1983, p. 57, p. 74, p. 87, p. 88,89 p90, 91, 97, p. 97 p. 101, 102, p. 102, p. 106, p. 107, p. 107, p. 107

Ibn Khalkan Abu Abbas (Ahmed), The Death of The Dignitaries, The News of sons of time, J2, Sahra, Dr. Ihsan Abbas, Dar Sader, Beirut, p. 60, p. 62

Golden Shamseddine (Muhammad), Biography of The Nobles Flags, C16, Achieved This Part, Akram Al-Bushi, Second Edition, Al-Resala Foundation, 1984 P.197

Ibn al-Rumi Abu al-Hasan (Ali), Diwan, C3, Explained by Professor Ahmed Hassan Bassaj, Scientific Books House, Beirut, third edition, 2002, p. 14.

Zarkli Khaireddine (Mohammed), Al-Alam, C2, Dar al-Alam for Millions, 10th Edition, Beirut, 1992 P.155

Al-Safadi, Salaheddine (Khalil), Al-Wafi Al-Da'wa, C11, Investigation and Care of Ahmed Arnaout
-Turki Mustafa, Heritage Revival House

Al-Arabi, Beirut First Edition, 2000, p. 201.

Ibn Askar Abu al-Qasim (Ali), The Great History of Damascus, C12, House of Arab Heritage Revival, Beirut, Lebanon, First Edition, 2001 p. 224, p. 225, p. 227, 228.

Ibn al-Imad, The Nuggets of Gold, C4, supervised its realization and came out the hadiths of Abdelkader Al-Arnot, achieved and commented on by Mahmoud Al-Arnot, Dar

Ibn Kabir Damascus, first edition, 1989 p. 302. Al-Hamdani Abu Firas, (Al-Harith) Al-Diwan, Explained By Dr. Khalil Al-Duwayhi, Publisher, Arab Book House, 2nd Edition, Beirut, 1992, p. 24, 25, p. 31, 32, p. 57, p. 59, p. 97, 98, p. 101 118, p. 161, p. 166, p. 167, p. 225, 226 p. 241, p. 252, 253, 254 p. 288, p. 338, p. 350, p. 355. –

Ibn KabirAbu al-Fada (Ismail), beginning and end, investigation of Dr. Abdullah bin Abdul Mohsen al-Turki, C15, first edition, Dar Hijr, 1998, p. 314

Ibn Mansoor (Muhammad), the acronym for the history of Damascus for Ibn Askar, C6, The Realization of Muhammad Mouti al-Hafiz, Dar al-Fikr, first edition, 1984, p. 150.

Ibn Mansoor, (Muhammad) Tongue of The Arabs, C6, House of Knowledge, under a year,

Ibn al-Wardi Zain al-Din (Omar), The History of Ibn al-Wardi, Scientific Book House, First Edition, Beirut, 1996 C1, p. 284, c11, p. 201.

Al-Yafei Abu Muhammad (Abdullah), Mirror of the Jinan and Abra al-Yaqan, C2, Islamic Book House, Second Edition, Cairo, 1993.p. 369.

Yakut al-Hamwi, Shihab al-Din (Yakut), Dictionary of Countries, C2, C5, Dar Sader Beirut, 1977. P.359, p. 206.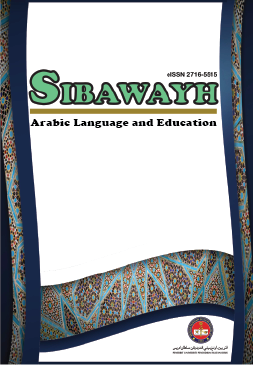 Downloads
How to Cite
Ayoub Osman, A. S. A. W. (2020). الجوانب الأخلاقية والتربوية في شعر أبي فراس الحمداني في أسر الروم دراسة وصفية بلاغية (320-357هـ): he ethical and educational aspects of Abu Firas al-Hamdani's poetry in The Roman Families Rhetorical descriptive study (320-357H). SIBAWAYH Arabic Language and Education, 1(1), 118–138. Retrieved from https://ejournal.upsi.edu.my/index.php/SIBAWAYH/article/view/3755