Editorial Preface
Miftachul Huda

Universiti Pendidikan Sultan Idris, Tanjong Malim, Perak, MALAYSIA

Abdul Halim Ali

Universiti Pendidikan Sultan Idris, Tanjong Malim, Perak, MALAYSIA

Ahmad Amri Zainal Adnan

Universiti Pendidikan Sultan Idris, Tanjong Malim, Perak, MALAYSIA
Abstract
The recent development of emerging technologies has been transmitted into the wide range of society sectors, involving education, business and also social interaction. The seemingly detailed indicator as an example is through online-based instruction in underlying the entire process (Anshari et al., 2017). In other sectors for instance, how the ethics is being an important part on driving the digital society in running its applicability in an appropriate manner (Huda, 2021). The further exploration comes to highlight the potentials of engaging the digital tools for the society purpose together with current trend adoption (Doyle & Brady, 2018).
Moreover, the today's circumstance with its form mainly in digital environment is needed to enhance the strategic awareness to wisely respond with a well balanced approach between development and assessment (Hassink, Isaksen & Trippl, 2019). With more comprehensive effort, the innovation is constructed through elaborating the research planning arrangement towards answering the current issues with an acceptable manner (Kwon & Kim, 2020). In particular, this continued support on arranging the planning strategies followed by an active engagement of practices beyond the growth in enabling the society at large to have a sufficient comprehension about the potentials adoption from the technology improvement (Leick & Lang, 2018).
On this first volume in our platform, the number of research based on the variety of backgrounds and approaches has been transformed into responding such innovation trends in our society. The main goal of this sharing is to enhance the strategic awareness among the society across multi-discipline background to be active on the circumstance condition. Apart from the advancement phase through digital technologies, it is important to address the following topics on the way to wisely answer the phenomena at an acceptable manner. Of course, this is followed by expanding each expertise and background based on the field of work and research.
Downloads
Download data is not yet available.
References
Anshari, M., Almunawar, M. N., Shahrill, M., Wicaksono, D. K., & Huda, M. (2017). Smartphones usage in the classrooms: Learning aid or interference?. Education and Information technologies, 22(6), 3063-3079.
Doyle, T., & Brady, M. (2018). Reframing the university as an emergent organisation: implications for strategic management and leadership in higher education. Journal of Higher Education Policy and Management, 40(4), 305-320.
Hassink, R., Isaksen, A., & Trippl, M. (2019). Towards a comprehensive understanding of new regional industrial path development. Regional Studies.
Huda, M. (2021), "Towards an adaptive ethics on social networking sites (SNS): a critical reflection", Journal of Information, Communication and Ethics in Society, Vol. ahead-of-print No. ahead-of-print. https://doi.org/10.1108/JICES-05-2021-0046
Kwon, K., & Kim, T. (2020). An integrative literature review of employee engagement and innovative behavior: Revisiting the JD-R model. Human Resource Management Review, 30(2), 100704.
Leick, B., & Lang, T. (2018). Re-thinking non-core regions: planning strategies and practices beyond growth. European planning studies, 26(2), 213-228.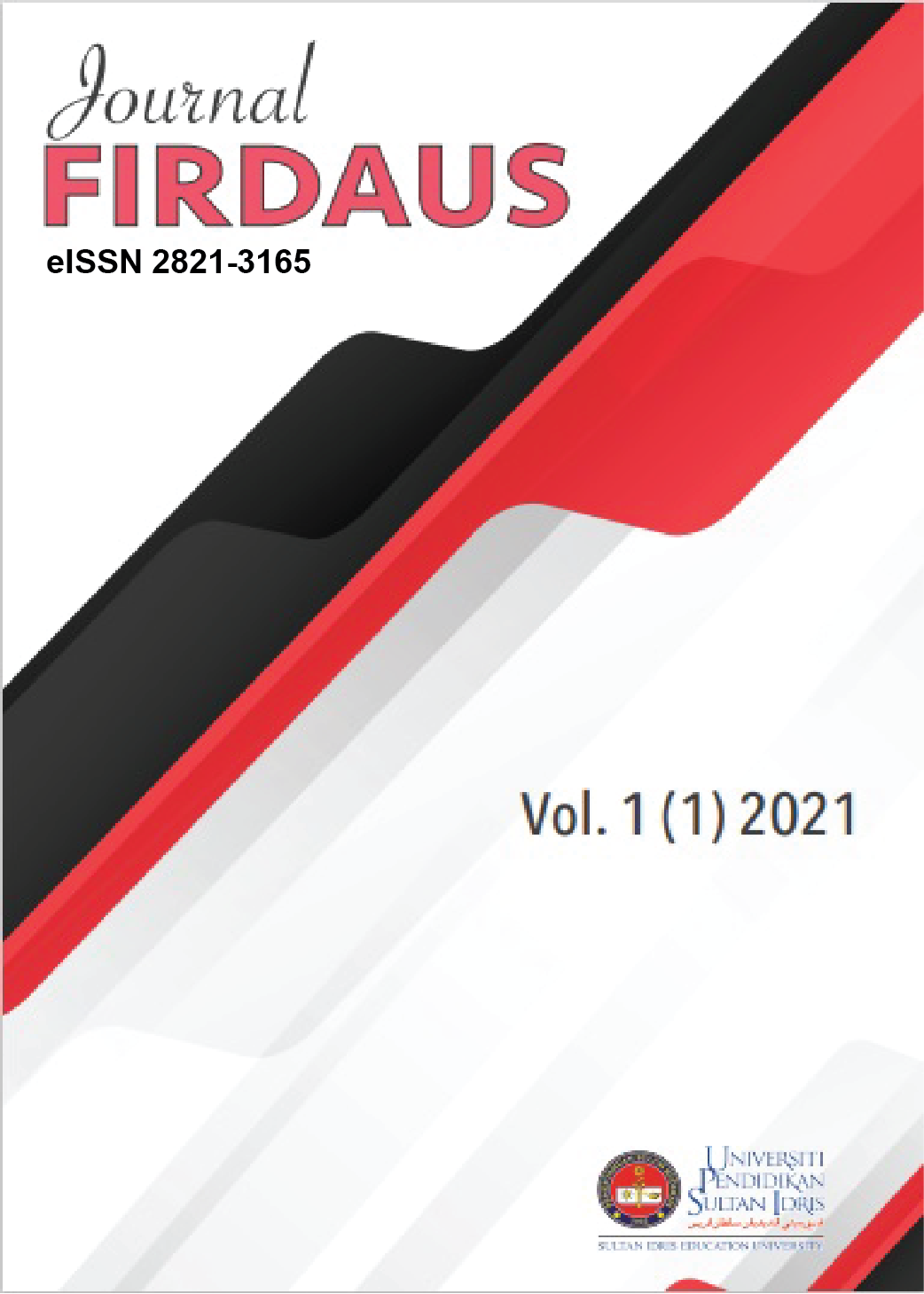 How to Cite
Huda, M., Ali, A. H., & Zainal Adnan, A. A. (2021). Editorial Preface. Firdaus Journal, 1(1), i-vi. https://doi.org/10.37134/firdaus.vol1.1.11.2021
Section
Editorial Preface
Copyright (c) 2021 Miftachul Huda, Abdul Halim Ali, Ahmad Amri Zainal Adnan
This work is licensed under a Creative Commons Attribution-NonCommercial-ShareAlike 4.0 International License.