Constructing STEM 3R Activity through Service-Learning Program during Movement Restriction
Keywords:
Active Learning, STEM, Green Education, Service Learning
Abstract
Service-learning is an experiential learning activity that enables mobility from classes in higher learning institutions to be transferred into the community. In this article, we construct a STEM 3R activity that is aligned with school children's curricula to be delivered in an engaging, active, and personalized way. The activity is constructed by using the ExDiDD (Explore, Discover, Develop, Deliver) framework, and is being assessed through dedicated rubrics. Findings suggest improved excitement and interest in STEM education, as well as increase understanding of the environmental issues throughout the activity.
Downloads
Download data is not yet available.
References
Abdurrahman, A., Nurulsari, N., Maulina, H., & Ariyani, F. (2019). Design and Validation of Inquiry-based STEM Learning Strategy as a Powerful Alternative Solution to Facilitate Gift Students Facing 21st Century Challenging. Journal for the Education of Gifted Young Scientists, 7(1), 33-56.
Agurto, M., Buzinsky, S., Fernandez, F., & Torres, J. (2020). Empowering college students through community engagement: experimental evidence from Peru (No. 2020-07).
Anorico, H. C. (2019). Service-Learning in the Philippines: The University of Santo Thomas' National Service Training Program. Gateways: International Journal of Community Research and Engagement, 12(1), ID-5944.
Ayotte-Beaudet, J. P., Potvin, P., & Riopel, M. (2019). Factors Related to Middle-school Students' Situational Interest in Science in Outdoor Lessons in their Schools' Immediate Surroundings. International Journal of Environmental and Science Education.
Calvin, J. R., & Igu, J. (2019). Culture, conflict and team management in I4H: Experiential learning in business practice to support community development entrepreneurship. Journal of Organizational Culture, Communications, and Conflict, 23(1), 1-14.
Chittum, J. R., Jones, B. D., Akalin, S., & Schram, Á. B. (2017). The effects of an afterschool STEM program on students' motivation and engagement. International Journal of STEM Education, 4(1), 11.
Culhane, J., Niewolny, K., Clark, S., & Misyak, S. (2018). Exploring the Intersections of Interdisciplinary Teaching, Experiential Learning, and Community Engagement: A Case Study of Service-Learning in Practice. International Journal of Teaching and Learning in Higher Education, 30(3), 412-422.
De Hooge, I. E., & van Dam, Y. K. (2019). Reach out and touch: student training community projects for a sustainability-a case study. International Journal of Sustainability in Higher Education.
de Jong, T. (2019). Moving towards engaged learning in STEM domains; there is no simple answer, but clearly a road ahead. Journal of computer assisted learning, 35(2), 153-167.
Ellenbogen, S. (2017). An alternative model of community service learning: Students, community, and instructors learning from each other. Higher Education, Skills and Work-Based Learning.
Fong, P. E., & Lim, L. (2019). Rapid growth and relative price stability in a small open economy: the experience of Singapore. In Export-Oriented Development Strategies (pp. 79-110). Routledge.
Ibrahim, I., Ahmad, N., Mohamad, M.S.A., Mat Desa, W.L.H., Misiran, M., Yusof, N. (2020), STEM4U: Community Outreach Program, LY2020005484, MyIPO.
Jocz, J. A., Zhai, J., & Tan, A. L. (2014). Inquiry learning in the Singaporean context: Factors affecting student interest in school science. International Journal of Science Education, 36(15), 2596-2618.
Juul, K. (2021). Good girls don't get ahead?: teachers' perceptions of the gender gaps in mathematics in Japan (Doctoral dissertation, University of Oxford).
Latib, A. A., Amin, N. F., Saud, M. S., & Kamin, Y. (2017). Impact of a service-learning program to the university and the community. Advanced Science Letters, 23(1), 596-599.
Monico, C., & Kupatadze, K. (2020). Developing meaningful and practical global experiences through student-faculty-community partnerships. International Journal for Students as Partners, 4(2), 9-26.
Nadelson, L. S., Callahan, J., Pyke, P., Hay, A., Dance, M., & Pfiester, J. (2013). Teacher STEM perception and preparation: Inquiry-based STEM professional development for elementary teachers. The Journal of Educational Research, 106(2), 157-168.
Schmidt, K. M., & Kelter, P. (2017). Science Fairs: A Qualitative Study of Their Impact on Student Science Inquiry Learning and Attitudes toward STEM. Science Educator, 25(2), 126-132.
Thamwipat, K., Princhankol, P., Yampinij, S., & Meejaleurn, S. (2018). The Development of Media Activities by Undergraduate Students in Order to Promote Agricultural Tourism Community Enterprise According to the Principles of Social Service Learning and Community-Based Leaning. International Education Studies, 11(5), 38-45. https://timss2019.org/reports/achievement/
van Griethuijsen, R. A., van Eijck, M. W., Haste, H., den Brok, P. J., Skinner, N. C., Mansour, N., ... & BouJaoude, S. (2015). Global patterns in students' views of science and interest in science. Research in science education, 45(4), 581-603.
Williams, D. H., & Shipley, G. P. (2018). Cultural taboos as a factor in the participation rate of Native Americans in STEM. International journal of STEM education, 5(1), 1-8.
Yuliati, L., Putri, E. G., Taufiq, A., Purwanigsih, E., Affriyenni, Y., & Halim, L. (2020, April). Exploration of problem-solving skill with inquiry-based authentic learning for the stem program. In AIP Conference Proceedings (Vol. 2215, No. 1, p. 050019). AIP Publishing LLC.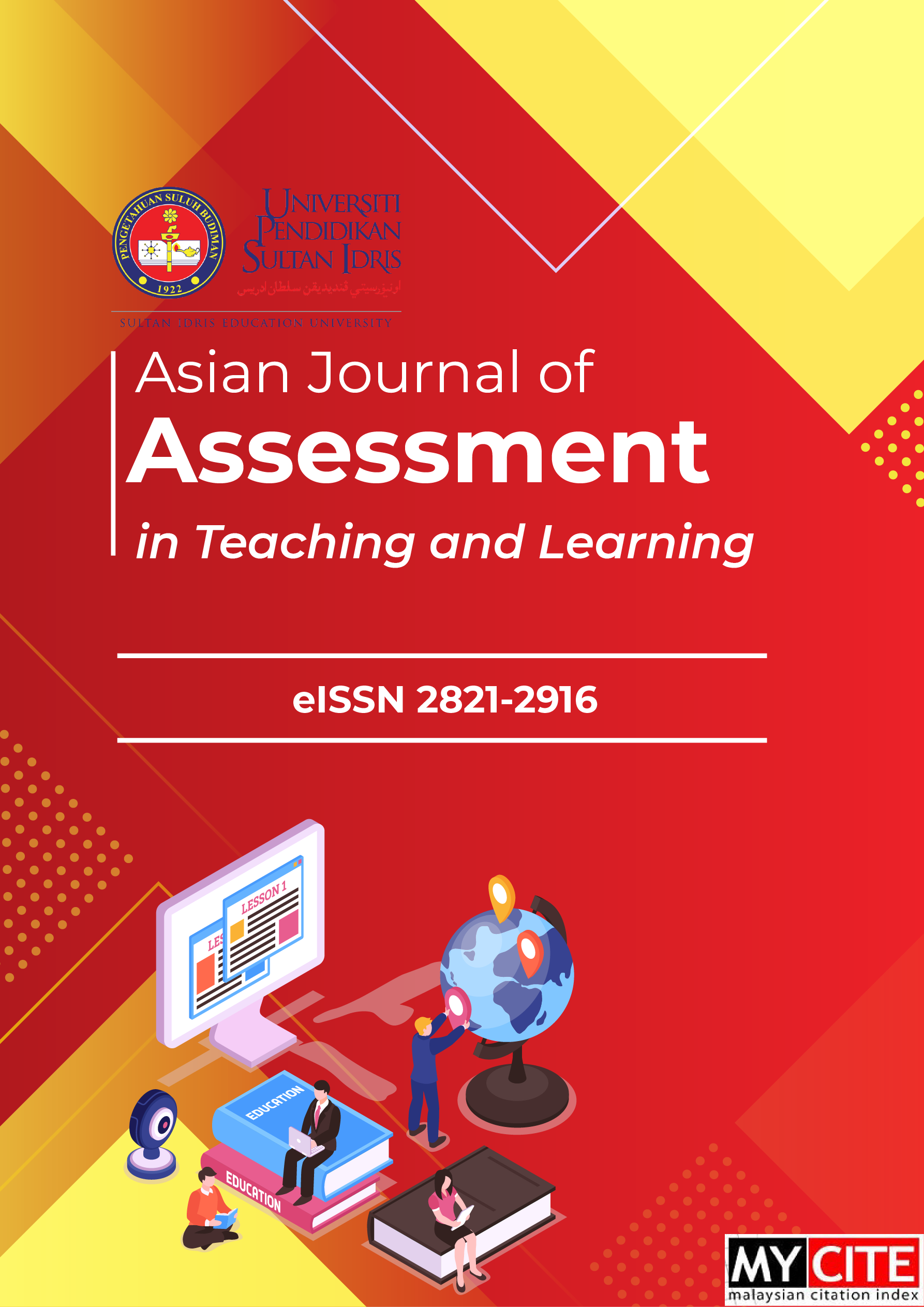 Downloads
How to Cite
Misiran, M., Ahmad, N., Md Yusof, Z., & Misiran, M. (2022). Constructing STEM 3R Activity through Service-Learning Program during Movement Restriction. Asian Journal of Assessment in Teaching and Learning, 12(1), 63–75. https://doi.org/10.37134/ajatel.vol12.1.7.2022