The Forgotten World War II Airfield: The Case of Morib Airfield
Keywords:
World War II, Morib Airfield and Malaya Liberation
Abstract
The airfield site at Kelanang in Selangor, Malaysia was operated during World War II under the Japanese Occupation.  During that time, it was noted for its air force surveillance centre which protected the area from Port Swettenham or previously known as Port Klang to Port Dickson. It also acted as a military logistics that planned and carried out the movement, supply, and maintenance of military forces to sustenance Morib area. Currently, this historical structure and its remains have no longer exist. The area has now been transformed to a palm oil plantation. As time goes by, this airfield has been forgotten and invisible to our young generation. In addition to that, there are lack of literature and studies about the history and its roles during and after World War II. This gap triggers this study on this airfield. Hence, the aim of the present study is to develop a literature review on the airfield. This includes to locate and to map the actual features of the airfield. To achieve this objective, field observation and in-depth interview were conducted. Official documents from the site location owners were obtained, as well as CIO HQ from air command centre in South East Asia Document was compiled to support the existence of the airfield. The findings from this study contribute towards the knowledge of this historical site, roles, and its contributions for the Government and public.
Downloads
Download data is not yet available.
References
Bose, R. (2012). Singapore at War: Secrets from the Fall, Liberation & Aftermath of WWII. Marshall Cavendish Editions, Singapore.
Chelaeh, M., Aman, R., Hamid, S., Othaman, N., Ruslan, S., Abu Bakar, N., Salam, R., Fadzil, F.H. &Sinur, D. (2017). Discovery of linguistic features in Jugra dialect: Structural phonology analysis. Journal of Social Science and Humanities, 12(3), online.
Chief Information Officer, Headquarters: Air Command South East Asia (1945). Malaya Map Ref: Airfield Schedule: Morib Landing Ground. 1" HIND 1035 3/F/1 & 3/F/2.
Clearing Morib airfield of bombs. (1947, September 12). Morning Tribune.
Clearing Morib airfield of mortar bombs. (1947, September 10). The Singapore Free Press.
David, D. (2000). Dennis 'Hurrucane' David: My Autobiography. Grub Street, London.
Explosives found near airfield. (1947, September 23). Malaya Tribune.
Grehan, J. & Mace, M. (2014). Far East Air Operations 1942 – 1945: Dispatches from the Front. Pen & Sword Aviation, Barnsley, South Yorkshire.
Holder, R. W. (2005). Eleven Months in Malaya: September 1945 to August 1946. Editions Didier Millet: Kuala Lumpur.
Krajewski, R., Bock, J., Kloeker, L. & Eckstein, L. (2018). The high D Dataset: A Drone Dataset of Naturalistic Vehicle Trajectories on German Highways for Validation of Highly Automated Driving Systems. IEEE 21st International Conference on Intelligent Transportation Systems (ITSC), Maui, Hawaii, USA, November 2018.
Lawrenz, F., Keiser, N. & Lavoie, B. (2003). Evaluate site visits: A methodological review. American Journal of Evaluation, 24(3), 341-352.
Map of Dusun Durian Plantation.The Golden Hope Plantations Limited, Dusun Durian Estates. Kelanang Bahru Division, Banting Selangor.
London Gazette (1951). Supplement to the London Gazette, 13 April 1951.
Price, D.W. & Robertson, J.R. H. (1947). Indian beach groups in the landings in Malaya. The Royal Engineers Journal, 61, 288-305.
Sheela, C. (2020). Remembering the British Indian Army's fight during the Japanese Occupation of Malaya. The Star Online. Retrieve from https://www.thestar.com.my/lifestyle/living/2020/09/30/remembering-the-british-indian-army039s-fight-during-the-japanese-occupation-of-malaya on September 30, 2020.
Tamrin, K.M. (1977). Satu nota tentang Kelanang dalam tahun 1880an dan 1890an. Malaysia in History, 20(1), 21-23.
Vincent, R.K. & Jennings, D. L. (2004). A fout-state field evaluation of the Boeing Landing Suitability Index (BLSI) for automatically mapping candidate aircraft operating sites in natural terrain from LANDSAT TM data. Journal of Terramechanics, 41 (2-3), 151-162.
Warwick, N. W. M. (2007). Constant Vigilance: The RAF Regiment in the Burma Campaign. Pen & Sword Aviation, Barnsley, South Yorkshire.
Interviewee:
Lailah, S. A. (2019, December 13). Personal Interview.
Reganathan, A. (2019, December 13). Personal Interview.
Rosnizam, R. (2019, December 13). Personal Interview.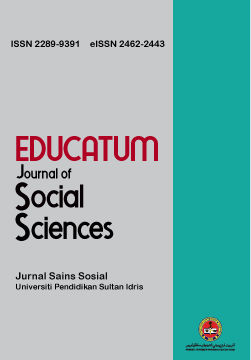 Downloads
How to Cite
Adnan, W. H., Daud, D., & Jamaluddin, M. F. (2021). The Forgotten World War II Airfield: The Case of Morib Airfield. EDUCATUM Journal of Social Sciences, 7(1), 10–18. https://doi.org/10.37134/ejoss.vol7.1.2.2021