Persepsi ibu bapa terhadap separation anxiety kanak-kanak
Parents perception of children separation anxiety
Siti Najwa Samsul Bahari

Jabatan Pendidikan Awal Kanak-kanak, Fakulti Pembangunan Manusia, Universiti Pendidikan Sultan Idris, 35900 Tanjong Malim, Perak, Malaysia

Masayu Dzainudin

Jabatan Pendidikan Awal Kanak-kanak, Fakulti Pembangunan Manusia, Universiti Pendidikan Sultan Idris, 35900 Tanjong Malim, Perak, Malaysia
Keywords:
kesedaran ibu bapa, separation anxiety, kanak-kanak, Perintah Kawalan Pergerakan, parents' awareness, young children, Movement Control Order
Abstract
Separation anxiety boleh berlaku apabila seorang individu berasa takut dan risau untuk berpisah dengan orang yang mereka percaya. Bagi kanak-kanak yang mempunyai masalah separation anxiety, ianya akan berlaku semasa hari pertama kemasukan di pusat pendidikan awal kanak-kanak yang memerlukan mereka berdikari dan berpisah dengan ibu bapa atau penjaga pada tempoh masa yang panjang. Objektif kajian ini adalah untuk; (i) mengenal pasti persediaan ibu bapa terhadap separation anxiety selepas tempoh Perintah Kawalan Pergerakan (PKP) tamat; (ii) mengenal pasti pendekatan ibu bapa bagi mengatasi masalah separation anxiety kanak–kanak; dan (iii) memerihalkan kesan separation anxiety kanak-kanak. Kajian ini menggunakan metode kualitatif. Protokol dan soalan temu bual dibina bagi mendapatkan pandangan partisipan dan menjawab persoalan kajian. Lima orang partisipan dipilih secara persampelan bertujuan yang terdiri daripada ibu bapa kepada kanak-kanak yang mengalami masalah separation anxiety. Transkrip temu bual dianalisis menggunakan analisis tematik dan pengekodan. Dapatan kajian menunjukkan ibu bapa perlu peka dan cakna dengan masalah yang berlaku pada anak mereka, dan membuat persediaan dengan mengambil tahu dan mengukuhkan pengetahuan tentang separation anxiety.
Separation anxiety can occur when an individual feels scared and anxious to break up with someone they trust. Young children who have separation anxiety, most probably it will occur during the first day of admission to the early childhood education centre which requires them to be independent and separated from their parents or guardians for a long time. The objectives of this study are to; (i) identify parents' preparation of separation anxiety after the end of Movement Control Order (MCO); (ii) identify parents' approach to overcome children separation anxiety; and (iii) describe the effects of separation anxiety in children. This study uses qualitative methods. Protocols and interview questions were constructed to obtain partisipants' views and answer research questions. Five partisipants were selected by purposeful sampling consisting of parents to children with separation anxiety problems. Interview transcripts were analyzed using thematic analysis and coding. The findings of the study show that parents need to be sensitive and aware of the problems that children have and be prepared to finding knowledge about separation anxiety.
Downloads
Download data is not yet available.
References
Ahmad Suhael Adnan, & Ilah Hafiz Aziz. (2020, November 9). MKN bincang isu penutupan tadika,taska esok. Berita Harian. https://www.bharian.com.my/berita/nasional/2020/11/752200/mkn-bincang-isu-penutupan-tadika-taska-esok

Akram Dousti, Jaffar Pouyamanesh, Ghorban Fathi Aghdam, & Asghar Jafari. (2018). The effectiveness of play theraphy on reduction of symptoms of insecure attachment and separation anxiety of among preschoolers. International Journal of Applied Behavioral Sciences, 5(4), 19-28.

Bartolome, M. T., Mamat, N., & Masnan, A. H. (2017). Parental involvement in the Philippines: A review of literature. International Journal of Early Childhood Education and Care, 6(1), 41-50.

Durkin, K. (1995). Developmental social psychology: From infancy to old age. Blackwell Publishing.

Fairuz Nordin. (2018, Januari 9). Perkukuh iman, jiwa anak jadi berani. Berita Harian.

Fauziah Hanim Jalal, Fairuz 'Ain Harun, Noraini Ismail & Nazariah Abd Samad. (2014). Penglibatan ibu bapa dalam pendidikan awal kanak-kanak di Pusat Anak Permata Negara. Jurnal Pendidikan Awal Kanak-kanak Kebangsaan, 3, 36-41.
https://www.bharian.com.my/rencana/agama/2018/01/372811/perkukuh-iman-jiwa-anak-jadi-berani

Institute for Public Health. (2020). National Health and Morbidity Survey (NHMS) 2019: Non-communicable diseases, healthcare demand, and health literacy-key findings. Penulis.

Intan Puspitasari & Dewi Eko Wati. (2018). Strategi parent-school partnership: Upaya preventif separation anxiety disorder pada anak usia dini. Jurnal Pendidikan Anak Usia Dini, 50-60.

Irwan Shah Zainal Abidin. (2020, Julai 28). Penularan semula COVID -19 rencat usaha pulih ekonomi. Berita Harian. https://www.bharian.com.my/rencana/komentar/2020/07/715541/penularan-semula-covid-19-rencat-usaha-pulih-ekonomi

Jamiat Akadol (2018). Budaya hukum sebagai faktor pendorong di Indonesia. Udayana Master Law Journal, 7(1), 12-23.

Kossowsky, J., Schneider, S., Pfaltz, M. C., Locher, C., Gaab J., & Taeymans, J. (2013). The separation anxiety hypothesis of panic disorder revisited: A metal analysis. American Journal of Psychiatry, 17(7), 68-81. https://doi.org/10.1176/appi.ajp.2012.12070893

Lieb, R., Wittchen, H. U., Hofler, M., Fuetsch, M., Stein, M. B. & Meringkas, K. R. (2000). Parental psychopathology, parenting styles and the risk of social phobia in offspring. Archives of General Psychiatry, 57, 859 - 866.

Low Biam Hong. (2017). Child temperament, child-parent relationship and anxiety among children in childcare centers in urban Selangor, Malaysia. Master of Science, 1-14.

Marchant M., Christensen L., Young K., Merry M., Jill B., & Carolina R. (2001). The Effects of a peer-mediated positive behavior support program on socially appropriate behavior. Education and Treatment of Children, 27(3), 199-234.

Mohamad Albaree Abdul, Hazhari Ismail, Iylia Mohamed, & Zaharah Osman. (2019). Perkembangan emosi kanak-kanak menggunakan kaedah pengajaran berasaskan aktiviti muzik. Jurnal Pendidikan Awal Kanak-kanak Kebangsaan, 8, 17-23.

Mohamed Farid Noh. (2020, Mac 26). PKP: Persekitaran kediamana sempit, sesak dedah kepada tekanan. Berita Harian. https://www.bharian.com.my/berita/nasional/2020/03/669564/pkp-persekitaran-kediaman-sempit-%20sesak-dedah-kepada-tekanan

Mohd Roji Kawi. (2020, April 12). PKP: Pergerakan antara daerah hanya dibenarkan jika alasan munasabah. Berita Harian. https://www.bharian.com.my/berita/wilayah/2020/04/676286/pkp-pergerakan-antara-daerah-hanya-dibenarkan-jika-alasan-munasabah

Montalbo, I. C., & Pepito, G. M (2019). Separation anxiety on preschoolers' development. International Journal of English and Education, 8(1), 229-239.

Mustafa Yasin Imrak. (2016). What is separation anxiety disorder? Bulletin of Clinical Psychopharmacology, 24(1), 31.

Nafisa Mustafa Mohamed Ahmed. (2013). Separation anxiety among muslim children: A comparative case study between ahlami and edu-care (Unpublished master's thesis). International Islamic University Malaysia.

Natasha Dandavati, & Stella Tan. (2019). Bagaimana dengan anak-anak? Hak kanak-kanak yang mengalami keganasan rumah tangga. https://wao.org.my/wp-content/uploads/2019/09/Bagaimana-dengan-Anak-anak-Laporan-WAO.pdf

Norulhuda Sarnon, Maisarah Ali, & Ezarina Zakaria. (2017). Amalan persekitaran selamat kanak-kanak dalam kalangan pengasuh di rumah yang tidak berdaftar. Journal of Social Science and Humanities, 3, 2-15.

Pepito, G., & Montalbo, I. C. (2019). Separation anxiety on preschoolers'development. InternationalJournal of English and Education, 8(1), 229-239.

Phang Cheng Kar. (2017, April 13). Anxiety disorders in children. https://mypositiveparenting.org/2017/04/13/anxiety-disorders-in-children/

Rahima Dahlan. (2020, April 2). Peranan ibu bapa terhadap anak semasa PKP. Astro Awani. https://www.astroawani.com/gaya-hidup/peranan-ibu-bapa-terhadap-anak-semasa-pkp-236366

Saeed Ghanbari, Mohammad Karim Khodapanahi, Masood Gholamali Lavasani, M. Ali Mazaheri, & Reyhane Rezapour Faridian. (2018). The effectiveness of attachment-based parent training method on anxiety syndrome in preschool children. Journal of Behavioral Science, 12(1), 9-17.

Sakineh Mofrad, Rohani Abdullah, & Ikechukwu Uba. (2010). Attachment patterns and separation anxiety symptom. Journal Asian Social Science, 6(11), 148-153.

Siti Masayu Rosliah Abdul Rashid, & Narimah Samat. (2018). Kemiskinan keluarga dan pengaruhnya terhadap tahap pendidikan rendah masyarakat luar bandar: kajian kes di jajahan Bachok, Kelantan. Journal of Social Sciences and Humanities, 13(2), 11 - 23.

Stewart, C., & Alison, K. (1973). Interactions between mothers and their young children: Characteristics and consequences. Monographs of the Society for Research in Child Development, 38(6), 1-108.

Syahirah Abdul Syukor. (2016). Tanggungjawab ibu bapa dalam melindungi kanak-kanak menurut undang-undang Malaysia: Satu tinjauan awal. Malaysia Journal of Syariah and Law, 3, 1-10.

Zakaria Stapa, Ahmad Munawar Ismail, & Noranizah Yusuf .(2012). Faktor persekitaran sosial dan hubungannya dengan pembentukan jati diri. Jurnal Hadhari Edition, 155-172.

Zuhainy Zulkifli. (2020, Jun 19). Masalah mental kanak-kanak Malaysia membimbangkan. Berita Harian. https://www.bharian.com.my/berita/nasional/2020/06/701929/masalah-mental-kanak-kanak-malaysia-membimbangkan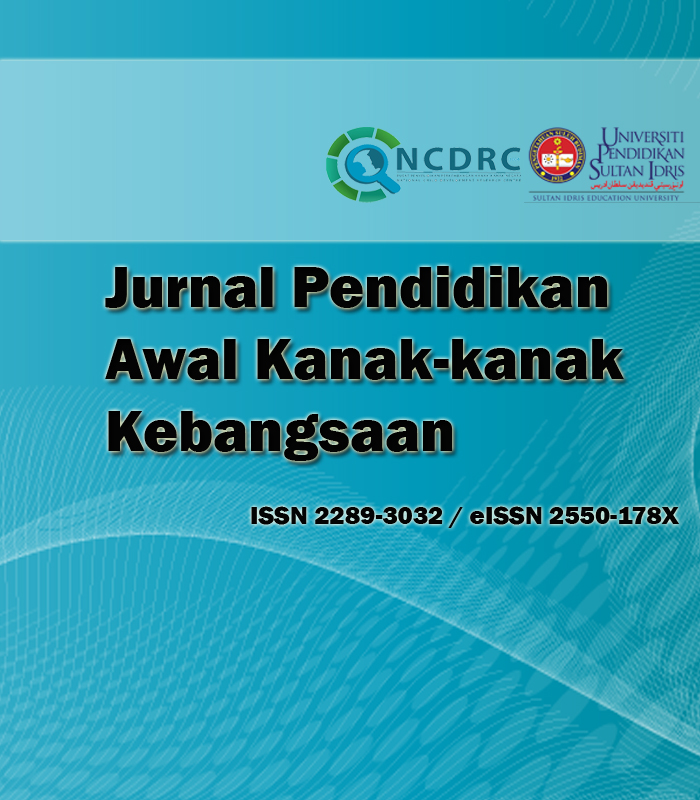 How to Cite
Samsul Bahari, S. N., & Dzainudin, M. (2020). Persepsi ibu bapa terhadap separation anxiety kanak-kanak. Jurnal Pendidikan Awal Kanak-Kanak Kebangsaan, 9, 61-72. Retrieved from https://ejournal.upsi.edu.my/index.php/JPAK/article/view/4538
Copyright (c) 2020 UPSI Press
This work is licensed under a Creative Commons Attribution-NonCommercial-ShareAlike 4.0 International License.