An Investigation on the Challenges Faced by Early Childhood Education (ECE) Undergraduates to Speak in English Language
Hasviniy Padmanathan

Fakulti Pembangunan Manusia, Universiti Pendidikan Sultan Idris, Tanjong Malim, Perak, MALAYSIA

Zainiah Mohamed Isa

Fakulti Pembangunan Manusia, Universiti Pendidikan Sultan Idris, Tanjong Malim, Perak, MALAYSIA

Pooveneswaran Nadarajan

Pusat Bahasa dan Pengajian Umum, Universiti Pendidikan Sultan Idris, Tanjong Malim, Perak, MALAYSIA
Keywords:
Early Childhood Education, English language, speaking skills, challenges, survey
Abstract
This study was carried out specifically to identify the speaking proficiency level among the undergraduates and outline the core challenges faced by them in speaking English during their Diploma in Early Childhood Education (ECE) study period. The study adopted a quantitative approach whereby the data were acquired through a survey method that used an adapted questionnaire as the primary instrument for its data collection. Prior to the study, the average level of English proficiency of the respondents was established through the participants' language proficiency test scores. The document analysis of the undergraduates' English language test grades revealed that more than 70% of ECE undergraduates; irrespective of their semesters; had scored below average grades (C+ and below) in their language proficiency. The following finding was then used as the basis to investigate the challenges faced by ECE undergraduates to speak in English. An online survey was administered to the selected respondent from each semester followed by descriptive statistical analysis. The findings revealed that undergraduates encountered major difficulties due to no motivation to speak, lack of confidence, worried of mistakes, mixing languages, fear of criticism, limited vocabulary and other factors. In conclusion, ECE undergraduates speaking fluency were affected by both linguistic and non-linguistic factors. The implication of this study is that various teaching and learning strategies should address these challenges to create future competent preschool teachers. Future research can be conducted to find possible solutions in overcoming the challenges and assist in language acquisition, specific to cater ECE undergraduates.
Downloads
Download data is not yet available.
References
Abdul Aziz, N.N.B. & Mamat, N. (2017). Pembangunan Modul Peningkatan Efikasi Mengajar Bahasa Inggeris Guru Prasekolah (MEP-BI) : Kajian Rintis. Prosiding Seminar Pascasiswazah Kebangsaan 2017. Tanjong Malim : Universiti Pendidikan Sultan Idris.
Abdul Aziz, N. (2020). Early Childhood Education Teachers : Issues Of Implementation English Language Teaching. Best Practice In Education Management: Teaching, Learning & Research. Retrieved 31 May 2021, from.
Alias, N. (2017). My Say: Making graduates more employable. The Edge Malaysia. Retrieved from https://www.theedgemarkets.com/article/my-say-making-graduates-more-employable
Derakhshan, A., Khalili, A., & Beheshti, F. (2016). Developing EFL Learner's Speaking Ability, Accuracy and Fluency. English Language And Literature Studies, 6(2), 177. doi: 10.5539/ells.v6n2p177
Haidari, Y. (2016). Psychological Factor Affecting English Speaking Performance for the English Learners in Indonesia. Universal Journal Of Educational Research, 4(7), 1501-1505. doi: 10.13189/ujer.2016.040701
Hamad, M. (2013). Factors Negatively Affect Speaking Skills at Saudi Colleges for Girls in the South. Canadian Center Of Science And Education, 6(12), 87-97. doi: doi:10.5539/elt.v6n12p87
Harmer, J. (2015). The practice of English language teaching (5th ed.). Harlow, UK: Pearson Longman.
Huwari, I. (2019). Problems Faced by Jordanian Undergraduate Students in Speaking English. International Journal Of Innovation, Creativity And Change, 8(9), 203-217. Retrieved from http://www.ijicc.net
Jun, S. W. (21st May, 2019) Half of English Teacher have poor English Skills. Free Malaysia Today. Retrieved from https://www.freemalaysiatoday.com/category/nation/2019/05/21/half-of-english-teachers-have-poor-english-skills-says-don/
Leong, L., & Ahmadi, S. (2017). An Analysis of Factors Influencing Learners' English Speaking Skill. International Journal of Research in English Education, 2(1), 34-41. doi: 10.18869/acadpub.ijree.2.1.34
Lestari, S. (2018). Exploring the Factors Affecting Student's English Speaking Fluency. Ar-Raniry Islamic State University.
Mahmood, M. & Harun, H. N. (4 December 2015) Q & A with Tan Sri Arsyad Ayub. The News Straits Time. Retrieved from https://www.nst.com.my/news/2015/12/115394/q-tan-sri-arshad-ayub
Malaysian Employers Federation. (2016, 24 November). English Proficiency Critical To Enhance Employability of Graduates [Press release]. Retrieved from https://www.mef.org.my/Attachments/PR161124b.pdf
Malaysian Employers Federation. (2020, 24 September). Promote multilinguism in education [Press release]. Retrieved from https://www.mef.org.my/MEFITN/Star20200924b.pdf
Ministry of Education. (2012). Preliminary Report Malaysian Education Blueprint 2013-2025. Putrajaya, Malaysia: Retrieved from https://www.moe.gov.my/menumedia/media-cetak/penerbitan/dasar/1207-malaysia-education-blueprint-2013-2025/file
Mishra, P., Pandey, C. M., Singh, U., Gupta, A., Sahu, C., & Keshri, A. (2019). Descriptive statistics and normality tests for statistical data. Annals of cardiac anaesthesia, 22(1), 67–72. https://doi.org/10.4103/aca.ACA_157_18
Mustafa, M.C., Ngajib, S.H., Isa, Z.M., Omar, A., Osman, Z., Ahmad, N.A., Amran, A.N.F.M. (2018). Early Childhood Teachers' Challenges in Using English to interact with Young English Language Learners. International Journal of Academic Research in Business and Social Sciences, 8(6), 60-73.
Mohajan, H. K. (2017). Two Criteria for Good Measurements in Research: Validity and Reliability. Annals of Spiru Haret University. Economic Series, 17(4), 59–82. https://doi.org/10.26458/1746
Rohaty, M. (2013). Critical Issues in Preschool Education in Malaysia. Recent Advances in Educational Technologies, 150-155. Retrieved from: library/conferences/2013/CambridgeUSA/EET/EET-26.pdf.
The Star Online. (2020). Promote multilinguism in education. Retrieved from https://www.thestar.com.my/opinion/columnists/reflecting-on-the-law/2020/09/24/promote-multilingualism-in-education
Tuan, N. H., & Mai, T. N. (2015). Factors Affecting Students' Speaking Performance at Le Thanh Hien High School. Asian Journal of Educational Research, 3, 8-23.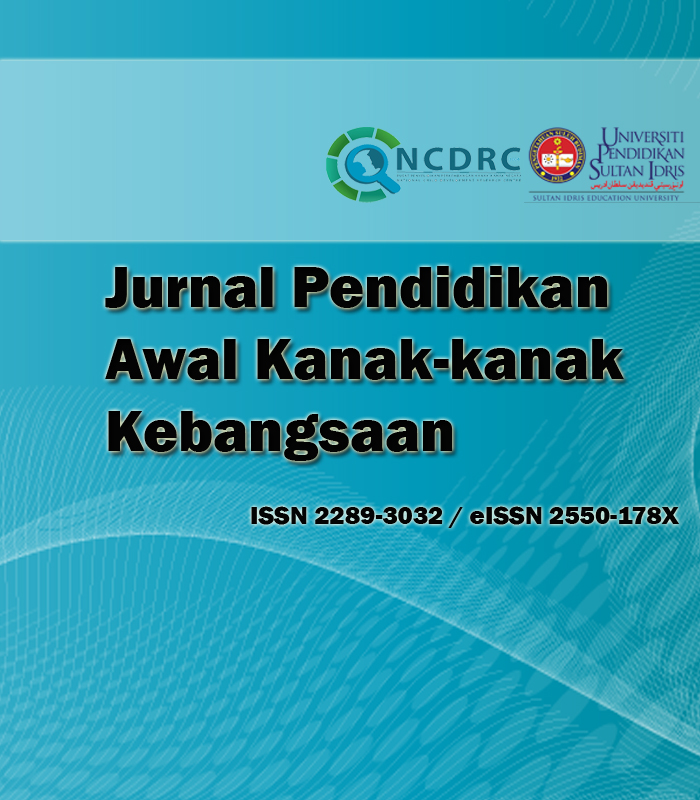 How to Cite
Padmanathan, H., Mohamed Isa, Z., & Nadarajan, P. (2021). An Investigation on the Challenges Faced by Early Childhood Education (ECE) Undergraduates to Speak in English Language. Jurnal Pendidikan Awal Kanak-Kanak Kebangsaan, 10(2), 103-117. https://doi.org/10.37134/jpak.vol10.2.9.2021
Copyright (c) 2021 Hasviniy Padmanathan, Zainiah Mohamed Isa, Pooveneswaran Nadarajan
This work is licensed under a Creative Commons Attribution-NonCommercial-ShareAlike 4.0 International License.