Analisis keperluan untuk membangunkan Modul Pembelajaran Berasaskan Challenge dalam Mempelajari Matematik bagi murid tingkatan 4
Need analysis for developing a Challenge-Based Learning Module in learning Mathematics for form 4 students
Masliza Siti Ramli

SMK Ahmad Boestamam, Sitiawan, Perak, Malaysia

Nor'ain Mohd Tajudin

Jabatan Matematik, Fakulti Sains dan Matematik, Universiti Pendidikan Sultan Idris, Tanjong Malim, Perak, Malaysia
Keywords:
Pembelajaran Berasaskan Challenge, modul pembelajaran, Matematik Pengguna, Pengurusan Kewangan, pembelajaran matematik sekolah menengah
Abstract
Analisis keperluan penting dalam membangunkan sesuatu produk bagi memastikan produk yang dibina dapat memenuhi keperluan pengguna. Kajian ini dilakukan bagi menganalisis keperluan dan spesifikasi modul berdasarkan kaedah Pembelajaran Berasaskan Challenge (PBC) untuk murid tingkatan 4. Pendekatan yang digunakan dalam kajian ini ialah pendekatan kuantitatif dengan menggunakan kaedah soal selidik. Sampel kajian dipilih secara rawak mudah melibatkan 39 orang guru yang mengajar matematik tingkatan 4 di seluruh Malaysia. Instrumen kajian ini ialah Soal Selidik Analisis Keperluan Kaedah PBC. Data dianalisis menggunakan statistik deskriptif iaitu frekuensi dan peratus. Dapatan kajian menunjukkan 81.5% guru memerlukan modul pembelajaran berasaskan challenge bagi pembelajaran Matematik tingkatan 4. Selain itu, 95.7% guru telah memilih Matematik Pengguna: Pengurusan Kewangan sebagai tajuk pilihan. Kesimpulannya, terdapat keperluan membangunkan modul kaedah pembelajaran berasaskan challenge ini bagi tajuk Matematik Pengguna: Pengurusan Kewangan. Dapatan kajian juga menunjukkan ciri-ciri bagi aspek isi kandungan, aktiviti, bahan dan pentaksiran perlu dipertimbangkan dalam membangunkan modul PBC. Oleh itu, diharap modul kaedah pembelajaran berasaskan challenge ini dapat membantu guru dalam penambahbaikan proses pengajaran dan pembelajaran.
Analysis of needs is important in developing a product to ensure that the products built can meet the needs of consumers. This study was conducted to analyze the needs and specifications of the module based on the Challenge-Based Learning (PBC) method for form 4 students. The approach used in this study is a quantitative approach by using the questionnaire method. The randomly selected study sample involved 39 teachers who teach form 4 mathematics throughout Malaysia. The instrument of this study is the PBC Method Needs Analysis Questionnaire. Data were analyzed using descriptive statistics i.e. frequency and percentage. Findings show that 81.5% of teachers need a challenge-based learning module for Form 4 Mathematics learning. In addition, 95.7% of teachers have chosen Consumer Mathematics: Financial Management as the topic of choice. In conclusion, there is a need to develop this challenge-based learning method module for the topic of Consumer Mathematics: Financial Management. The findings of the study also show that the characteristics of the aspects of content, activities, materials and assessment should be considered in developing the PBC module. Therefore, it is hoped that this challenge-based learning method module can help teachers in improving the teaching and learning process.
Keywords: Challenge-Based Learning; learning modules; Consumer Mathematics; Financial management; high school math learning
Downloads
Download data is not yet available.
References
Apple Inc. (2008). Apple classroom of tomorrow - Today learning in the 21st century. Cupertino, California: Apple Inc.
Aliza, A. & Zamri, M. (2017). Analisis keperluan terhadap pengguna sasaran modul pendekatan berasaskan bermain bagi pengajaran dan pembelajaran kemahiran bahasa kanak-kanak prasekolah. Jurnal Kurikulum & Pengajaran Asia Pasifik, 3(1), 1-8.
Ajzen, I. (1991). The theory of planned behavior. Organizational behavior and human decision processes, 50, 179-211.
Armitage, C. J. & Conner, M. (2001). Efficacy of the theory of planned behaviour: A meta-analytic review. British Journal of Social Psychology, 40, 471–499.
Binder, F. V., Nichols, M., Reinehr, S. & Malucelli, A. (2017). Challenge based learning applied to mobile software development teaching. Software Engineering Education and Training (CSEE&T), 2017 IEEE 30th Conference on pp 57-64.
Darhim, Prabawanto, S., & Susilo, B. E. (2020). The effect of problem-based learning and Mathematical problem posing in improving student's critical thinking skills. International Journal of Instruction, 13(4), 103-116. https://doi.org/10.29333/iji.2020.1347
Fengfeng, K., Xie, K., & Xie, Y. (2015). Game-based learning engagement: A theory- and data-driven exploration. British Journal of Educational Technology, 47(6), 1-19. DOI: 10.1111/bjet.12314
Hayatun Nufus, M Duskri & Bahrun, (2018). Mathematical creative thinking and student self-confidence in the challenge-based learning approach. JRAMathEdu (Journal of Research and Advances in Mathematics Education) 3(2), 57-62.
Kementerian Pendidikan Malaysia. (2016). Laporan TIMSS 2015-Trends in International Mathematics and Science Study. Putrajaya: Kementerian Pendidikan Malaysia.
Kementerian Pendidikan Malaysia. (2018). Dokumen Standard Kurikulum dan Prestasi (DSKP) Matematik Tingkatan 4 dan 5. Putrajaya: Kementerian Pendidikan Malaysia.
Johnson, L. F., Smith, R. S., Smythe, J. T., & Varon, R. K. (2009). Challenge-based learning: An approach for our time. Austin, Texas: The New Media Consortium.
McKillip, J. (1987). Need analysis: Tools for the human services and education. SAGE Publications Inc. United States: Thousand Oaks.
Mohd Rashidi, O., Nor Azizah, S., & Saniah, M. S. (2014). Metodologi pengajaran dan pembelajaran menurut perspektif Islam: Kebitaraan Rasulullah sebagai pendidik. Konvensyen Kebitaraan Junjungan Mulia 2014 (INSAN2014).
Rafiee, J. & Hafsah, T. (2020). Analisis Keperluan kebolehgunaan aplikasi mudah alih terhadap sikap, minat dan pengetahuan asas matematik tahun 4. Jurnal Pendidikan Sains & Matematik Malaysia, 10 (1), 9-15.
Richey, R. C., & Klein, J. (2007). Design and development research: Methods, strategies, and issues. Mahwah, NJ: Lawrence Erlbaum Associates.
Saedah, S., Norlidah, A., Dorothy, D. W., & Zaharah, H. (2013). Design and developmental research: Emergent trends in educational research. Kuala Lumpur: Pearson.
Setambah, M. A. B. (2017). Pembangunan dan penilaian modul pengajaran berasaskan adventure terhadap kemahiran berfikir kritis dan kemahiran kepimpinan. (Tesis PhD Yang Tidak Diterbitkan). Tanjong Malim. Universiti Pendidikan Sultan Idris.
Setambah, M. A. B., Tajudin, N. M., Yaakob, M. F. M., & Saad, M. I. M. (2019). Adventure Learning in Basics Statistics: Impact on students critical thinking. International Journal of Instruction, 12(3), 151-166. https://doi.org/10.29333/iji.2019.12310
Sidek, M. N., & Jamaludin, A. (2005). Pembinaan modul: Bagaimana membina modul latihan dan modul akademik. Serdang: Penerbit Universiti Putra Malaysia.
Suhaila, I., Mohd Yusof, A., & Faridah Hanim, I. (2019). Pengaruh penguasaan pengetahuan, pedagogi dan isi kandungan guru terhadap kemerosotan skor Matematik TIMSS di Melaka. Jurnal Kesidang, 4(1), 23-27.
Sulton, N. (2017). Developing of module challenge-based learning in environmental material to empower the critical thinking ability. Jurnal Inovasi Pendidikan IPA, 3(2), 212-223.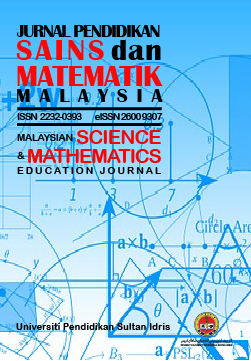 How to Cite
Ramli, M. S., & Mohd Tajudin, N. (2021). Analisis keperluan untuk membangunkan Modul Pembelajaran Berasaskan Challenge dalam Mempelajari Matematik bagi murid tingkatan 4. Jurnal Pendidikan Sains Dan Matematik Malaysia, 11, 50-58. https://doi.org/10.37134/jpsmm.vol11.sp.5.2021
Copyright (c) 2021 UPSI Press, Malaysia
This work is licensed under a Creative Commons Attribution-NonCommercial-ShareAlike 4.0 International License.