Tugasan seni terapeutik dalam meningkatkan tahap keyakinan diri murid di Sekolah Rendah
Siti Almunawwarah Shahuddin

Fakulti Seni, Komputeran dan Industri Kreatif, Universiti Pendidikan Sultan Idris, Tanjong Malim, Perak, MALAYSIA

Mohd Zahuri Khairani

Fakulti Seni, Komputeran dan Industri Kreatif, Universiti Pendidikan Sultan Idris, Tanjong Malim, Perak, MALAYSIA

Md Nasir Ibrahim

Fakulti Seni, Komputeran Dan Industri Kreatif, Universiti Pendidikan Sultan Idris, Tanjong Malim, Perak, MALAYSIA
Keywords:
Seni Terapeutik, Keyakinan Diri, Contengan, Lukisan Garis Lurus
Abstract
Tugasan seni terapeutik merupakan 'warm up acitivity' dan sesuai dilaksanakan sebelum pengajaran sebenar PSV bermula. Aktiviti yang terdapat dalam tugasan seni terapeutik ini lebih mudah dan membantu murid untuk bersedia mempelajari pelajaran seterusnya. Malah tugasan seni terapeutik ini memberi jaminan hasil yang berjaya dalam meningkatkan tahap keyakinan diri murid. Objektif kajian ini adalah untuk menganalisis kajian literatur mengenai perbezaan seni terapeutik dan terapi seni, serta pemilihan tiga aktiviti seni terapeutik yang boleh dilaksanakan semasa PdPC PSV di sekolah rendah. Bagi menjelaskan hal ini, penulis menggunakan data secara bertulis berdasarkan pembacaan buku dan kajian literatur yang berkaitan. Hasil penelitian mendapati bahawa aktiviti contengan, lukisan garis lurus dan koyak tampal dapat membantu meningkatkan tahap keyakinan diri murid. Aktiviti ini juga dipilih dan diubahsuai mengikut lokaliti sekolah rendah serta kejayaan daripada hasil kajian literatur. Jelas bahawa tiga aktiviti dalam tugasan seni terapeutik ini mempunyai objektif yang sama untuk murid menyelesaikan masalah, membina pemikiran abstrak dan menghasilkan hasil seni yang asli. Justeru itu, tahap keyakinan diri murid akan meningkat jika murid mampu mencapai objektif setiap aktiviti dalam tugasan seni terapeutik. Malah, dengan adanya tugasan seni terapeutik ini, ia dapat memberi nilai tambah dalam pengajaran guru PSV seterusnya membantu murid dalam meningkatkan keyakinan diri mereka untuk menghasilkan karya sendiri.
Downloads
Download data is not yet available.
References
Abd. Mukhid. (2018). Self Efficacy Perspektif Teori Kognitif Sosial dan Implikasinya terhadap Pendidikan. IEEE 4th International Workshop on High-Perfomance Interconnection Network, 16-23.
Akbari, O., & Sahibzada, J. (2020). Students' Self-Confidence and Its Impacts on Their Learning Process. American International Journal of Social Science Research, 5(1), 1–15.
American Art Therapy Association. (2013). About Art Therapy. Dilayari dari laman web http://arttherapy.org
Balammal, A. (2020). Art Creation and the Mental Health : A Qualitative Study among Artists. 19(1), 9–25.
Bandura, A. (1986). Social Foundation of Thought and Action: A Social Cognitive Theory. University of Michigan.
Ashley Nicholl Elliot. (2017). A Discussion of Art Therapy Approaches Used in Classroom Activities to Help Students with Emotional and Behavioral Issues. Thesis Master of Arts. West Virginia University School of Art & Design.
Bril. K. N. (2019). Building Creative Confidence In Preservice Generalist Teachers (Issue May). University of Wisconsin-Milawaukee.
Christen A. Black. (2011). Representing Art Therapy: A Critical Conversation with Art Education. The Ohio State University.
Corey, G. (2009). Theories and Practices of Counseling dan Psychotherapy. Belmont, CA: Thomson Brooks/Cole.
D'amelio, G., & Dunn-Snow, P. (2000). How Art Teachers Can Enhance Artmaking As A Therapeutic Experience: Art Therapy and Art Education. Art Education, 53(3), 46.
Druckman, D., & R.A. Bjork, eds. (1994). Determinants of Compromising Behaviour in Negotiation: A meta-analysis. Journal of Conflict Resolution.
Fareez Amos., & Mohd Zahuri Khairani. (2020). Seni Sebagai Terapi Pelukis Melalui Karya Catan Kontemporari Malaysia: Kajian Rintis. Journal of Applied Arts Vol. 2, Issue 1 (2020) 146-150
Glaister, J.A. (1994). Clara's Stry: Post-Traumatic Response and Therapeutic Art. Perspectives in Psychiatric Care, 30(1), 17-22. http://doi:10.1111/j.1744-6163.1994.tb00222.x.
Green, B. (2021). Revisiting the Conceptual Domain: Educational Knowledge and the Visual Arts. International Journal of Art and Design Education, 40(2), 436–448.
Jeffery, Dharatun., & Salleh. (2020). Persepsi dan Faktor Pendorong Aplikasi Terapi Seni dalam Kalangan Kaunselor Pelatih. Jurnal Pendidikan Malaysia, 45(01SI).
Ji Sun Yoon. (2014). Adapting Art Therapy Techniques in Elementary Art Class to Meditate Students Who Are Going through Temporary Emotional Stresses. Master of Arts. Corcoran College of Art Design.
Kaimal, G., & Arslanbek, A. (2020). Indigenous and Traditional Visual Artistic Practices: Implications for Art Therapy Clinical Practice and Research. Frontiers in Psychology. Frontiers Media S.A.
Leah Marie Carpenter. (2014). Therapeutic Art Practices and The Impact on The Middle School Visual Arts Classroom. Master of Arts in Teaching. Corcoran College Art Design.
L.K. Akila., & Nandagopal C. (2015). An Introduction to Art Therapy and Creativity in Organizations Paper presented at the International Symposium on Emerging Trends in Social Science Research (IS15 Chennai Symposium).
Madison W. (2020). The Difference Between Art Therapy and Therapeutic Art Making. Dilayari dari laman web artfromthestreet.org
Maria, B., Vadim, M., Svetlana, P., Polina, P., & Julia, S. (2020). The Use Of Art Therapy In Conflictology In Education. Universal Journal of Educational Research, 8(2), 410–416.
Mascarenhas, M. (2014). Uniform to Pulp: Performance of Transformation, Critique and Community Building for Veteran Soldiers. Western Journal of Communication, 78(1), 78-96. http://doi:1080/10570314.2013.851412.
Mohd Aizat Abu Hassan. (2018). Pembelajaran Berbantukan Komputer dan Kesan Terhadap Sikap, Motivasi dan Hasil Pembelajaran Pendidikan Seni Visual di Sekolah Rendah. Seminar Penyelidikan Kebangsaan. Vol.5, 191-198.
Moula, Z. (2020). A systematic review of the effectiveness of art therapy delivered in school-based settings to children aged 5–12 years. International Journal of Art Therapy: Inscape, 25(2), 88–99.
National Research Council. (1994). Learning, Remembering, Believing: Enhancing Human Performance. Washington, DC: The National Academies Press.
Nguyen, M.-N. (2015). Dubna Psychological Journal. Art Therapy-A Review of Methodology 4 (c), 29-43.
Norman, M., & Hyland, T. (2003). The Role of Confident in Lifelong Learning. Educational Studies, 29 (2-3), 261-272.
Nurhayati, N., Rosmaiyadi, R., & Buyung, B. (2017). Efforts to Improve Student's Self Confidence Using Collaborative Learning Model. JPMI Jurnal Pendidikan Matematika Indonesia, 2(2), 57. http://doi.org/10.26737/jpmi.v2i2223
Pamelia, E. M. (2015). Therapeutic Art-making and Art Therapy: Similarities and Differences and a Resulting Framework (Vol. 151, Issue May).
Pavi-Maria. (2011). Art Therapy in Finnish Schools: Education and Research. Vol.6 (2011) :71-86.
Paw Eng See, Noriah Mohd Ishak., & Salleh Amat. (2008). Lukisan Sebagai Proses Diagnosis dan Intervensi Rawatan dalam Sesi Kaunseling, Jurnal Perkama, Vol.14, 1-22.
Pederson, C.C. (2013). The Veterans Book Project: A Conversation with Monica Haller. Afterimage, 41(2), 21-25.
Rohani Arbaa, Hazri Jamil., & Mohammad Zohir Ahmad. (2017). Model Bersepadu Penerapan Kemahiran Abad Ke-21 dalam Pengajaran dan Pembelajaran. Jurnal Pendidikan Malaysia 42(1) (2017):1-11.
Roslina, Nik Mohd Rahimi., & Hamdzuan, (2020). Meneroka Kaedah Pengajaran Guru Cemerlang Pendidikan Seni Visual Selangor (GCPSV): Satu Kajian Kes.
Rozman Shafie. (2008). Pemahaman Guru Seni Sekolah Rendah Terhadap Terapi Seni dalam Proses Pengajaran dan Pembelajaran Pendidikan Seni Visual.
Sarah, N. (2018). Integration of Art Therapy and Art Education. Final Paper. University of Wisconsin Superior.
Selikowitz, A. (2020). Therapeutic frames–exploring the relationship between psychiatry and visual art. Australasian Psychiatry, 28(6), 653–655.
Springham, N. Findlay, D., Woods, A., & Harris, J. (2012). How can art therapy contribute to mentalization in borderline personality disorder? International Journal of Art Therapy, 17(3), 115–129.
Susan I. Buchalter. (2004). A Practical Art Therapy. Jessica Kingsley.
Susan I. Buchalter. (2009). Art Therapy Techniques and Applications. Jessica Kingsley.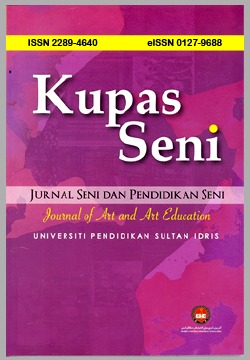 How to Cite
Shahuddin, S. A., Khairani, M. Z., & Ibrahim, M. N. (2021). Tugasan seni terapeutik dalam meningkatkan tahap keyakinan diri murid di Sekolah Rendah. KUPAS SENI, 9(2), 42-51. https://doi.org/10.37134/kupasseni.vol9.2.4.2021
Copyright (c) 2021 Siti Almunawwarah Shahuddin, Mohd Zahuri Khairani, Md Nasir Ibrahim
This work is licensed under a Creative Commons Attribution-NonCommercial-ShareAlike 4.0 International License.