Narrative Analysis on Issue and Themes towards Ruzzeki Harris Body of Work
Analisis Naratif terhadap Isu dan Tema dalam Karya Ruzzeki Harris
Keywords:
Narrative Analysis, Phenomenology, Visual Art, Contemporary Artists
Abstract
This study aims to translate a research justification based on the issues and trends of internet social phenomena through practical practice in fine arts. The issue of the latest internet social phenomenon is always a topic of debate and causes controversy among the general public. This narrative is the essence of the theme for the Malaysian contemporary painter Ruzzike Harris in adapting events, culture, popular characteristics, sensations with subjects include objects or figures related to the current phenomenon. The methodology applied is through Sandell's approach as an alternative to understanding practically the narrative content of visual imagery through the form, theme and context of the artwork creation. There are three terms outlined to create a layer of meaning from visual grammar including form, theme and context. The research data is analyzed through five works by Ruzzeki Harris which includes three of his solo exhibitions namely 'Gone Viral' in 2015, 'Possessed: A Series of Visual Critiques' in 2016 and 'Playing God' in 2017. The findings of the study show three terms as a main points to help researchers in narrative analysis process that includes the integration of the relationship between the appearance of the form and the theme, the integration of the relationship between the theme and the context and the integration of the relationship between the context and the appearance of the form. The emergence of issues and themes of internet social phenomena among the community will always change according to the context and current trends, especially involving the convenience of social media platforms. The same case with the role of a contemporary painter to re-represent the narrative of this issue as a form of social criticism in the context of contemporary painting in Malaysia.
Downloads
Download data is not yet available.
References
Adabi, I. (2019, April 13) Kegilaan budaya tular tuntut kewarasan. Berita Harian. Diperoleh dari https://www.bharian.com.my/rencana/komentar/2019/04/552417/kegilaanbudaya-tular-tuntutkewarasan.
Artemis Art, (2016). Possessed: A Series of Visual Critiques oleh Ruzzeki Harris. Artemis Art. Diperoleh dari https://www.artemisartgallery.com/possessed-aseries-of-visual-critiques-by-ruzzeki-harris/.
Berahim, H., Datoem, A., & Abdillah, N. (2022). The Collective Artistic Identity Of Sebiji Padi Art Group Through Its Artworks.
Desa, N. E., Muhamad, N. A., Bakar, S. A. S. A., & Tahir, A. (2021). Asas Apresiasi Seni Dari Perspektif Formalistik, Rupa Dan Makna: The Basics Of Art Appreciation From A Formalistic Perspective, Appearance And Meaning. Jurnal Gendang Alam (GA), 97-112.
Dewan Bahasa dan Pustaka. (2005). Kamus Dewan (Edisi keempat.). Kuala Lumpur: Dewan Bahasa dan Pustaka.
Ho, W. L., Lee, C. F., Chen, C. H., & Yen, J. (2013). Teaching design practice-led research using the form/theme/context/function model to six graduate students. Bulletin of Japanese Society for the Science of Design, 60(3), 3_71-3_80.
Ismail, I., & Jusilin, H. (2020). Seni Visual Dalam Konteks Gejala Sosial Di Malaysia: Interpretasi Simbolik Pada Karya Catan Fawwaz Sukri: Visual Art In The Context Of Social Problems In Malaysia: Symbolic Interpretation Of Fawwaz Sukri's Paintings. Jurnal Gendang Alam (GA).
Khan, Z. (2014). Moulding the history: grey area in a grey sky. Core Design Gallery. Diperoleh dari http://malaysiacontemporaryart.coredesigngallery.com/2014/08/01/moulding-history-grey-area-grey-sky/.
Khasanah, A. N., & Mansoor, A. (2020). Kajian Fenomena Viral Meme Internet Chuck Norris. DESKOMVIS: Jurnal Ilmiah Desain Komunikasi Visual, Seni Rupa Dan Media, 1(1), 89-101.
Lim, J. (2017) Playing GOD a solo exhibition by Ruzzeki Harris. Wei-Ling Gallery. Diperoleh dari https://weiling-gallery.com/gallery/wpcontent/uploads/2017/07/e-brochure.pdf.
Mefita, S., & Yulianto, M. (2018). Fenomena gaya hidup selebgram (studi fenomenologi selebgram awkarin). Interaksi Online, 6(4), 567-573.
Othman, L. (2018). Penyelidikan kualitatif: Pengenalan kepada teori dan metod. Tanjung Malim Perak. Universiti Pendidikan Sultan Idris.
Radzi, F. M., Noh, L. M. M., Abd Razak, H., Dasuki, S., & Karimon, N. A. (2021). Komik/Kartun (Covid-19) Dalam Talian Sebagai Medium Satira Wadah Kesedaran. Journal of Creative Industries, 3(8), 49-62.
Sandell, R. (2009). Using form+ theme+ context (FTC) for rebalancing 21st-century art education. Studies in Art Education, 50(3), 287-299.
Shukri, F. M., & Abdullah, N. A. V. (2016). Ruang, masa dan sebab akibat dalam naratif filem animasi Geng Pengembaraan Bermula. Jurnal Melayu, 15(2), 238-249.
Sitzia, E. (2016). Narrative theories and learning in contemporary art museums: A theoretical exploration. Stedelijk Studies, 4, 1-15.
Sundawa, Y. A., & Trigartanti, W. (2018). Fenomena Content Creator di Era Digital. Prosiding Hubungan Masyarakat, 432-437.
Tariq, Q. (2015, Jun 21). Smell the creativity. The Sebiji Padi art collective returns with a pungent and provocative show. The Star Malaysia. Diperoleh dari https://www.pressreader.com/malaysia/the-star-malaysiastar2/20150621/281578059301598.
Vogeler, S. N. H, (2015). Real Wild Child- Ruzzeki Harris Gone Viral (Solo exhibition). Wei-Ling Gallery. Diperoleh dari https://weilinggallery.com/gallery/wp-content/uploads/2015/07/pubpdf-goneviral.pdf.
Zailuddin, M. F. N. O., Datoem, A., Abdillah, N., Ibrahim, Y., & Abdullah, M. (2021). Perubahan sosial: Pengaruh Media Sosial dalam Karya Seni Bakat Muda Sezaman. Kupas Seni Jurnal Seni dan Pendidikan Seni.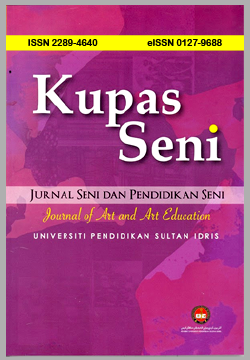 Downloads
How to Cite
Ramli, I. K., Zalay @ Zali, A. A., Sedon @ M. Dom, M. F., Desa, N. E., & Amos, F. V. (2022). Narrative Analysis on Issue and Themes towards Ruzzeki Harris Body of Work: Analisis Naratif terhadap Isu dan Tema dalam Karya Ruzzeki Harris. KUPAS SENI, 10(1), 1–11. https://doi.org/10.37134/kupasseni.vol10.1.1.2022
License
Copyright (c) 2022 Izzal Khairi Ramli, Abdul Aziz Zalay @ Zali, Mohd. Fauzi Sedon @ M. Dom, Noor Enfendi Desa, Fareez Vincent Amos
This work is licensed under a Creative Commons Attribution-NonCommercial-ShareAlike 4.0 International License.