Viral Phenomenon of Social Media as A Theme Exposition in Painting Approach
Fenomena Viral Media Sosial sebagai Eksposisi Tema dalam Pendekatan Karya Seni Catan
Keywords:
Viral, Social Media, Exposition, Theme, Painting
Abstract
This study aims to interpret the viral social media phenomenon as a theme exposition in the painting approach. The issue of social phenomena transmission is always a polemic and a topic of debate among the general public due to the inherent popular, sensational or controversial nature. The reflection of this description is reworked through the interpretation of subjects and objects through artwork's anatomy. Research design is based on art practice through fine art studio study methodology, which involves three main criteria: Central Argument, Context, and Artwork. Study data were analyzed using theorizing studio art practice by Sullivan through Reflection, Contextualization and Reflexivity activities with an overview of issue interpretation approaches, issue contexts and issue components. The findings showed that five aspects presented through the theme exposition options included viral over content values, format and form, quotations and short expressions, media and mediums, and individuals and figures. Heuristic approach methods based on individual experience can help researchers peel off and document the central argument policies of research through the concept of visual dialectic by Marshall. Implications from this study can be used as an essential guide in making a descriptive and justifying work. In conclusion, this writing is a creative process in unravelling the rationale of peeling issues and themes based on the interpretation of subjects and objects through the methodology and theory of fine art studio research.
Kajian ini bertujuan untuk menterjemah identifikasi fenomena viral media sosial sebagai eksposisi tema dalam pendekatan karya seni catan. Isu penularan fenomena sosial ini senantiasa menjadi polemik dan topik perbahasan di kalangan masyarakat umum lantaran kesan dari sifat popular, sensasi atau kontroversi yang wujud. Refleksi dari perihal ini diolah semula melalui interpretasi konsep subjek, objek dan tema menerusi anatomi isu karya seni catan. Reka bentuk penyelidikan adalah berasaskan praktis seni menerusi metodologi kajian studio seni halus yang melibatkan tiga kriteria asas iaitu hujahan utama, konteks dan karya seni. Data kajian dianalisis dengan mengunakan teori studio praktis oleh Sullivan melalui aktiviti refleksi, kontekstual dan reflektif menerusi tinjauan pendekatan konteks isu, komponen isu dan interpretasi isu. Dapatan kajian menunjukkan lima aspek yang dikemukakan menerusi pilihan eksposisi tema merangkumi viral atas nilai kandungan, format dan bentuk, petikan kata dan ungkapan ringkas, media dan medium serta individu dan figura. Kaedah pendekatan heuristik bersandarkan pengalaman individual dapat membantu penyelidik mengupas dan mendokumentasi dasar hujahan utama penyelidikan melalui konsep visual dialectic oleh Marshall. Implikasi dari kajian ini boleh dijadikan panduan asas dalam membuat deskriptif dan justifikasi karya.  Kesimpulannya, penulisan ini merupakan suatu proses kreatif dalam merungkai rasional kupasan isu dan tema berlandaskan interpretasi subjek dan objek menerusi metodologi dan teori kajian studio seni halus.
Kata kunci: Viral, Media Sosial, Eksposisi, Tema, Seni Catan
Downloads
Download data is not yet available.
References
Abidin, C. (2018). Internet Celebrity: Understanding Fame Online. European Journal of Communication, 33(6), 696–697. https://doi.org/10.1177/0267323118814646a
Al-Rawi, A. (2019). Viral News on Social Media. Digital Journalism, 7(1), 63–79. https://doi.org/10.1080/21670811.2017.1387062
Arjona-Martín, J.-B., Méndiz-Noguero, A., & Victoria-Mas, J.-S. (2020). Virality as a paradigm of digital communication. Review of the concept and update of the theoretical framework. Profesional De La Información, 29(6). https://doi.org/10.3145/epi.2020.nov.07
Crowley, C. (2018). A Year of Salt Bae, the Internet's Perfect Chef. Intelligencer. Diperoleh dari https://nymag.com/intelligencer/2018/01/a-year-of-salt-bae-the-internets-perfect chef.html?fbToken=&fbUserId=
Denisova, A. (2020). How to Define 'Viral' for Media Studies?. Westminster Papers in Communication and Culture, 15(1), 1–4. https://doi.org/10.16997/wpcc.375
Dewan Bahasa dan Pustaka. (2005). Kamus Dewan (Edisi keempat.). Kuala Lumpur: Dewan Bahasa dan Pustaka.
Guerini, M., Strapparava, C., & Ozbal, G. (2011). Exploring Text Virality in Social Networks. Proceedings of the International AAAI Conference on Web and Social Media, 5(1). Diperoleh dari https://ojs.aaai.org/index.php/ICWSM/article/view/14169
Abdul Halim, Z. Z., Azmi, D. S., Marni, N., & Jasmi, K. A (2019). Media Sosial dan Trend Penggunaan Menurut Islam. Dalam: Seminar Sains Teknologi dan Manusia 2019, 15hb. Disember 2019, DP3, N29, Fakulti Kejuteraan Kimia dan Tenaga, UTM. Diperoleh dari https://www.researchgate.net/publication/339399584_Media_Sosial_dan_Trend_Penggunaan_Menurut_Islam
Hasnat, M. A., & Khairani, M. Z. (2019). Allegory Images with Text in Painting Toward The Political Context and Human Consciousness. KUPAS SENI: Jurnal Seni Dan Pendidikan Seni, 6. Diperoleh dari https://ejournal.upsi.edu.my/index.php/JSPS/article/view/2281
Hussin, Z. (2020). Tak perlu jadi hero viral. HM Online. 4 Mei. Diperoleh dari https://www.hmetro.com.my/rencana/2020/05/574327/tak-perlu-jadi-hero-viral
Lajis, S. A. (2020). "Karya ini untuk wira negara." Sinar harian online. 2 Julai. Diperoleh dari https://www.sinarharian.com.my/article/90389/BERITA/Viral/Karya-ini-untuk-wira-negara
Lang, C. (2017). Meet the Artist Who's Giving Viral Memes Like Crying Jordan the Fine Art Treatment. Time. 17 Mac. Di peroleh dari https://time.com/4705666/alim-smith-meme-photos/
Marshall, C. (2010). A Research Design for Studio-Based Research in Art. Teaching Artist Journal, 8(2), 77–87. https://doi.org/10.1080/15411791003618597
Md Nawawi, E. A., Izzudin, M. F., Mohd Zulkafli, N. A., & Januri, S. S. (2020). Identifying the Factors Affecting Internet Memes to Become Viral on Social Media. Dalam: International Jasin Multimedia & Computer Science Invention & Innovation Exhibition (3rd edition), 17-28 Feb 2020, UiTM Cawangan Melaka Kampus Jasin. Diperoleh dari https://jamcsiix.wixsite.com/home
Mohamad Hasnur, A. H. (2017). Pendedahan tentang Viral vs Moral. UMP news. Diperoleh dari http://umpir.ump.edu.my/id/eprint/18390
Mohamad Yaakub, M. A., & Ruskam, A. (2019). Polemik amalan ibadah harian di Malaysia. e-Journal of Islamic Thought and Understanding (e-JITU), 2, 38-63. Diperoleh dari http://ir.uitm.edu.my/id/eprint/26716
Mohd Salehuddin, A., & Baharuddin, N. (2019). Analisis Pendekatan Semiotik Terhadap Karya "Pembukaan" (2013) oleh Mohd Fuad Arif. KUPAS SENI: Jurnal Seni Dan Pendidikan Seni, 5. Diperoleh dari https://ejournal.upsi.edu.my/index.php/JSPS/article/view/2267
Musawerul Hakam, A. C. H. M. A. D. (2018). Viral Media Sosial Sebagai Tema Penciptaan Karya Seni Kriya Kayu. Jurnal Seni Rupa, 6(02). Diperoleh dari https://jurnalmahasiswa.unesa.ac.id/index.php/va/article/view/25888
Raaf, A. R. (2015). Kematangan rakyat tentukan buruk, baik viral di media sosial. Berita Harian. 18 September. Di peroleh dari https://www.bharian.com.my/taxonomy/term/61/2015/09/82790/kematangan-rakyat-tentukan-buruk-baik-viral-di-media-sosial
Safitri, D. (2016). Image Viral and Community Mental Health. In International Conference on Transformation in Communication (ICOTIC). Diperoleh dari https://openlibrarypublications.telkomuniversity.ac.id/index.php/icotic/article/view/5608
Sullivan, G. (Ed.). (2010). Art practice as research: Inquiry in visual arts. Sage.
West, T. (2011). Going viral: Factors that lead videos to become internet phenomena. The Elon Journal of Undergraduate Research in Communications, 2(1), 76-84.
Widiastuti, N. (2019). Berita Viral di Media Sosial Sebagai Sumber Informasi Media Massa Konvensional. Journal Digital Media & Relationship, 1(1), 23-30. Di peroleh dari http://ejurnal.ars.ac.id/index.php/jdigital/article/view/161
Yahya, M. A., Ahmad, A. A., Mahmor, N. A., & Hashim, N. (2017). Slogan iklan dalam majalah: Yang tersurat dan tersirat. Proceedings of the ICECRS, 1(1), 85-92. http://dx.doi.org/10.21070/picecrs.v1i1.580
Zolkipli, S. R. (2015). Apabila viral menjadi virus. (2015, April 27). HM Online. 27 April. Di peroleh dari https://www.hmetro.com.my/node/46709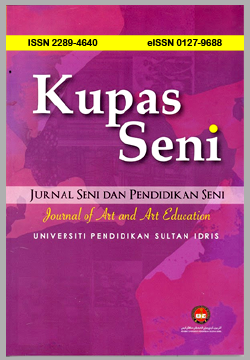 Downloads
How to Cite
Ramli, I. K., Zalay @ Zali, A. A., & Sedon @ M. Dom, M. F. (2021). Viral Phenomenon of Social Media as A Theme Exposition in Painting Approach: Fenomena Viral Media Sosial sebagai Eksposisi Tema dalam Pendekatan Karya Seni Catan. KUPAS SENI, 9(1), 58–67. https://doi.org/10.37134/kupasseni.vol9.1.6.2021