Significant of Frog Image as a Cultural Symbol in Printmaking
Signifikan Imej Katak sebagai Simbol Budaya dalam Seni Cetakan
Keywords:
Culture, Frog, Printmaking, Symbol
Abstract
Printmaking is a branch of fine art that grew along with the development of modern Malaysian art. In the post-independence period, the idea of the National Cultural Policy (DKK) 1971 had a great influence on the world of modern Malaysian art in addressing local cultural and social issues. The visual essence of the printmaking artwork is also influenced by symbolism from the subject of nature and the environment to convey cultural messages. This study aims to identify the function of frog images in conventional printmaking artwork. This writing is to analyze and study the context and meaning of the frog subject as a symbol in printmaking artworks. The research approach uses a qualitative method that is carried out by collecting primary and secondary data through observation, interviews, and documentation. Three conventional printmaking artworks featuring images of frogs were selected for analysis. The findings found that the use of the frog animal symbol in the artwork is used as a form of communication to convey a message in a more polite and implicit way. It classifies socio-culture from environmental, cultural, and social aspects through the relationship between symbols, context, and meaning. Despite having similarities in terms of the use of the image of a frog as a symbolic, the depiction of the message that each artist wants to convey leads to different meanings. In conclusion, the use of the subject of frogs as a theme is not limited to simply producing visual images in the artwork but is a symbolic representation in conveying meaning. Indirectly, these artworks highlight the message and response to the local socio-cultural happenings in Malaysia.
Downloads
Download data is not yet available.
References
Daud, N., Kamarulzaman, U., & Parlan, N. H. Simbolisme Haiwan dalam Peribahasa Melayu.
Hamidah Abdul Wahab. (2013). "Petua dan Pantang Larang Tradisional dalam Alam Melayu Sarawak". International Journal of The Malay World and Civilisation (Iman), 1 (1), 89-97).
Hidayat, L. M. (2021). Simbolisme Katak dalam Upacara Meminta Hujan Babangkongan di Desa Surawangi Kabupaten Majalengka. Panggung, 31(3).
Husain, A. H. (2014). Adaptasi Rupa Melayu Dalam Karya Seni Tampak Moden Malaysia. In Seni Pendidikan & Kebudayaan (pp. 1–10). Penerbitan Malim Sarjana.
Ismail, N., Senin, N., & Azizan, N. I. (2021). Kepercayaan Masyarakat Hindu Terhadap Kesucian Lembu: Satu Kajian Terhadap Mahasiswa Universiti. Jurnal Pengajian Islam, 231-242. Retrieved from https://jpi.kuis.edu.my/index.php/jpi/article/view/70
Kebudayaan, B. D. (2021). Dasar Kebudayaan Negara 2021. Putrajaya: MZR Global Sdn Bhd. Retrieved from https://www.motac.gov.my/en/download/category/123-dasar-kebudayaan-negara-2021
Long, T. S. (1993). Kedudukan Seni Cetak Dalam Dekad 70-an. Dlm. Katalog Pameran Komunikasi Melalui Grafik – Seni Cetak. Kuala Lumpur: Balai Seni Lukis Negara.
Mahamood, M (2003). Seni Cetak Malaysia. Dewan Bahasa, Julai 2003.
Marzuki Hj Ibrahim. (2015). Fungsi seni visual kepada masyarakat. Machang: Fakulti Seni Lukis dan Seni Reka UITM.
Md. Noor, R. (2014). Seni cetak dulu dan kini dalam perkembangan seni rupa di Malaysia / Rosiah Md. Noor...[et al.].
Mohd. Ghazali Abdullah (2008). Simbolisme dalam Puisi "Madu Ilmu" Karya Shafie Abu Bakar.Jurnal Aswara: 187-205.
Mohd. Top @ Mohd. Tah, M., & Simon, N. (2020, May 21). KEDIAMAN ANDA DAN KATAK. Https://Www.Majalahsains.Com/. Retrieved July 30, 2022, from https://www.majalahsains.com/kediaman-anda-dan-katak/
Poespoprodjo, W. (1987). Interprestasi: Beberapa catatan pendekatan filsafatinya. Bandung: Penerbit Remadja Karya.
Rohidi, T.R. (2011). Metodologi penelitian seni. Semarang: Penerbit Cipta Prima.
Saidatul, N. H. M, Mohd. R. S. (2013) Haiwan Sebagai Perlambangan Dalam Peribahasa Orang Semai. Retrieved on December 15, 2020, from https://ejournal.ukm.my/gema/article/view/2224
Sapinah, H, S. (2013). Kamus peribahasa Melayu. Malaysia: Pelangi ePublishing Sdn. Bhd.
Wong, O. G., & Nordin, F. N. (2019). Imejan haiwan dalam kartun lerang Langkawit melalui pendekatan ikonografi. Jurnal Kinabalu, 50-71.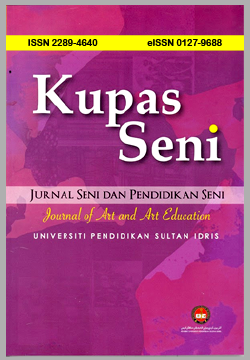 Downloads
How to Cite
Saad, M. N., Razali, R., Abdul Razak, R., Zakaria, M. S., & Said Ahmad @ Syed Ahmad, S. H. (2022). Significant of Frog Image as a Cultural Symbol in Printmaking: Signifikan Imej Katak sebagai Simbol Budaya dalam Seni Cetakan. KUPAS SENI, 10(1), 12–20. https://doi.org/10.37134/kupasseni.vol10.1.2.2022
License
Copyright (c) 2022 Mohd Nafis Saad, Rosmidahanim Razali, Ruzamira Abdul Razak, Muhammad Salehuddin Zakaria, Siti Humaini Said Ahmad @ Syed Ahmad
This work is licensed under a Creative Commons Attribution-NonCommercial-ShareAlike 4.0 International License.