Mural Painting as a Platform for Historical Information in Batu Gajah Heritage Town
Keywords:
Mural painting, dissemination of information, Batu Gajah District
Abstract
Street paintings known for mural paintings are usually produced for the purpose of beautifying walls in empty alleys and public roads. The mural painting is basically intended to fill the void as well as add value to the surrounding aesthetics and also to be a platform for information on history and storytelling. For example, a mural painting in the town of Batu Gajah, which is an open area and is used as a car park, surrounded by old buildings whose condition looks dilapidated and shabby. The objective of this study is to visualize the design ideas used in conveying the historical information of the early establishment in the heritage town of Batu Gajah. Looking at the current situation of the younger generation which is more inclined towards gadget activities that are electronic in nature and reduce physical outdoor activities. At once reduced their knowledge of the early history of the founding of the heritage city. The method of study used in this study was to use a qualitative method. Researchers obtain information through primary data methods such as interviews and observations and use secondary methods derived from data sources such as books, journals, newspapers, magazines and websites. The results show that the mural painting is not only a wall decorator that covers the blemishes, but also one of the media in disseminating information on the history of the administration of Batu Gajah. The mural is expected to convey accurate historical information to the target, especially the younger generation, to be able to evaluate mural paintings and add aesthetic value. Not only that, but also to increase the attractiveness of the local community in making the most of the public facilities provided.
Downloads
Download data is not yet available.
References
Ahmad Nazri Hashim (2000, April 20). Pembangunan Sungai Kinta. Retrieved from http://matsejarah.blogspot.com/2016/12/membangunkan-sungai-kinta.html
Andrew J. Schneller, Alyssa Irizarry. (2014). Imaging Conservation: Sea Turtle Murals And Their Effect on Community Pro-environmental Attitudes In Baja California Sur, Mexico. Ocean & Coastal Management, 89 (2014), 100 -111.
Bastian Heinsohn. (2015). Critical Voices from the Underground : Street Art and Urban Transformation in Berlin. Camden House, Rochester, New York.
Hossein Meiboudi, Hasan Karimzadengan, Sayyid Mohammad Reza Khalilnejad. (2011). Enhancing Children's Environmental Awareness In Kindergarten Of Mashhad City Using Mural Painting. Procedia – Social and Behavioural Sciences, 28(2011), 1020 -1028.
Jasbindar, F. A. (2019, Februari o1). Cerita Rakyat Asal Usul Nama Batu Gajah. Retrieved from Orang Perak: https://www.orangperak.com/cerita-rakyat-asal-usul-nama-batu-gajah.html
Kadek Risna P. G., Ni Wayan A. U., Nyoman Geme E. P., Dewa Gede P. (2021). Mural Sebagai Media Eduksi Pelestarian Kebudayaan Daerah. Jurnal Lentera Widya, 1(2), 1-11.
Muhammad Hazrin. (2020). Kempen Kesedaran Covid-19: Projek Mural Di Langkawi Geopark Discovery Centre. Seni Kini Malaysia Art Now. 29 (22).
Muhammad Khazrul Shahruddin (2020). Kempen Kesedaran Covid-19: Projek Mural Di Langkawi Geopark Discovery Centre. Seni Kini Malaysia Art Now. 29 (18-19).
Muhamed, S. H. (2017, Januari 07). Orang Perak . Retrieved from Asal Usul Batu Gajah, Perak: Retrieved from https://www.orangperak.com/asal-usul-batu-gajah-perak.html
Musfiqah Tsany M., Aliem Bahri, Andi Syamsul Alam. (2022). Gaya Bahasa Mural Di Media Sisial Tagar Intagram pada Masa Pendamik Covid-19 Sebagai Bentuk Sindiran Kepada Pemerintah. Jurnal Pendidikan Bahasa dan Sastra. 2(2).
Nor Hisham Bin Zulkiflee. (2017). Bandar dan Pekan Perlombongan Bijih Timah Di Perak 1874-1940. Perpustakaan Tuanku Bainun, Universiti Pendidkan Sultan Idris.
Pejabat Daerah dan Tanah Kinta, Batu Gajah. (2021), Retrieved from https://ptg.perak.gov.my/portal/web/batu-gajah/sejarah
Portal rasmi majlis Daerah batu Gajah. (2022) Retrieved from https://www.mdbg.gov.my/ms/mdbg/profil/latar-belakang
Ryan Sheehan Nababan. (2019). Karya Mural Medium Mengkritis Perkembangan Jaman (Studi Kasus Seni Mural Karya Young Surakarta). Proceeding: International Journal of Multicultural and Multireligious Understanding. 2(2), 24-30.
Seyedehelham Sadatiseyedmahalleh, Suriayati Rahman, Aldrin Abdullah. (2015). Analyzing Street To Present The Heritage of George Town, Malaysia. Proceeding: International Conference On Art, Design, Education, and Cultural Studies.
Thomas Malthus. (2008). An Essay on the Principle of Population. Oxford University Press.
United Nation. (2016). 2016-2030, Sustainable Development Goals. Retrieved from https://research.un.org/en/docs/dev/2016-2030
Wahiza Abdul Wahid (2011). Sejarah Seni Lukis & Seni Reka – Satu Pengenalan. Perpustakaan Negara Malaysia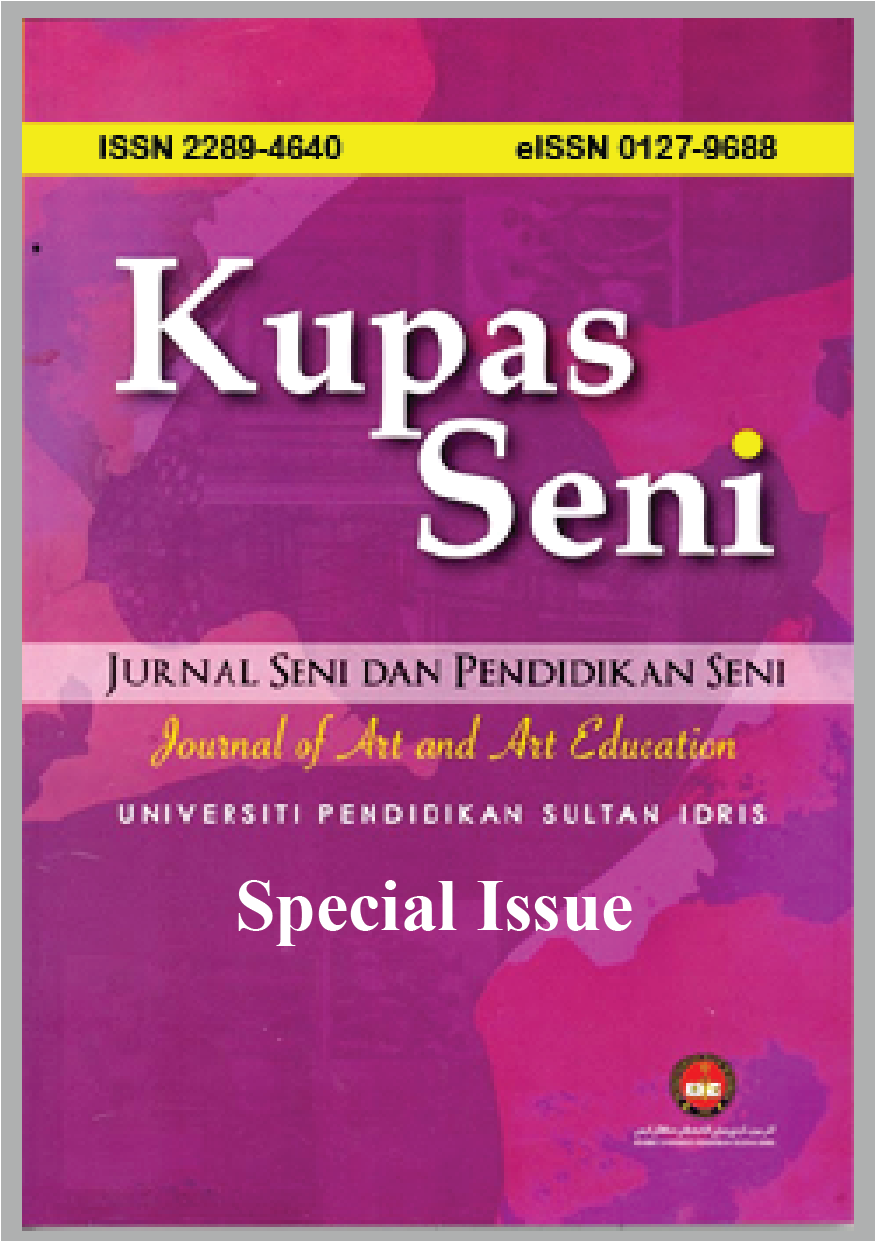 Downloads
How to Cite
Merman, H., Tahir, A., Mohd Aripin, N. A. N., Zakaria, M. S., & Saad, M. N. (2022). Mural Painting as a Platform for Historical Information in Batu Gajah Heritage Town. KUPAS SENI, 10, 80–92. https://doi.org/10.37134/kupasseni.vol10.sp.2.8.2022
License
Copyright (c) 2022 Hairulnisak Merman, Azian Tahir, Nur Adibah Nadiah Mohd Aripin, Muhammad Salehuddin Zakaria, Mohd Nafis Saad
This work is licensed under a Creative Commons Attribution-NonCommercial-ShareAlike 4.0 International License.