A new bunion shoe design using geometric analysis: Hallux Valgus Angle (HVA) for Malaysian Women
Keywords:
Malaysian women, foot deformities, geometric angle
Abstract
The main of this study is to identify and come out with a new bunion shoe design using geometric analysis: Hallux Valgus angle HVA for Malaysian women. A bunion is a bulging bump that appears on the side part of the metatarsal tibiale which commonly occurs in women compared to men. There are three stages of bunion which are mild, moderate, and severe with different angles of measurement. This study seeks to identify each stage of the bunion using the geometric angle on three participants' ethics which are Malay, Chinese and Indian, and also to measure the circumference of the bunion. The method that will be used in this research is quantitative which also involves a sample size is n=150. As a result, the data shows that the highest percentage is in size seven. The circumference of size seven consists of mild 220 mm, moderate 245 mm, and severe 282 mm. The result of the circumference will be used to make the shoes last in different stages. Hence, this study will be helpful by construct a new bunion shoe design using geometric analysis (HVA) that would be a benefit for women who are suffering from bunions which can make it easier to walk in daily routines without any feeling uncomfortable or any pain on the part of their bunion.
Downloads
Download data is not yet available.
References
Department Of Statistics Malaysia. (2022, July 29). Current Population Estimates, Malaysia, 2022. Retrieved on August 22, 2022 from: https://www.dosm.gov.my/v1/.
Frothingham. S. (2019) Bump on Big Toe: 6 Possible Causes and How to Treat. Retrieved on February 16, 2021 from: https://www.healthline.com/health/bump-on-big-toe
Goodman. B (2011). Bunions Can Affect Quality of Life. Retrieved on November 9th 2021 from: https://www.webmd.com/skin-problems-andtreatments/news/20110224/bunions-can-affect-quality-of-life#1
Idaho Foot & Ankle Associates. (2014). Retrieved on December 6th 2021 from https://www.idahofootandankle.com/blog/post/watch-out-for-that-painful-bunionbump.htm
Mayo Clinic (2021, November 6). Bunion. Retrieved on January 16, 2022 from: https://www.mayoclinic.org/diseases-conditions/bunions/symptomscauses/syc-20354799
Montiel, V., Alfonso, M., Villas, C., & Valentí, A. (2019). Medial and lateral exostoses of the distal phalanx of the hallux: A potentially painful bunion-like structure. Part 1: Incidence and clinical application. Foot and Ankle Surgery, 25(2), 158-164.
Oestreich, A. E. (2013). How to measure angles from foot radiographs: a primer. Springer Science & Business Media.
Ohashi, H., Nishida, K., Nasu, Y., Saiga, K., Nakahara, R., Horita, M., ... & Ozaki, T. (2021). A Novel Radiographic Measurement Method for the Evaluation of Metatarsophalangeal Joint Dislocation of the Lesser Toe in Patients with Rheumatoid Arthritis. International journal of environmental research and public health, 18(14), 7520.
Piqué-Vidal, C., Vila, J. A geometric analysis of hallux valgus: correlation with clinical assessment of severity. J Foot Ankle Res 2, 15 (2009) doi:10.1186/1757-1146-2-15
Shariff, S. M., Bong, Y. B., Shariff, A. A., Kouchi, M., Kimura, K., Merican, A. F. & Noor, N. M. (2014). Development of a Foot Sizing System for Malaysian Women. In 5th International Conference on 3D Body Scanning Technologies (pp. 93-98)
Shariff, S. M., Merican, A. F., & Shariff, A. A. (2019). Development of new shoe-sizing system for Malaysian women using 3D foot scanning technology. Measurement, 140, 182-184.
Silvester, R. N., Williams, A. E., Dalbeth, N., & Rome, K. (2010). 'Choosing shoes': a preliminary study into the challenges facing clinicians in assessing footwear for rheumatoid patients. Journal of Foot and Ankle Research, 3(1), 24.
Smith. L. (2019). What you need to know about bunions. Retrieved on November 6th 2021 from: https://www.medicalnewstoday.com/articles/310096.php
Svoboda, B. (2019). Hallux Valgus. Physiopedia. Retrieved on August 22, 2022, from https://www.physio-pedia.com/Hallux_Valgus
Tarantino, D., Palermi, S., Sirico, F., & Corrado, B. (2021). Hallux valgus deformity: Treatment options, post-operative management, and return to sport. Journal of Human Sport & Exercise, 16.
Williams, A. (2007). Footwear assessment and management. Podiatry Management, 26(8),16
Zhang, Y., Awrejcewicz, J., Szymanowska, O., Shen, S., Zhao, X., Baker, J. S., & Gu, Y. (2018). Effects of severe hallux valgus on metatarsal stress and the metatarsophalangeal loading during balanced standing: A finite element analysis. Computers in biology and medicine, 97, 1-7.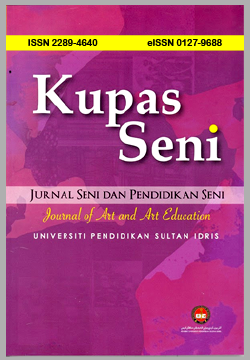 Downloads
How to Cite
AlMurid, D. I. F., Othman, M. R., Mustafa, M. K., Saleh, N., & Nahrawi, S. (2022). A new bunion shoe design using geometric analysis: Hallux Valgus Angle (HVA) for Malaysian Women . KUPAS SENI, 10(2), 1–10. https://doi.org/10.37134/kupasseni.vol10.2.1.2022
License
Copyright (c) 2022 Dayang Intan Farahanies AlMurid, Muhamad Rozali Othman, Muhammad Khalik Mustafa, Nasyirah Saleh, Shuhaila Nahrawi
This work is licensed under a Creative Commons Attribution-NonCommercial-ShareAlike 4.0 International License.