The Symbolism of the COVID-19 Event in The Artwork of Issarezal Ismail
Keywords:
Symbol, Signs, Artwork, COVID-19, Issarezal Ismail
Abstract
Artwork is an expression of an artist inspired by thought and experience that encompasses issues and questions, including events, history, social, disasters, and psychology. This study was conducted to analyze and explain the signs and symbols on 20 works by Issarezal Ismail from two exhibition series entitled Wake Me Up When It's All Over. The artworks from this exhibition were inspired by the artist's own experience stranded in Kota Kinabalu, Sabah during the COVID-19 outbreak. The approach of this study is in the type of art study where it sits under a qualitative study that focuses on descriptive and holistic explanation. A conceptual framework was constructed based on the relevant concepts used by the researchers as a guide to analyzing the symbolism of the COVID-19 pandemic events in the work of Issarezal Ismail. The results of the analysis show that this series of works entitled Wake Me Up When It's All Over tries to reveal personal symbols from the artist's personal experience while dealing with movement control (MCO) situations. Due to the implementation of MCO, the artist's plan to move to Perak was disrupted, and he had to rent a cramped room while waiting for the MCO period to end. The results from the analysis found that each of his works uses signs and symbols such as humans, everyday objects, and elements of space, size, and material.
Downloads
Download data is not yet available.
References
Azian Tahir, Arba'iyah Mohd Noor & Suffian Mansor. (2015). Cetakan Visual Sejarah Pada Era Pemerintahan British di Sarawak: Suatu Analisis Koleksi Balai Seni Visual Negara. Jurnal SARJANA. 30(2): 15-29.
Azian Tahir, Arba'iyah Mohd Noor & Mohd Khairul Azahari Abdul Rani. (2015). Visual Sejarah Dalam Seni Cetak Bertemakan Negeri-Negeri Melayu 1786-1890. Jurnal Sains Sosial dan Kemanusiaan. 10(2): 029-040.
Badiani, A.A., Patel J.A., Ziolkowski K., and Nielsen F.B.H. (2020). Pfizer: the miracle vaccine for COVID-19?. Public Health in Practice, 1, 100061. https://www.ncbi.nlm.nih.gov/pmc/articles/PMC7754880/.
Dewan Bahasa dan Pustaka. (2022). Definisi Peristiwa. Kamus Dewan Edisi Keempat. Pusat Rujukan Persuratan Melayu Retrieved from https://prpm.dbp.gov.my/cari1?keyword=peristiwa.
Dillistone, F.W. (1986) The Power of Symbols. London: SCM Press.
Diyanto. (2013) Untuk Apa Seni. Bandung: Matahari.
Ghebreyesus, T.A. (2020) WHO Director-General's opening remarks at the media briefing on COVID-19 - 11 March 2020. Retrieved January 14, 2022 from https://www.who.int/director-general/speeches/detail/who-director-general-s-opening-remarks-at-the-media-briefing-on-covid-19---11-march-2020
Hennink, M., Hutter, I., & Bailey, A. (2020). Qualitative research methods. (2nd ed.). Sage
Issarezal Ismail, Siti Humaini Syed Ahmad @ Said Ahmad, Hairulnisak Merman &Muhamad
Rozali Othman. (2021). Mesej Simbolik Di Sebalik Karya Seni Visual Bertajuk Wira Oleh Haris Abadi Abd Rahim Dalam Konteks Fenomena Covid-19. Prosiding International Virtual Conference on Creative Technology and Visual Arts 2021 (IVCCTVA 2021). 18-19 Oktober, 2021. UMS Sabah.
Nur Nazirah Musa & Harozila Ramli. (2014). Identiti Melayu dalam Catan Syed Ahmad Jamal. Jurnal Seni dan Pendidikan Seni. 2(1): 103-109.
Patriansah, Mukhsin. (2021). Kajian Strukturalisme dalam Melahirkan Sebuah Karya Seni. Besaung : Jurnal Seni Desain dan Budaya. 5. 10.36982/jsdbv5i2.1444.
Ragan, R. (2005). Art Talk (4nd ed.). New York: Glencoe/McGraw-Hill
Saiful Akram Che Yob. (2019). Propaganda visual: Satu antitesis simbolik pendudukan Jepun di Tanah Melayu. Jurnal Sultan Alauddin Sulaiman Shah (Special Issues), 17-26.
Shaliza Dasuki, Liza Marziana Mohammad Noha, Nurkhazilah Idrisa, Fazlina Mohd Radzia, Musaddiq Mohd Khalila & Nur Hasliza Abdulahb. (2016). Kartun Akhbar Sebagai Wadah Penyampaian Suara Masyarakat: Suatu Kritikan Terhadap Isu-Isu Semasa. Conference:3rd ISME International Colloquium (2016). 27-28 Disember, 2016. UiTM Melaka.
Sinar Harian (2020) PKP: Kronologi PKP sehingga 10 April. Retrieved January 18, 2022 from https://www.hmetro.com.my/rencana/2021/09/750663/hidup-bersama-virus
Taylor, SJ & R Bogdan. 1984. Introduction to Qualitative Research Methods: The Search for Meanings. Second Edition. John Wiley and Sons. Toronto.
Wango, K. (2021). 'Drawing with My Students' - The Role of Surrealism in Self-Expression among University Art Students. Analysis of Selected Surrealistic Work by Fourth Year Students at Kenyatta University. International Journal of Advanced Research, 3(1), 1-19. https://doi.org/10.37284/ijar.3.1.272
Worldometers (2022) Retrieved January 14, 2022 from https://www.worldometers.info/coronavirus/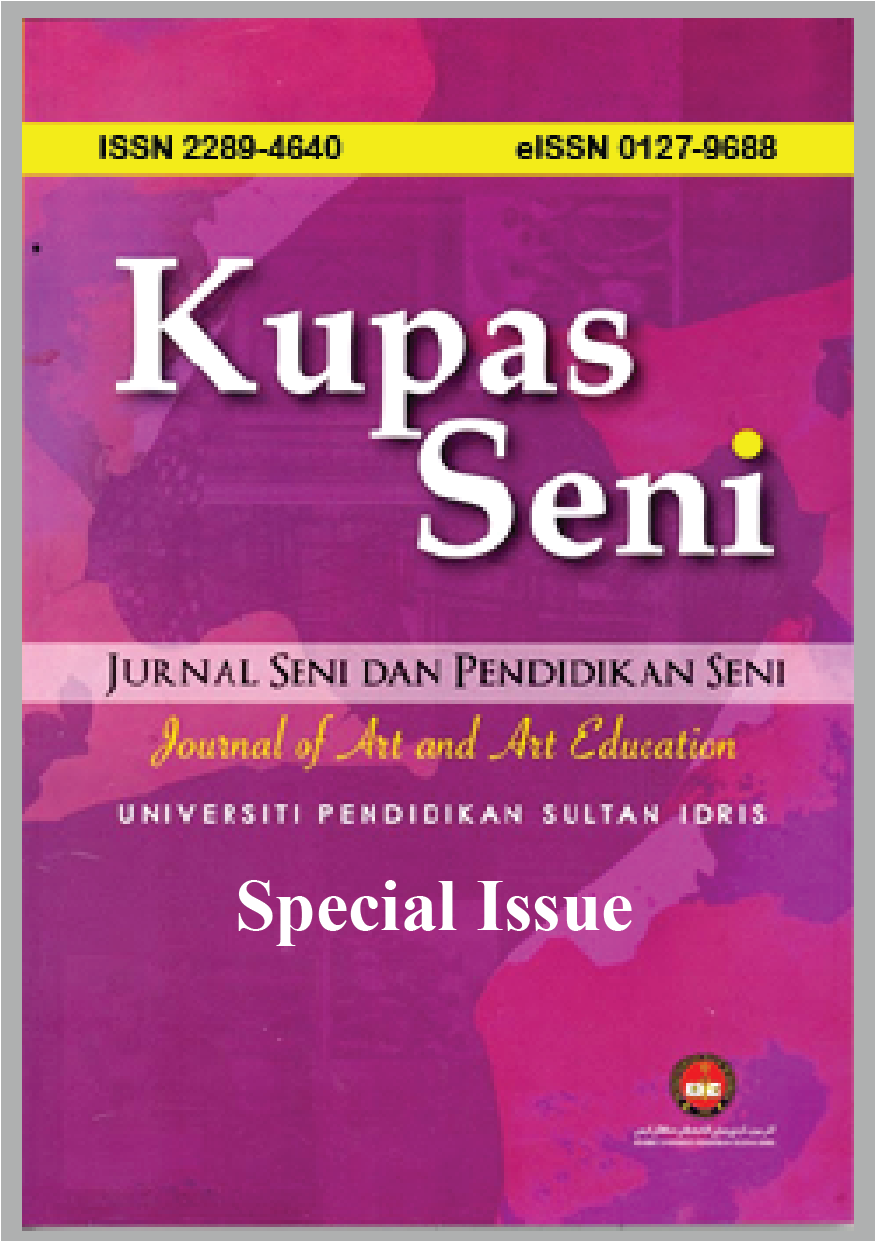 Downloads
How to Cite
Said Ahmad @ Syed Ahmad, S. H., Ismail, I., Othman, M. R., Abdul Razak, R., & Saad, M. N. (2022). The Symbolism of the COVID-19 Event in The Artwork of Issarezal Ismail . KUPAS SENI, 10, 59–69. https://doi.org/10.37134/kupasseni.vol10.sp.2.6.2022
License
Copyright (c) 2022 Siti Humaini Said Ahmad @ Syed Ahmad, Issarezal Ismail, Muhamad Rozali Othman, Ruzamira Abdul Razak, Mohd Nafis Saad
This work is licensed under a Creative Commons Attribution-NonCommercial-ShareAlike 4.0 International License.