My Grandma's Batik Sarong– An Art Appreciation
Keywords:
Art's appreciation, batik, Malay, aesthetic values, trapunto
Abstract
This work of an art appreciation study is a study that focuses on art appreciation. The result of a work that has tangible material culture of a Malay community. This art appreciation is based on a oeuvre produced by a Malay girl who has a close relationship with her grandmother. The researcher applying the aesthetic value in appreciation the work of art. The aesthetic values by Zakaria Ali consist of six principles, there are finesse, functional, unity, contrasting symbolic and meaningful. This study implementing the qualitative methods in collecting data and an interview with the artist was held and has been recorded using researcher's smartphone device. Appreciation of an artworks bring positive output that portray the artist intellectual idea through their oeuvre.
Downloads
Download data is not yet available.
References
Apresiasi, Dewan Bahasa dan Pustaka. Carian Umum (dbp.gov.my)
Agency, A. (6 March 2020). Recycled beauty: Artist turns waste into artwork. Retrieved from Daily Sabah: https://www.dailysabah.com/arts/recycled-beauty-artist-turns-waste-into-artwork/ news.
Azah Aziz (2009) Rupa dan Gaya. Bangi: Penerbit Universiti Kebangsaan Malaysia.
Denny Eko Wibowo & Widyanarto (2021) Penerokaan Rekaan Hasil Kreatif Tari Seni Inai Berdasarkan Tari Inai dari Panggak Laut, Daik Lingga sebagai sumber Penciptaan Tari, Vol 9 No 1 2021(1-15) Artikel_1.pdf (mohe.gov.my).
Daoling Chen., & Pengpeng Cheng. (2021). A Method to Extract Batik Fabric Pattern and Elements, The Journal of The Textile Institute, 112:7, 1093-1099, DOI: 10.1080/00405000.2020.1802885.
Ensiklopedia Sejarah dan kebudayaan Melayu, (1999), Kuala Lumpur: Dewan Bahasa dan Pustaka.
Fatin Aliah Phang, A. N. (2022, May 17). Environmental Awareness in Batik Making Process. Sustainability 2022, pp. 1-14. doi: https://doi.org/10.3390/su14106094
Grant Pooke & Diana Newal (2008) Art Histoy the basic. London and New York: Routledge Taylor & Francis Group.
G. N. Hafiza, I. Marzuki dan W. M. Z. Soliana (2021) The Application of Batik Block motifs and marbling technique as pattern designs in contemporary batik. https://doi.org/10.1063/5.0052330
Haryati Dwi Suhestin & Tiwi Bina Affanti (2022) Penciptaan Hiasan Dinding Melalui Teknik Batik Kombinasi Trapunto. Vol 5, No 1, Texture Art & Culture Journal. Penciptaan Hiasan Dinding melalui Teknik Batik Kombinasi Trapunto | Suhestin | TEXTURE: Art and Culture Journal (isi-ska.ac.id)
H.L.H. Harrison (1969) The Sarong and The Kris: Captain'row, Lymington, Hampshire, Nautical Publishing Company.
H.M. Razali, M. Ibrahim, M. Omar dan S. F. M. Hashim (July 2021) Current Challenges of the Batik Industry in Malaysia and Proposed Solutions. Doi:10.1063/5.0055651
IF. Bambang Sulistyono, Yayan Suherlan (2020) Pengembangan dan Peningkatan Kualitas Kerajinan Batik Lukis sebagai elemen Interior do Sondakan Laweyan Surkarta. Webinar Nasional Pengabdian Masyarakat.
Mubin Sheppard (1972) Taman Indera, Malay Decorative Arts and Pastimes. Kuala Lumpur: Oxford University Press.
O. S Akirrujomu (2020). Adaptation of some aspect of Yoruba Indegenous Handcrated Textile for the Production of Modern Interior Decoration. Vol. 7 No. 1 March 2020. E-ISSN 2348-1269.
Otto G. Ocvirk, Robert Sinson et.all (2008) Art Fundamentals: Theory and Practice. United States: McGraw-hill Companies.
Rohmah Purwanti, Sarah Rum Handayani, Tiwi Bina Affanti (2020). Kombinasi Teknik Ikat Celup dan Trapunto untuk Partisi. Ornamen Jurnal Kriya. Vol. 17 No. 2. July 2020. https://jurnal.isi-ska.ac.id/index.php/ornamen/article/viewFile/3257/3194
Salventius. (13 January 2021). salventius. Retrieved from https://www.salventius.com/
SNWA, (23 October 2021). Sustainable Neighbourhoods Waste to Art Exhibition 2021. Retrieved from http://www.sustainableneighbourhoods.org.au/waste-to-art.html
Syed Ahmad Jamal (2010). Rupa dan Jiwa. Kuala Lumpur: Dewan Bahasa dan Pustaka.
Tenas Effendy (1989). Ungkapan Tradisional Melayu Riau. Kuala Lumpur: Dewan Bahasa dan Pustaka.
Zakaria Ali (1989) Seni dan Seniman. Kuala Lumpur: Dewan Bahasa dan Pustaka.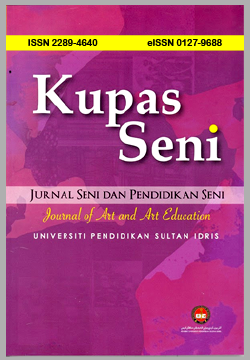 Downloads
How to Cite
Ibrahim, N. I., Umar, N. F., Othman, M. R., Saleh, N., & Md Nor, Z. (2022). My Grandma's Batik Sarong– An Art Appreciation. KUPAS SENI, 10(2), 39–46. https://doi.org/10.37134/kupasseni.vol10.2.5.2022
License
Copyright (c) 2022 Nor Idayu Ibrahim, Nur Fatin Umar, Muhamad Rozali Othman, Nasyirah Saleh, Zainudin Md Nor
This work is licensed under a Creative Commons Attribution-NonCommercial-ShareAlike 4.0 International License.