Key Leadership Styles and Perception Differences Among Sabah Rural School Principals
Gaya kepimpinan utama dan perbezaan persepsi dalam kalangan Pengetua Sekolah pedalaman Sabah
Suntik Tuin

Faculty of Management & Economics, Universiti Pendidikan Sultan Idris, Tanjong Malim, Perak, MALAYSIA

Syed Ismail Syed Mohamad

Faculty of Management & Economics, Universiti Pendidikan Sultan Idris, Tanjong Malim, Perak, MALAYSIA

Rosnah Ishak

Faculty of Management & Economics, Universiti Pendidikan Sultan Idris, Tanjong Malim, Perak, MALAYSIA
Keywords:
leadership style, human resource, symbolic, political, structural
Abstract
This study aims to examine the leadership style practiced by principals in rural schools in Sabah. A quantitative approach by using a survey method was used to obtain responses from the sample. The sample of this study involved 56 principals, which is the entire population of principals in rural schools in Sabah. Four principal leadership styles which are human resource, symbolic, political and structural were measured by using instruments adapted from Leadership Orientations (Self) by Bolmen and Deal, (1999; 2003). Principals' leadership styles were measured to observe the leadership styles that are often practiced and the differences in the principals' perceptions of leadership styles based on gender, length of service and educational level. The results showed that the most frequent leadership style practiced by principals in rural schools in Sabah is human resource leadership style, symbolic leadership style recorded the second highest mean score, third mean score recorded by political leadership style and structural leadership style recorded the lowest mean score. The results of the study also prove that that there are no differences in leadership style variables among secondary school principals in the interior of Sabah based on their gender, length of service and educational level. The findings of this study can help the leader of a school to understand the best leadership styles to practice in their schools. Understanding the concept of leadership styles is important for school principals, especially in rural schools so that they can adopt appropriate and effective leadership styles to improve their school performance.
Downloads
Download data is not yet available.
References
A. Ghafar, Mohd. Najib and Arbak, Tamyis (2008) Gaya kepimpinan pengetua dan ciri-ciri yang efektif. Jurnal Pendidikan Universiti Teknologi Malaysia, 13 . pp. 73-84. ISSN 1394-1801
Aida Hanim A. Hamid Mohd Zamir Mohd Sharif (2020). Gaya Kepimpinan Islam: Gaya Kepimpinan Baharu Dalam Kalangan Pengetua. International Journal of Education and Pedagogy. eISSN: 2682-8464 | Vol. 3, No. 1, 71-92, 2021.
Bahagian Perancangan dan Penyelidikan Dasar Pendidikan. (2003). Kajian Pengetua Kanan: Satu Penilaian. Puterajaya: Kementerian Pelajaran Malaysia.
Bolman, L. G., & Deal, T. E. (1991). Leadership Orientations Survey. Cambridge: National Center for Educational Leadership.
Bolman, L. G., & Deal, T. E. (1997). Reframing Organization: Aristry, Choice and Leadership. Ed 2. San Francisco: Jossey-Bass.
Bolman, L. G., Bloch H.,& Granell, E. (1999). Versatile Leadership: A Comparative Analysis of Reframing in Venezuelan Managers.
Bolman, L. G., & Deal, T. E. (2003). Leading with Soul. San Francisco: Jossey-Bass Publishers.
Buch, K., & Rivers, D. (2001). TQM: The Role of Leadership and Culture. Journal of Leadership and Organisational Development. 24(8), 318-334.
Coleman, M. (2002) Women as headteachers: striking the balance, Stoke on Trent,Trentham Books.
Culverson, E.D. (2002). Exploring Organizational Commitment Following Radical Change: A Case Study Within The Parks Canada Agency. Kertas Projek Master of Arts in Recreation and Leisure Studies, University of Waterloo, Ontario, Canada.
Daft, R. L. (2012). New Era of Management. 10th ed. South-Western: CENGAGE Learning.
Gan Pei Ling. 2003. Hubungan persepsi guru terhadap tingkah laku kepimpinan pengetua dengan tahap motivasi guru di daerah Kuala Pilah, Negeri Sembilan. Tesis Master Sc. Fakulti Pengajian Pendidikan, Universiti Putra Malaysia, Serdang.
Ghavifekr, S., Afshari, M., Siraj, S., & Razak, A. Z. A. (2017). Managing Change in Educational Organization: A Conceptual Overview. MOJEM: Malaysian Online Journal of Educational Management. 1(1), 1-13.
Fullan, M. (2011). Choosing the Wrong Drivers for Whole System Reform. Melbourne, Australia: Centre for Strategic Education.
Jamilah Ahmad & Yusof Boon. (2011). Amalan Kepimpinan Sekolah Berprestasi Tinggi (SBT) Di Malaysia. Journal of Edupres, 1, 323-335.
John, T. (2002). A study of the multiple perspective approach to leadership used by elementary and secondary public school principals in urban Iowa. Disertasi Ed.D. University of Northern Iowa.
Lim Sue Lee. (2003). Women school principals: representations and leadership styles. Tesis Dr. Falsafah. Universiti Sains Malaysia
Lokman Mohd Tahir, Hamdan Said, Rosni Zamuddin Shah Sidek, M. Al-Muzammil Yassin & Sanitah Mohd Yusof (2008). Analisis Kepimpinan Pengetua Menengah di Johor. Jurnal Penyelidikan. Universiti Teknologi Malaysia VOTE 78279
Mei Kin, T., Abdull Kareem, O., Nordin, M. S., & Wai Bing, K. (2017). Principal Change Leadership Competencies and Teacher Attitudes Toward Change: The Mediating Effects of Teacher Change Beliefs. International Journal of Leadership in Education. 1-20.
Mohammed Sani Ibrahim, Samsudeen Abdul Aziz & Norzaini Azman. (2005). Amalan Pengurusan Berasaskan Sekolah di Sekolah-Sekolah Swasta di Malaysia: Satu Tinjauan. Jurnal Pendidikan. Genting Highlands: Institut Aminuddin Baki, KPM.
Nuinda Alias, & Khadijah Daud. (2014). Coaching dan Mentoring Kepimpinan Pengetua Cemerlang Terhadap Prestasi Pengurus Pertengahan Dalam Meningkatkan Prestasi Cemerlang Sekolah. Proceedings of International Education Postgraduate Seminar 2014. 23-24 December 2014. Universiti Teknologi Malaysia, Johor Bahru, Johor, Malaysia. 241-259.
Norhannan Ramli dan Jamaliah Abdul Hamid, (2006) Gaya kepimpinan pengetua wanita dan hubungannya dengan tahap motivasi guru sekolah menengah. Jurnal Pendidikan Malaysia, 31 . pp. 53-69. ISSN 0126-6020 / 2180-0782
Ratsamee Dangsuwon. (2002). Leadership orientation frames used by principals as perceived by teachers in the schools under the foundation of Church of Christ in Thailand. Disertasi Ph.D. Illinois State University.
Ugboro, I and Obeng, K. (2001). Managing the After Maths of Contracting in Public Transit Organizations: Employee Perception of Job Security, Organizational Commitment and Trust. Projek Universiti, North Carolina A&T State University.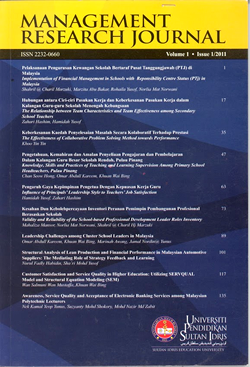 How to Cite
Tuin, S., Syed Mohamad, S. I., & Ishak, R. (2021). Key Leadership Styles and Perception Differences Among Sabah Rural School Principals. Management Research Journal, 10(1), 137-143. https://doi.org/10.37134/mrj.vol10.1.10.2021
Copyright (c) 2021 Suntik Tuin, Syed Ismail Syed Mohamad, Rosnah Ishak
This work is licensed under a Creative Commons Attribution-NonCommercial-ShareAlike 4.0 International License.