THE LEVELS AND CRITERIAS OF PRINT CONCEPT OF PRESCHOOL CHILDREN IN MALAYSIA
Zainiah Mohamed Isa

Universiti Pendidikan Sultan Idris

Norsaadah Mohamad Radzi

Universiti Pendidikan Sultan Idris

Veronica Riang

Universiti Pendidikan Sultan Idris

Mohammad Azizuddin Kastari

Universiti Pendidikan Sultan Idris

Nur Fatin Zainuddin

Universiti Pendidikan Sultan Idris
Keywords:
print concept, print concept skill, print concept characteristic
Abstract
The aim of this research is to identify the level of print concepts and it's criteria among children aged 2, 3 and 4 years old. 155 children aged 2, 3 and 4 years old from the nursery around Perak and Selangor are chosen as respondent. The method being used in this research is survey method. Teachers fill up the questionnaire regarding mastery of print concept among the children. The finding indicated the level and criteria's of the print concepts. Result for print concepts of 2 years old children are low (mean=1.82) level, whereas the performance of 3 years old (mean=2.42) and 4 years old (mean=2.65) are at average levels. The findings of this study indicated that most 2 years old children in this study are able to hold book and have the ability to identify the cover page of book which are the earliest skills in print concept. 3 years old children in this study mastered the basic concept of a book includes function of book, how to hold book correctly and identifying the cover of a book. As for the children aged 4 years old, they had mastered the basic skills of the concept of a book, the procedures of reading book, but still weak in identifying sentences, words and alphabets. Overall, the achievement of print concept in Malaysia is at a average level but still left behind as compared to the Western. This research suggested teachers to implement print concepts assessment, increase reading activities with children, and also include the print concepts in parent's involvement programs.
Downloads
Download data is not yet available.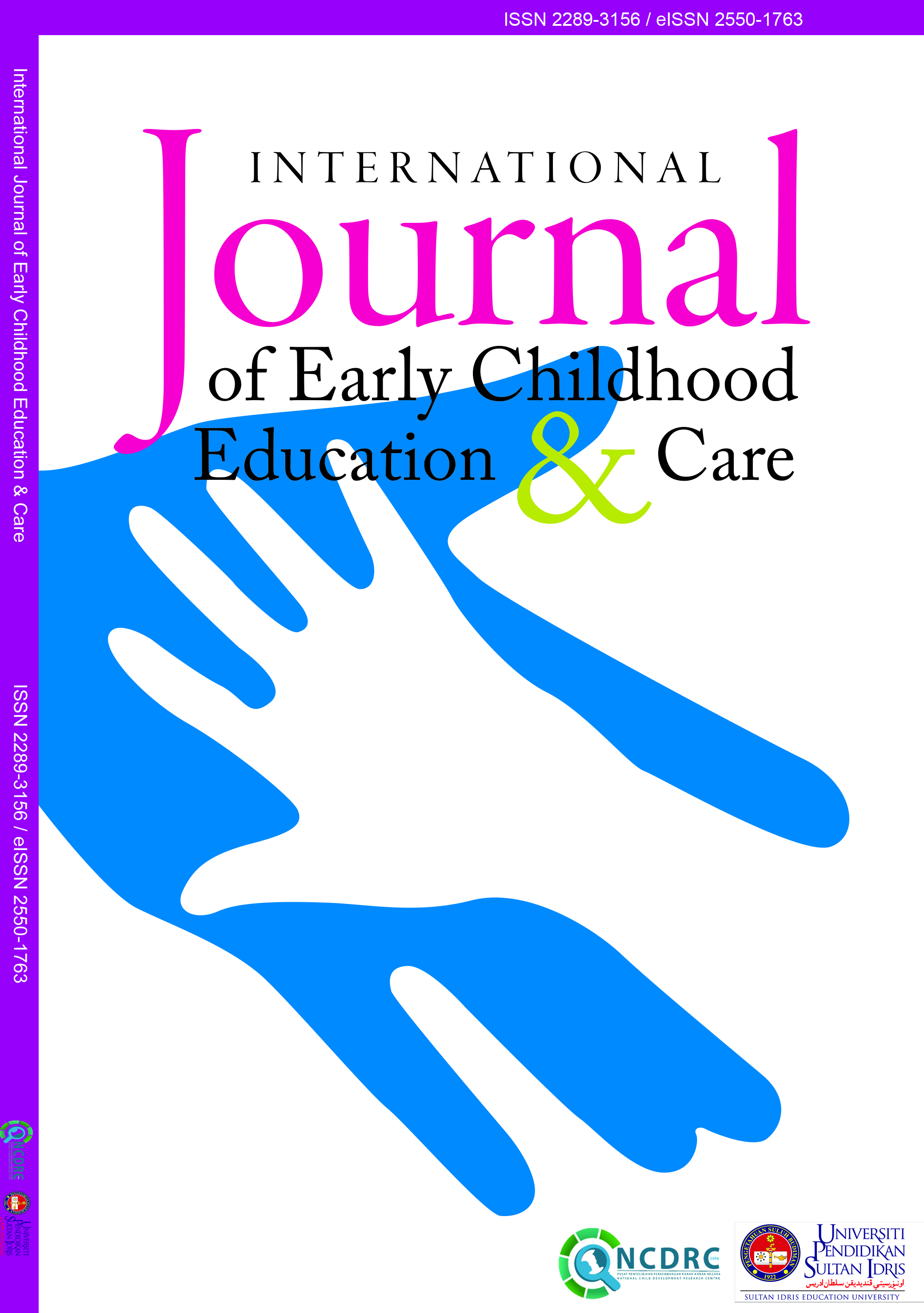 How to Cite
Mohamed Isa, Z., Mohamad Radzi, N., Riang, V., Kastari, M. A., & Zainuddin, N. F. (2015). THE LEVELS AND CRITERIAS OF PRINT CONCEPT OF PRESCHOOL CHILDREN IN MALAYSIA. Southeast Asia Early Childhood Journal, 4, 53-67. Retrieved from https://ejournal.upsi.edu.my/index.php/SAECJ/article/view/971