تعليمية اللغة العربية، الواقع والآفاق
Educational Arabic language, reality and prospects
Kehl Al-Sabti

University of Algiers, Algeria
Keywords:
Language, very important, the means of communication, develop, diffuses, efficiently, translates
Abstract
It's obvious to everyone than the language plays a very important role in the life of the individual and so it became vert important that we take care of our language since it is the means of communication between the individual and others and so we must develop tools to promote it so that we create such a link the market as well as work, administration, economy and so considering it as being such an important subject as we develop undoubtedly each time we speak.
Taking care if one' is language is considered as a priority to preserve one's patrimony, since it lives and dies with its people and diffuses efficiently each time it translates its natives achievements. With which language can we, acquire the other civilazations and different cultures, if our language is in isolation about is happening arand us ?
Downloads
Download data is not yet available.
References
Ibn Khaldun - Introduction, p. 733. Khalifa, Towards Linguistic Security, Essay, Arabic Language Magazine, Issue 30, P.04.

Khoury Saqr, Thought and Language, Knowledge Magazine, Damascus No. 496, p. 39.

Reply to the sculptor, I'm lighted, p. 131. Abdul Rahman Haj Saleh, Research and Studies in Arabic Linguistics, C2, i 2007, p. 125.

Qassim Eid Awad, Philosophy and Man in the 21st Century, Baghdad, i1,2002, p. 728

Mohammed Nader, Language of Media Discourse, Arab Thought House, Cairo, I1, 2007, p. 89.

Mentioned Malika, Professor of Philosophy, Pen Magazine, Oran University, Issue 25/2012, p. 510.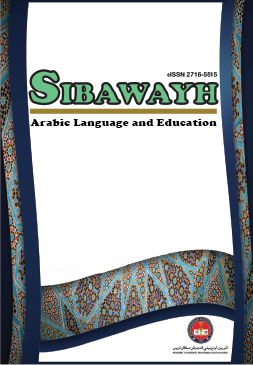 How to Cite
Al-Sabti, K. (2020). تعليمية اللغة العربية، الواقع والآفاق. SIBAWAYH Arabic Language and Education, 1(2), 90-99. https://doi.org/10.37134/sibawayh.vol1.2.7.2020