Development of Authentic Assessment Instrument for Improving Extensive Capacity of Metacognitive Perspective
Irfai Fathurohman

Program Studi Pendidikan Bahasa dan Sastra Indonesia Universitas Muria Kudus, Indonesia

Riyan Dwi Cahyaningsih

Program Studi Pendidikan Bahasa dan Sastra Indonesia Universitas Muria Kudus, Indonesia
Keywords:
Authentic, Factors, Instruments, Ability, Reading, Metacognitive Assessment
Abstract
The purpose of this study is to find out the authentic assessment instrument factors in the ability to read English extensively from a metacognitive perspective. The study was designed with an instrument of developmental research design. The developmental research design refers to the research development proposed by Mardapi. The modification model of the Mardapi instrument development was carried out through three stages, i.e., preliminary stages, development stage and evaluation stage. The results of this study through exploratory factor analysis showed that there were three factors derived from 24 statement items. The loading factor value for each item in each factor is ˃ 0.3 which means that the whole item is valid. Based on the Alpha Cronbach reliability test it was obtained a value of 0.954, the instrument was declared reliable. The conclusion shows an authentic assessment instrument of extensive reading ability in English through metacognitive strategies for PBSI FKIP UMK students was proven to be valid, reliable and feasible to use. Authentic assessment instruments can improve the English reading skills of PBSI FKIP UMK students through a learning process that puts forward an approach according to the characteristics of each student.
Downloads
Download data is not yet available.
References
Arikunto, S. (2016). Dasar-dasar Evaluasi Pendidikan. Jakarta: PT Bumi Aksara.
Aziz, K., Kustiono., Lestari, W. (2019). Need Analysis for Development of a Cube and Beam Volume Assessment Instrument in Macromedia Flash Based Elementary Mathematics Learning. Journal of Educational Research and Evaluation, 8(2), 99-107.
Jamilah., Purnawan, A. (2009). Pengembangan Instrumen Pengukuran Hasil Pembelajaran Mata Kuliah Pronunciation. Jurnal Diksi, 16, 122-133.
Mardapi, D. (2017). Pengukuran, Penilaian, dan Evaluasi Pendidikan. Yogyakarta: Parama Publishing.
Masrukhin. (2014). Pengembangan Instrumen Penilaian Otentik Mata Pelajaran Pendidikan Agama Islam Untuk Meningkatkan Kemampuan Evaluasi Dalam Pembelajaran. Prosiding Seminar Nasional. Semarang: Universitas Negeri Semarang.
Megawanti. (2015). Meretas Permasalahan Pendidikan Di Indonesia. Jurnal Formatif, 2(3), 227-234.
Namira, Z..B., Kusumo, E., Prasetya, A.T. (2014). Keefektifan Strategi Metakognitif Berbantu Advance Organizer Untuk Meningkatkan Hasil Belajar Kimia Siswa. Jurnal Inovasi Pendidikan Kimia, 8(1), 1271-1280.
Patria, L. D. (2016). Pengembangan Instrumen Penilaian Unjuk Kerja Praktik Lompat Jauh Berbasis Rolling Assessment dalam Pembelajaran Penjasorkes Kelas VIII SMP. Tesis. (Tidak dipublikasikan). Semarang: Universitas Negeri Semarang.
Prasetyo, A.P.B., Suaesih, S., Hadiyanti, L.N. (2016). Pendampingan Guru Biologi Kota Semarang dalam Mengembangkan Instrumen Penilaian Otentik Pada Kurikulum Berbasis Kompetensi. Unnes Science Educational Journal, 5(1), 1182-1190.
Santi, E., Setiawan, M.H., Khumaedi, M. (2019). Developing Assessment Instrument on Writing on Descriptive Paragraph Based on Picture of Junior High School Students. Journal of Educational Research and Evaluation, 8(2), 116-122.
Triyono., Sunarto,. Lestari, W. (2019). Need Analysis in the Development of Tolerance Attitude Assessment Instrument in Android-Based PPKn Learning. Journal of Educational Research and Evalution, 8(1), 65-72.
Widianto, E., Subyantoro. (2015). Peningkatan Keterampilan Membaca Teks Klasifikasi Menggunakan Metode SQ3R dengan Media Gambar. Jurnal Pendidikan Bahasa dan Sastra Indonesia, 4(1), 1-9.
Widiansah, K.N., Kartono., Rusilowati, A. (2019). Development of Assessment Instruments Mathematic Creative Thinking Ability on Junior High School Students. Journal of Educational Research and Evaluation, 8(1), 84-90.
Widiyana, S., Rusilowati, A., Priyanto, AT Sugeng. (2019). Three Tier Multiple Choise Test Instrument Design For Analysis of Student Misconceptions In The Subject of PPKn. Journal of Educational Research and Evaluation, 8(2), 91-97.
Wiratmanto. (2014). Analisis Faktor dan Penerapannya dalam Mengidentifikasi Faktor-Faktor yang Mempengaruhi Kepuasan Konsumen Terhadap Penjualan Media Pembelajaran. Skripsi. Yogyakarta: Universitas Negeri Yogyakarta.
Yusuf, A.M. (2017). Asesmen dan Evaluasi Pendidikan: Pilar Penyedia Informasi dan Kegiatan Pengendalian Mutu Pendidikan. Jakarta: Kencana.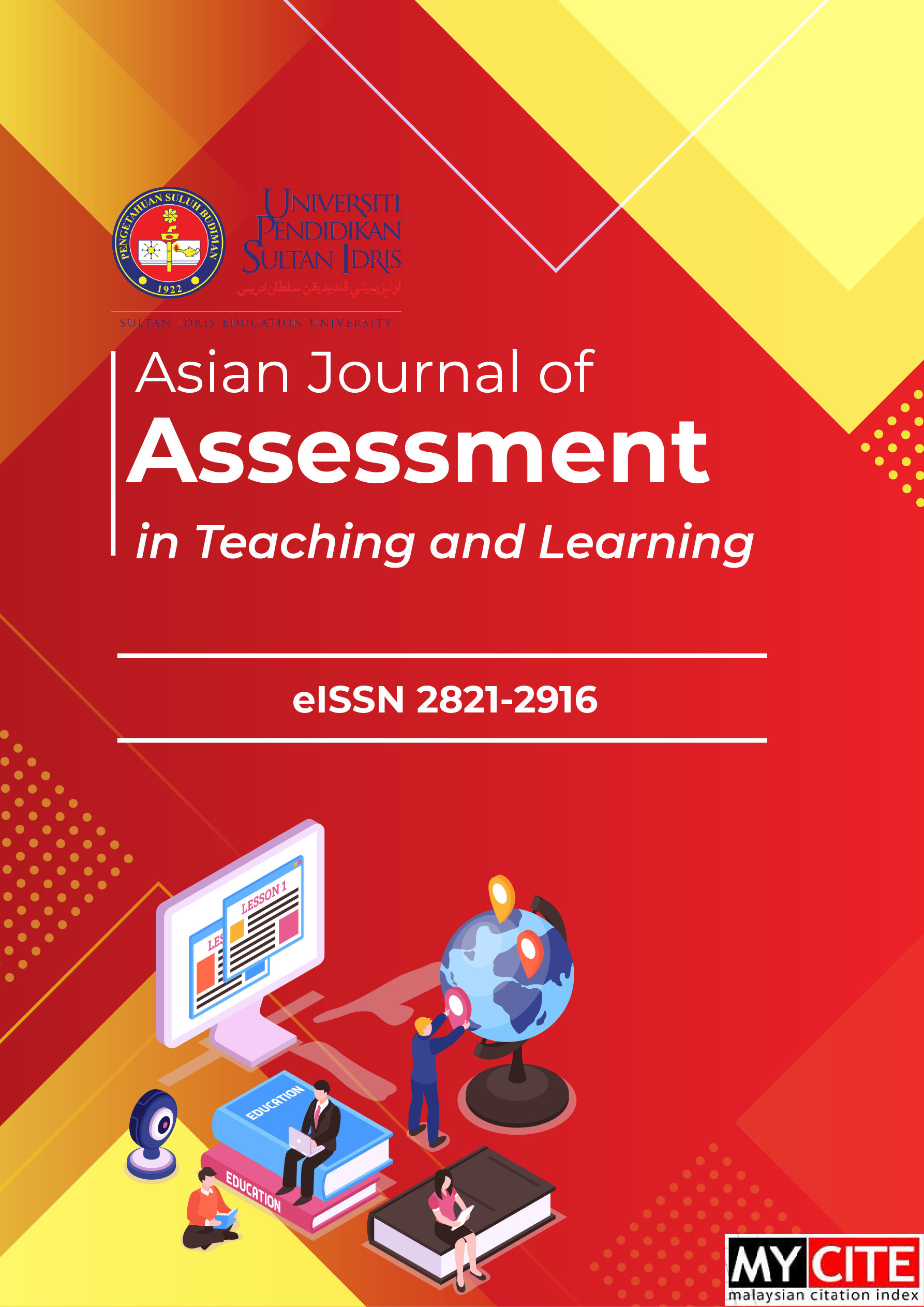 How to Cite
Fathurohman, I., & Cahyaningsih, R. D. (2021). Development of Authentic Assessment Instrument for Improving Extensive Capacity of Metacognitive Perspective. Asian Journal of Assessment in Teaching and Learning, 11(1), 13-21. https://doi.org/10.37134/ajatel.vol11.1.2.2021
Copyright (c) 2021 Irfai Fathurohman, Riyan Dwi Cahyaningsih
This work is licensed under a Creative Commons Attribution-NonCommercial-ShareAlike 4.0 International License.