The All-Pervasive Influence of the Media and the Collapse of Meaning in Don Delillo's White Noise
Abdol Hossein Joodaki

Faculty of Letters and Humanities University of Lrestan, Khoramabad, Iran

Hassan Aboutalebi

Faculty of Letters and Humanities University of Lrestan, Khoramabad, Iran
Keywords:
hyperreality, simulation, the media, meaning, representation
Abstract
This paper is an attempt to investigate Don Delillo's White Noise (1986) from the perspective of Baudrillard's theory of hyperreality and simulation, and that of the role of the media in contemporary media-dominated societies. In this regard, the above-mentioned theories will be first fully discussed, and then applied to Delillo's selected work to observe how a whole culture might be assimilated into a hyperreal world, and what ramifications it can have on people's lives without their knowing it. Ultimately, a conclusion will be drawn which might be of great help to readers of the fiction. It is hoped that this study would appeal to those interested in ascertaining the influence of hyperreality and the mainstream media on our daily lives, while most of us are not conscious of their dire, cumulative effects.


Downloads
Download data is not yet available.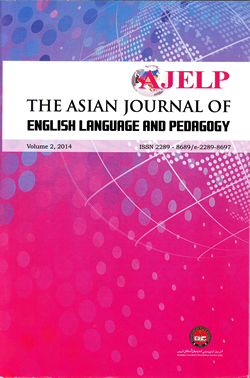 How to Cite
Joodaki, A. H., & Aboutalebi, H. (2015). The All-Pervasive Influence of the Media and the Collapse of Meaning in Don Delillo's White Noise. AJELP: Asian Journal of English Language and Pedagogy, 3, 56-65. Retrieved from https://ejournal.upsi.edu.my/index.php/AJELP/article/view/1220