Using WhatsApp to promote ESL students' writing
Keywords:
vocabulary, ESL, technology integration, WhatsApp, writing
Abstract
This research article illustrates the use of WhatsApp to help tertiary students to improve their English writing skills. The writing activities includes writing emails, paragraphs and essays. This electronic application can help instructors to have an engaging classroom environment by giving the students the opportunity to take their role in the classroom as producers. The main objective of this study is to investigate the extent to which the use of WhatsApp improves students' writing skills. The second objective of this present study is to identify students' perceptions about the use of WhatsApp to learn writing inside the classroom. A mixed-methods research was used in this study whereby six writing tests, a questionnaire and focus group discussions were administered. The results of the writing tests and the questionnaire used in this study highlighted that WhatsApp motivated students to use it to promote their writing in English. The research findings will benefit ESL instructors to overcome the difficulties that they may face when teaching ESL writing skills. The findings of this current research will enable the ESL instructors to teach writing effectively using WhatsApp as a supplementary pedagogical tool. The most significant benefit is that educators, teacher trainers and the curriculum planners can take into consideration implementing more technological and educational tools in the teaching of writing. They will also open the door for students to participate in evaluating the learning process and methodology.
Downloads
Download data is not yet available.
References
Alsaleem, B. I. (2013). The Effect of "WhatsApp" Electronic Dialogue Journaling on Improving Writing Vocabulary Word Choice and Voice of EFL Undergraduate Saudi Students. Arab World English Journal, 4(3), 213-225.
Alshammari, R., Parkes, M., & Adlington, R. (2017). Using WhatsApp in EFL Instruction with Saudi Arabian University Students. Arab World English Journal, 8(4), 68-84.
AlSudais, A. (2017). Teaching English as a Foreign Language: The Case of Saudi Arabia. European Journal of English Language and Literature Studies, 5(9), 18-27.
Akakandelwa, A., Moonga, A., & Changala, M. (2018). Usage of WhatsApp Messenger Among Final Year Undergraduate Adult Education Students at the University of Zambia. Journal of African Interdisciplinary Studies. 2(8), 4-13.
Amry, A. (2014). The Impact of WhatsApp Mobile Social Learning on the Achievement and Attitudes of Female Students Compared with Face to Face Learning in the Classroom. European Scientific Journal, 10(22), 116-136.
Bensalem, E. (2018). The Impact of WhatsApp on EFL students' Vocabulary Learning. Arab World English Journal, 9(1), 23-38.
Brophy, J. (2004). Motivating Students to Learn. Lawrence Erlbaum Associates, Inc.
Dornyei, Z. (2001). Motivational Strategies in the Language Classroom. Cambridge University Press.
Dwee, C. & Sharif, N. (2016). What's up with WhatsApp: Writing on the Go. [Conference Session] Malaysian English Language Teaching Association (MELTA) 25th International Conference. Perak, Malaysia.
Fathullah, M. (2006). The Basics of the Production and the Use of Educational Means and Technology. Dar Alsumaei.
Justina, M. (2016). Use of WhatsApp to Enhance Reading and Writing Skills at Undergraduate College Level, 16(11), 47-60.
Kheryadi, K. (2017). The Implementation of "WhatsApp" as a Media of English Language Teaching. Loquen English Studies Journal, 10(2), 1-14
M. Hamad, M. (2017). Using WhatsApp to Enhance Students' Learning of English Language "Experience to Share". Higher Education Studies, 7(4), 74-87
Mashru, D. & Upadhyay, A. (2015). Enriching vocabulary through WhatsApp: an innovative approach of ELT using ICT. Recent Trends: A Referred International Journal of Multidisciplinary Research, 2(3), 59-63.
Mwakapina, J., Mhandeni, A., & Nyinondi, O. (2016). WhatsApp Mobile Tool in Second Language Learning: Opportunities, Potentials and Challenges in Higher Education Settings in Tanzania. International Journal of English Language Education. 4(2), 70-90.
Maxwell, J. (2017). The Power of Significance: How Purpose Changes Your Life. Hachette Book Group, Inc.
Ramakrishnan (2017). Use of WhatsApp for English Language Proficiency. Among B.ED. Trainees. International Journal of Research-Granthaalayah, 5(9). 1-6.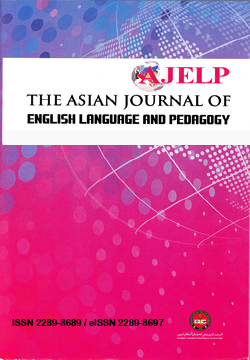 Downloads
How to Cite
Alouch, M., Ganapathy, M., & Ai Lin, D. T. (2021). Using WhatsApp to promote ESL students' writing. AJELP: Asian Journal of English Language and Pedagogy, 9(2), 54–65. https://doi.org/10.37134/ajelp.vol9.2.5.2021