Exploring the Effectiveness of Thinking Skills Framework on Academic Writing in Higher Education
Keywords:
Thinking Skills Framework, Higher-Order Thinking Skills, higher education, English academic writing
Abstract
Malaysian undergraduates have been facing writing difficulties as a result of lacking effective guidance tools in upskilling English writing and activating thinking skills. Failing to achieve writing competency, the problems extend to the high unemployment rate among fresh graduates. This paper proposes using Frangenheim's Thinking Skills Framework (TSF) to improve university students' academic writing proficiency. 60 students were selected to undergo a 6-week quasi-experiment to investigate the effectiveness of the TSF on academic writing and focus group discussions were held to explore students' perceptions on utilizing the TSF in writing processes. The results of the study confirmed the positive effect of using the TSF in improving students' academic writing and promoting the use of Higher-Order Thinking Skills (HOTS) throughout the writing process. Findings reveal students' perceptions on the TSF: an effective guidance tool with various writing strategies, comprises clues to activate suitable thinking skills, assists writers' idea generation and decision-making. The implications are important to tertiary stakeholders as a practical TSF is recommended as a supplementary tool to be infused in English writing syllabus to facilitate students in fulfilling the essential thinking skills and writing needs in higher education.
Downloads
Download data is not yet available.
References
Abdulkareem, M. (2013). Investigation study of academic writing problems faced by Arab postgraduate students at Universiti Teknologi Malaysia (UTM). Theory and Practice in Language Studies, 3(9), 1552-1557.
Al Badi, I. A. H. (2015). Academic writing difficulties of ESL learners. The 2015 WEI International Academic Conference Proceedings, 65-76. Retrieved from https://www.westeastinstitute.com/wp-content/uploads/2015/02/Ibtisam-Ali-Hassan-Al-Badi-full-Paper.pdf
Anwar, H. N., & Sohail, M. M. (2014). Assessing the learning level of students through Bloom's Taxonomy in higher education in Punjab. Journal of Educational and Social Research, 4(3), 83-87. doi: http://doi.org/10.5901/jesr.2014.v4n3p83
Bailey, S. (2011). Academic writing: A handbook for international students (3rd ed.). New York: Routledge.
Bloom, B. S., Engelhart, M. D., Furst, E. J., Hill, W. H., & Krathwohl, D. R. (1956). Taxonomy of educational objectives: The classification of educational goals. New York: Longmans.
Chandio, M. T., Pandhiani, S. M., & Iqbal, R. (2016). Bloom's Taxonomy: Improving assessment and teaching-learning process. Journal of Education and Educational Development, 3(2). doi: https://doi.org/10.22555/joeed.v3i2.1034
Frangenheim, E. (2006). Thinking skills framework. Retrieved from http://www.itcpublications.com.
Ganapathy, M., & Kaur, S. (2014). ESL students' perceptions of the use of higher order thinking skills in English language writing. Advances in Language and Literary Studies, 5(5), 80-87. doi: https://doi.org/10.7575/aiac.alls.v.5n.5p.80
Ismail, S. A. A. (2011). Exploring students' perceptions of ESL writing. English Language Teaching, 4(2), 73-83. doi: https://doi.org/10.5539/elt.v4n2p73
Klimova, B. F. (2013). The importance of writing. PARIPEX – Indian Journal of Research, 2(3), 9-11. doi: https://doi.org/10.15373/22501991/JAN2013/4
Korzh, O. (2017). Bloom's Taxonomy and its role in academic writing and reading skills training at English classes. Science and Education, 2, 111-115. doi: https://doi.org/10.24195/2414-4665-2017-2-18
Lau, S. M., & Rahmat, N. (2014). English language writing anxiety among final year engineering undergraduates in Universiti Putra Malaysia. Advances in Language and Literacy Studies, 5(4), 102-106. doi: https://doi.org/10.7575/aiac.alls.v.5n.4p.102
Ministry of Education Malaysia. (2015a). English language education reform in Malaysia: The Roadmap 2015-2025. Putrajaya, Malaysia: Author
Ministry of Education Malaysia. (2015b). Executive summary of Malaysia education blueprint 2015-2025 (Higher Education). Putrajaya, Malaysia: Author
Moseley, D., Elliott, J., Gregson, M., & Higgins, S. (2005). Thinking skills frameworks for use in education and training. British Educational Research Journal, 31(3), 367-390. doi: https://doi.org/10.1080/01411920500082219
Musa, N. C., Koo, Y. L., & Azman, H. (2012). Exploring English language learning and teaching in Malaysia. GEMA Online Journal of Language Studies, 12(1), 35-51. Retrieved from http://ejournal.ukm.my/gema/article/view/20
Nevid, J. S., Ambrose, M. A., & Pyun, Y. S. (2017). Effects of higher and lower level writing to writing-to-learn assignments on higher and lower level examination questions. Teaching of Psychology, 44(4), 324-329. doi: https://doi.org/10.1177/0098628317727645
Othman, J., & Nordin, A. B. (2013). MUET as a predictor of academic achievement in ESL teacher education. GEMA Online™ Journal of Language Studies, 13(1), 99-111. Retrieved from http://ejournal.ukm.my/gema/article/view/2225
Özdemir, S. (2018). The effect of argumentative text pattern teaching on success of constituting argumentative text elements. World Journal of Education, 8(5), 112-122. doi: https://doi.org/10.5430/wje.v8n5p112
Peng, S. (2019). A study of the differences between EFL and ESL for English classroom teaching in China. IRA International Journal of Education and Multidisciplinary Studies, 15(1), 32- 35. doi: https://doi.org/10.21013/jems.v15.n1.p4
Pirsl, T., Pirsl, D., & Kesic, D. (2011). Writing skills at university level. SportLogia. 7(1), 69-72. doi: https://doi.org/10.5550/sgia.110701.en.069P
Putri, R. O. (2018). Investigating the link between critical thinking skills and argumentative writing skill: The case of Islamic senior high school. Jurnal Pendidikan dan Pengajaran, 5(2), 144-153. doi: https://doi.org/10.19109/ejpp.v5i2.2090
Sham, D. P. L. (2016). Teaching and learning ESL writing by critical thinking. American Journal of Educational Research, 4(12), 854-860.
Singh, C. K. S, Singh, R. K. A., Singh, T. S. M., Mostafa, N. A., & Tunku Mohtar, T. M. (2018) Developing a higher order thinking skills module for weak ESL learners. English Language Teaching, 11(7), 86-100. doi: http://doi.org/10.5539/elt.v11n7p86
Stanny, C. (2016). Re-evaluating Bloom's Taxonomy: What measurable verbs can and cannot say about student learning. Education Sciences, 6(4), 1-12. doi: http://doi.org/10.3390/educsci6040037
Sun, F. (2014). The application of schema theory in teaching college English writing. Theory and Practice in Language Studies, 4(7), 1476-1482. doi: https://doi.org/10.4304/tpls.4.7.1476-1482
Tiew, C. C., & Abdullah, M. N. L. Y. (2019). The teaching of higher order thinking skills (HOTS) in Malaysian schools: Policy and practices. Malaysian Online Journal of Educational Management (MOJEM), 7(3), 1-18. Retrieved from https://mojem.um.edu.my/article/view/18591/10128
Wang, H., & Zou, Y. (2018). Advancing academic English teaching and learning in China: A meta-analysis. Journal of Language Teaching and Research, 9(6), 1260-1269. doi: https://doi.org/10.17507/jltr.0906.15
Yasin, A. Y. M., Shaupil, W. M. H. W. M., Mukhtar, A. M., Ghani, N. I. A., & Rashid, F. (2010). The English proficiency of civil engineering students at a Malaysian polytechnic. Asian Social Science, 6(6), 161-170. doi: https://doi.org/10.5539/ASS.V6N6P161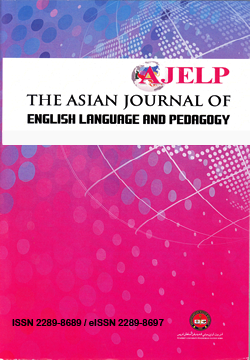 Downloads
How to Cite
Beh, M. E., & Ganapathy, M. (2021). Exploring the Effectiveness of Thinking Skills Framework on Academic Writing in Higher Education. AJELP: Asian Journal of English Language and Pedagogy, 9(1), 1–15. https://doi.org/10.37134/ajelp.vol9.1.1.2021