Identification and Interpretation of Popular Culture Icons in Izaddin Matrahah's Paintings
Keywords:
Icons, Symbols, Popular Culture, Artwork, Izaddin Matrahah
Abstract
This study aims to identify the popular culture icons featured in his work, see how the icons are visualized in his work, and understand the literal & implicit meaning in the placement of iconic images in the work of Izaddin Matrahah. This study focuses on Izaddin Matrahah's visual artwork by approaching, understanding, and explaining in the context of popular culture icons. The qualitative methods used in this study were observation, interview, and documentation methods. By using this qualitative study, researchers can understand in more detail the use of popular culture icons found in Izaddin's work. As a result of the study findings, there are six breakdowns of icon categories used in his work. All the icons used by Izaddin are the result of his response to events that took place throughout his life. Much of the use of icons in Izaddin's work is composed based on his personal experience through the appropriation of popular culture icons and is interpreted with implicit meanings such as power, entertainment, materialism, struggle, throne position, and heroism.
Downloads
Download data is not yet available.
References
Aznan, O. (2016). Teknologi mobile menerusi ikon dan simbol dalam seni arca: Aznan Omar. Idealogy Journal, 2 (1). pp. 99-106. ISSN 2550-214X
Cartono, C. (2019). Agama Dan Budaya Popular. Orasi: Jurnal Dakwah dan Komunikasi.
Chaniago, R. H., & Hassan, B. F. K., (2011) Budaya popular dan komunikasi impak kumpulan slank terhadap slankers di Indonesia. Jurnal Komunikasi; Malaysian Journal of Communication, 27 (1). pp. 91-100. ISSN 0128-1496
Bachtiar, H. W. (1982). Birokrasi dan Kebudayaan. Analisis Kebudayaan. Jakarta: Departemen Pendidikan dan Kebudayaan.
Husain, A. H. (2014). Adaptasi Rupa Melayu Dalam Karya Seni Tampak Moden Malaysia. In Seni Pendidikan & Kebudayaan (pp. 1–10). Penerbitan Malim Sarjana.
Ibrahim, F., & Nuraeni, T., & Ahmad, F., & Peng Kee, C., & Mustaffa, N. (2012). Bahasa komunikasi visual dan pengantaraan produk: satu analisis semiotik. GEMA: Online Journal of Language Studies, 12 (1). pp. 257-273. ISSN 1675-8021
Istanto, F. (2004). Gambar Sebagai Alat Komunikasi Visual. Nirmana Vol. 2, No. 1, Januari 2000: 23- 35
(2021). Jejak Artis Seri Iskandar (Issarezal Ismail, Fadly Sabran, Bakhtiar Naim, Norazmah Rashid, Osmihamidy Osman, Hartini Yajid). Balai Seni Negara & Kapallorek Art Space.
Khairul Hafiz Noor Hissham, Mohd Anuar Ramli, & Syed, Mohd Jefri (2019). Analisis Budaya Popular Dalam Masyarakat Melayu Dari Perspektif Hukum Islam. Retrieved from https://www.researchgate.net/publication/332275638_ANALISIS_BUDAYA_POPULAR_DALAM_MASYARAKAT_MELAYU_DARI_PERSPEKTIF_HUKUM_ISLAM
Liza, M. M. N., Hamdzun, H., Abdul, L. S., Ahmad, R. H., & Jasni, D. (2013). Identifikasi Imej Seni Tradisi Melayu Dalam Seni Catan Wanita Melayu. Retrieved from https://www.researchgate.net/publication/290867518_ANALISIS_FORMALISTIK_DALAM_MEMAKNAI_SIMBOL_BUDAYA_MELAYU_ABSTRAK_012-6304441
Magdalena, R. (2021). Hidup, Seni dan Teks. Jurnal Desain: Kajian Bidang Penelitian Desain Vol. 1 No. 1, Maret 2021, Hal. 45 - 57
Mardi. (2021). Pameran Seni Siswa di Era Modern Sebagai Upaya Menggali Potensi Kreasi Bangsa Mardi. Retrieved from https://doi.org/10.47387/jira.v2i5.118
SMKN 12 Surabaya. Indonesia Jurnal Inovasi dan Riset Akademik.
Mohamad Kamal Abb. Aziz (2021). Era Modenisme dan Pascamodenisme: Suatu Transformasi Seni Visual dalam Konteks Sosio-Budaya. International Journal of Art & Design, Universiti Teknologi MARA Cawangan Melaka, Volume 5, Number 02, September/2021, Pg. 59-68, Retrieved from https://docplayer.info/219784535-Era-modenisme-dan-pascamodenisme-suatu-transformasi-seni-visual-dalam-konteks-sosio-budaya.html
Mohamad Kamal (2015). Kritikan Seni dan Identiti Budaya Melayu: Satu tinjauan Terhadap Karya Mohamad Hoessein Enas dan Syed Ahmad Jamal. Retrieved from https://ir.uitm.edu.my/id/eprint/35665/1/35665.pdf
Mohammad Noh, L. M., Haron, H., & Dolah, J. (2015). Analisis Formalistik Dalam Memaknai Simbol Budaya Melayu Abstrak. International Journal of Creative Future and Heritage (TENIAT), 3(2), 49–72. Retrieved from https://doi.org/10.47252/teniat.v3i2.323
Mukhsin Patriansyah. (2020). Kajian Strukturalisme dalam Melahirkan Sebuah Karya Seni Besaung. Jurnal Seni Desain Dan Budaya Volume 5. No 2 Maret 2020. ISSN: 2502-8626 ISSN ONLINE: 2549-4074. Universitas Indo Global Mandiri.
Parry, K. D. (2021). The formation of heroes and the myth of national identity. Sport in Society 24 (6): 886-903.
Prasetyo, H. A., Christy, D., & GPH, D. (2020). Peran Industri Komik Superhero Bagi Diplomasi Publik Amerika Serikat. Retrieved from https://ejurnal.unisri.ac.id/index.php/sldrts/article/view/5521
Prayogi, R., & Ratnaningsih, D. (2020). Ikon, Indeks, dan Simbol dalam Cerpen Tiga Cerita tentang Lidah Karya Guntur Alam. Edukasi Lingua Sastra, 18(2), 20–27. Retrieved from https://doi.org/10.47637/elsa.v18i2.303
Yunus, P. P., (2020). Komunikasi Ekspresif Estetik Karya Seni. Journal of Media and Communication Science. Vol. 3 No. 2. Retrieved from https://doi.org/10.29303/jcommsci.v3i2.77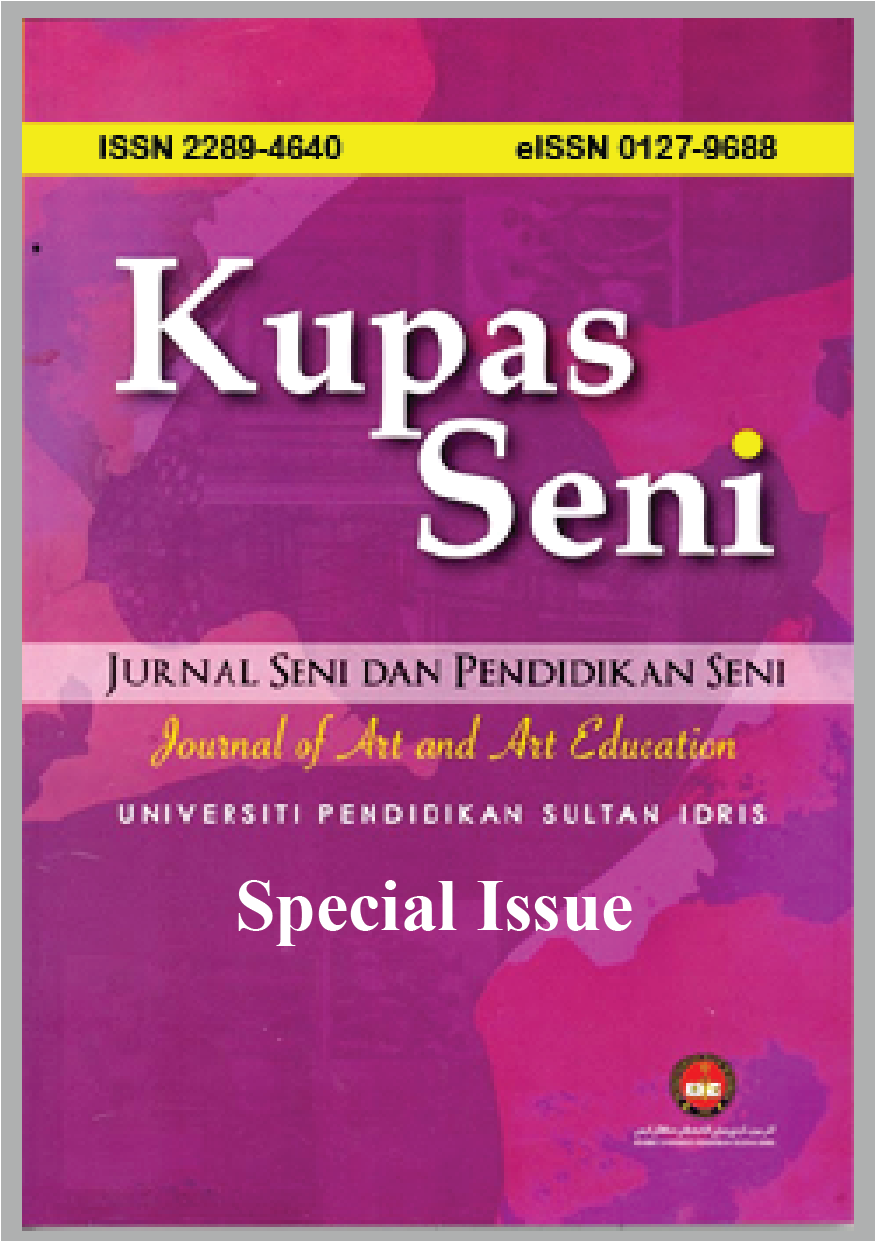 Downloads
How to Cite
Abdul Razak, R., Ismail, I., Razali, R., Saad, M. N., & Said Ahmad @ Syed Ahmad, S. H. (2022). Identification and Interpretation of Popular Culture Icons in Izaddin Matrahah's Paintings . KUPAS SENI, 10, 70–79. https://doi.org/10.37134/kupasseni.vol10.sp.2.7.2022
License
Copyright (c) 2022 Ruzamira Abdul Razak, Issarezal Ismail, Rosmidahanim Razali, Mohd Nafis Saad, Siti Humaini Said Ahmad @ Syed Ahmad
This work is licensed under a Creative Commons Attribution-NonCommercial-ShareAlike 4.0 International License.