إعـــداد برنامج إلكتروني في تدريس أصوات اللغة العربية للناطقين بغيرها وبثه في الشبكة العنكبوتية
Preparation of an electronic program in teaching the voices of the Arabic language to non-speakers and broadcast on the Internet
Keywords:
Electronic program, Broadcast, structures, Individual differences, Audio input
Abstract
This research aimed to develop an electronic program in teaching the voices of the Arabic language to non-Arabic speakers, starting with the oral audio input as the most important step in teaching the language, in addition to identifying and distinguishing the sounds and the vocabulary and the structures of the language, especially the adjacent and similar voices and enable student to understand what they hears. The study also addressed the use of the means of modern technologies and media in teaching and programming of language and the application of this on the skill of listening in Arabic through electronic exercises covering the oral listening. The researcher focused on presenting various patterns, starting with the easiest and then the easy with consideration to individual differences. The research also focused on the achievement of the tests aimed at measuring the student's ability to recognize, distinguish and understand what he hears. The study concluded to a number of results, the most important of which is the need to pay attention to the technical and electronic aspects in teaching language skills and designing electronic tests in the skill of listening and benefiting from the European frame reference of teaching languages and centers concerned with common words of language.
Downloads
Download data is not yet available.
References
The stranger Zaher Ismail, (2009) e-learning from application to professionalism and quality, the world of books for publishing and distribution, i1, p53.

The stranger Zaher Ismail, former reference, p. 591.

Hassan Al-Ba'a'a Mohammed, (2012) Sayed AbdulMawla Sayed, Digital E-Learning, New University House, p. 26.

Hossam Mohammed Al-Mustaresti, How to Use The Computer and the Internet, Osama Publishing and Distribution House, Jordan- Amman, 2018, p. 17.

Dalal Mals Esteitia, (2012) Omar Musa Sarhan, E-Learning and Learning Technology, p. 279.

Rashidi Ahmed Taaima, (1995) Reference in arabic language teaching to speakers of other languages, Part 1, p. 465.

Al Arabiya Magazine for Others, (2007) World University of Africa, Fourth Issue, p. 135.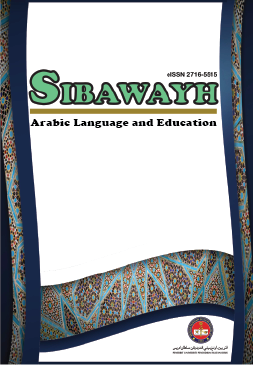 Downloads
How to Cite
Al-Rasul, O. H. (2020). إعـــداد برنامج إلكتروني في تدريس أصوات اللغة العربية للناطقين بغيرها وبثه في الشبكة العنكبوتية: Preparation of an electronic program in teaching the voices of the Arabic language to non-speakers and broadcast on the Internet. SIBAWAYH Arabic Language and Education, 1(1), 139–156. Retrieved from https://ejournal.upsi.edu.my/index.php/SIBAWAYH/article/view/3757