The relationship between students' need and Arabic course for business purpose at Yinchuan University of China
Kou Jie Ying

Universiti Pendidikan Sultan Idris, Tanjung Malim, Perak, Malaysia

Suo Yan Mei

Universiti Pendidikan Sultan Idris Tanjung Malim, Perak, Malaysia

Saipolbarin Ramli

Universiti Pendidikan Sultan Idris, Tanjung Malim, Perak, Malaysia
Keywords:
Relationship, students' need, ABP course
Abstract
Many of courses under education system are not total designed according to students' actual need and purpose of teaching and learning.This research attempts to investigate the relationship between students' need and Arabic course for business purpose in Yin Chuan University, Ning Xia of china. A total of 60 final year students who are studying Arabic for business purpose courses were randomly selected from department of Arabic language of Yin Chuan University, self-reported instruments were distributed for data collection. The data analysis will depend on SPSS vision 2.0. Descriptive analysis was used to descript Category frequencies of the demographic variables, and Correlation method will apply to determine the relationship between two variables of students' need and Arabic course for business purpose.  It was found as a result of the analysis shows that there was significant relationship between students' needs in teaching and learning Arabic for business purpose in Yinchuan university (r = .59, p < .05). Therefore, according the result of this research, can concluded students' needs have significant relationship with ABP course. The researcher further concluded students' needs must be consider for ABP course. It is the students' needs that serve as foundation stone of Arabic for business purpose.
Downloads
Download data is not yet available.
References
Aladdin, Ashinida. (2016). A Needs Analysis for the Course Materials Design of the Arabic Language Course. International Journal of Social Science and Humanity, Vol. 6, No. 6,

Allwright, R. (1982). Perceiving and Pursuing Learner's Needs. Oxford: Modern English Publications.

Brown, J. (2001). The Elements of Language Curriculum: A Systematic Approach to Program Development. Beijing: Foreign Language Teaching and Research Press.

Berwick, R. (1989). Needs assessment in language programming: From theory to practice. Cambridge: Cambridge University Press.

Bartlett, M.S. (1954). A note on the multiplying factors for various chi square approximation. Journal of the Royal Statistical Society 16(2), 296-298.

Chen, B.B. (2009). Review of needs analysis abroad. Foreign Language Teaching and Research Journal, 2,47-52.

Dudley -Evans & St John M. (1998). Developments in English for Specific Purpose: Cambridge University Press.

DeVellis, R. F. (2003). Scale Development: Theory and Application. California: Sage Publications, Inc.

Jiang, K.Y. (2014). Training modes of comprehensive Arabic talents in Ningxia higher learning institutions in time of information. Northwest University for Nationalities (Philosophy and Social Science), 5,165-169

Hair, J. F., Black, W. C., Babin, B. J., & Anderson, R. E. (2010). Multivariate data analysis: A global perspective. Upper Saddle River, NJ: Pearson.

Hutehinson, T & Waters. (1987) A. English for specific purpose[M]. Cambridge: Cambridge University Press, 18-19.

Huang, H. (2015). Research on Arabic-business talents -training mode. International Business - University of International Business and Economics Journal, 1,151-160

Kaiser, H. F. (1974). An index of factorial simplicity. Psychometric, 39(1), 31-36.

Munby, J. (1978). Communicative Syllabus Design. Cambridge: Cambridge University Press.

Rawya Jamous and Abdul Rahman Chik. (2012) Teaching Arabic for Cultural Purposes: A Case Study of Francophone Program of Arabic at Aleppo University. Social and Behavioral Sciences 66 (2012) 37 – 45

Richards, J.C. (1984). The secret life of methods. TESOL Quarterly, 18,7-23

Sun, Li. (2016). Research on the Training Mode of Arabic Talents in Ningxia[D].Minzu University of China, China.

Surbakti, A. H. (2015). Needs analysis in teaching learning process for developing teaching Arabic language syllabus of Islamic Religion Education of STAIS Sumatera. Journal of education, V 8, No 1,

Tuo HaYi, M.H. & Wang, J.W. (2016). To serve "two areas" and accelerate the training of economic and trade talents. Ningxia Education Journal, 4,19-22

Zhao, Q.H., Lei, L. & Zhang, M. (2009). College English teaching from the perspective of students' learning needs. Foreign Language World Journal, 4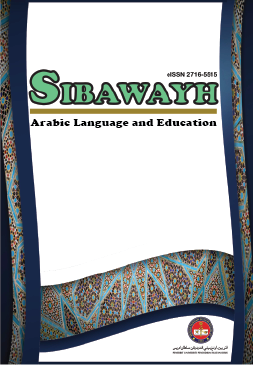 How to Cite
Jie Ying, K., Yan Mei, S., & Ramli, S. (2020). The relationship between students' need and Arabic course for business purpose at Yinchuan University of China. SIBAWAYH Arabic Language and Education, 1(1), 157-165. Retrieved from https://ejournal.upsi.edu.my/index.php/SIBAWAYH/article/view/3780