Language Learning Strategies Customary: Learners and Teachers Approach and Notion
Keywords:
language learning strategies, strategy inventory for language learning, lesson plans
Abstract
The study aimed at investigating how the learners and teachers at the Centre for Foundation Studies of the International Islamic University Malaysia perceive and approach language learning strategies. Data needed for the study were extracted from the Strategy Inventory for Language Learning Strategies given to 300 randomly selected students from 2 different groups – 150 students who passed the English Placement Test (referred to as EPT-pass in this study) and 150 students who failed the English Placement Test (referred to as EPT-fail in this study), 14-week lesson plans prepared collectively by the teachers at the learning institution as well as interview sessions and lesson observations involving 4 teacher volunteers. Overall, there was a positive indication of language learning strategies in both approach and notion where learners from 'EPT-pass' group were found to have been using language learning strategies more frequently in comparison to learners from 'EPT-fail' group, which was identified through higher value of mean scores, analyzed using SPSS. Language learning strategies were also evidently nurtured in those 14-week lesson plans examined and the four teacher volunteers seemingly to have both positive notion and approach where language learning strategies are concerned and language learning strategies were positively incorporated into lesson implementations.


Downloads
Download data is not yet available.
References
Chiya, S. (2003). The importance of learning styles and learning strategies in EFL teaching in Japan. Retrieved from citeseerx.ist.psu.edu/viewdoc/download?doi=10.1.1.483.6182 &rep=1&type=pdf

Eid Alhaisoni. (2012). Language learning strategy use of Saudi EFL students in an intensive English learning context. Asian Social Science, 8(13), 115-127.

Gall, M. D., Gall, J. P., & Borg, W. R. (2007). Educational research: An introduction. Boston: Pearson.

Griffiths, C. (2004). Language learning strategies: Theory and research (Occasional Paper No.1). New Zealand.

Juan Zhao. (N.d.). Language learning strategies and English proficiency: study of Chinese undergraduate programs in Thailand.

Noor Zainab Abdul Razak & Malam Adamu Babikkoi. (2012). Integrating the broadcast media in teaching strategies of learning ESL in Malaysia. Journal of Education and Practice, 3(7), 1-8.

Oxford, R. (1990). Language learning strategies: What every teacher should know. New York: Newbury House.

Parmjit, S., Chan, Y. F., & Gurnam, K. S. (2009). A comprehensive guide to writing a research proposal. Kuala Lumpur: Pelangi.

Zeynali, S. (2012). Exploring the gender effect on EFL learners' learning strategies. Theory and Practice in Language Studies, 2(8), 1614-1620.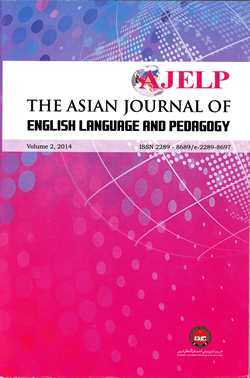 Downloads
How to Cite
Omar, A., & Kussin, H. @ J. (2017). Language Learning Strategies Customary: Learners and Teachers Approach and Notion. AJELP: Asian Journal of English Language and Pedagogy, 5, 1–10. https://doi.org/10.37134/ajelp.vol5.1.2017