EFL teachers' challenges in integration of technology for online classrooms during Coronavirus (COVID-19) pandemic in Iran
Shiva Khatoony

Islamic Azad University Central Tehran Branch, Iran

Maede Nezhadmehr

Islamic Azad University Central Tehran Branch, Iran
Keywords:
Teaching Challenges, Technology Integration, Coronavirus Pandemic, COVID-19
Abstract
The implementation of technology has provided the significant opportunities for language teachers to adopt online application and instruments to enhance learners' proficiency in complicated conditions such as Coronavirus pandemic. Subsequently, with the improvement of learning technologies, EFL teachers face various challenges in language teaching. This study investigates the challenges that EFL teachers face toward the implementation of online teaching during Coronavirus pandemic conditions particularly in Iran. In achieving the goals of this study, 30 EFL teachers who worked in English language institutes in Iran participated in the study. These institutes have been closed to prevent the side-effects of the virus. This research is an exploratory mixed method research whereby questionnaire and interviews were used to explore the teachers' challenges in online teaching and the efficiency of online classrooms. This research focused on two research questions; Are the technology integration and online classes helpful during Coronavirus pandemic situation? and What are the most important challenges of teaching in integration of technology during Coronavirus pandemic situation? The findings indicated that, although Iranian EFL teachers could perform the applications and platforms efficiently, there are many challenges such as lack of appropriate materials, learners' lack of attention and demotivation towards online classes, lack of funding and support for language institutions. In contrary to these problems, the results of the questionnaire which evaluate the technology efficiency in Iran, many teachers have positive beliefs about the adaptation of technology in Iran and mentioned that technologies can be fruitful for these situations to decrease the distance between learners and teachers. Moreover, EFL teachers, stockholders, policy makers, and institutions can benefit from the results of the study and analyze their performance during pandemic circumstances.
Downloads
Download data is not yet available.
References
Adnan, A., Ahmad, M., Yusof, A., Mohd Kamal, M., & Mustafa Kamal, N. (2019). English Language Simulations Augmented with 360-degrees spherical videos (ELSA 360°-Videos): 'Virtual Reality' Real Life Learning! International Invention, Innovative & Creative Conference (InIIC Series 1/2019).
Au-Yong-Oliveira, M., Gonçalves, R., Martins, J., & Branco, F. (2018). The social impact of technology on millennials and consequences for higher education and leadership. Telematics and Informatics, 954-963.
Bonner, E., & Reinders, H. (2018). Augmented and virtual reality in the language classroom: Practical ideas. Teaching English with Technology, 18(3), 33-53.
Bruff, D., Fisher, D., McEwen, K., & Smith, B. (2013). Wrapping a MOOC: Students Perceptions of an Experiment in Blended Learning. MERLOT Journal of Online Learning and Teaching.
Che Musa, N., Koo, Y., & Azman, H. (2012, January). Exploring English Language Learning and Teaching In Malaysia. GEMA OnlineTM Journal of Language Studies, 12(1), 35-51.
Huang, H.-W., Wu, C.-W., & Chen, N.-S. (2012). The effectiveness of using procedural scaffoldings in a paper plus-smartphone collaborative learning context. Computers & Education, 250-259.
Jiang, L., Zhang, L. J., & May, S. (2016). Implementing English-medium instruction (EMI) in China: Teachers' practices and perceptions, and students' learning motivation and needs. International Journal of Bilingual Education and Bilingualism.
doi:10.1080/13670050.2016.1231166.
Kuhl, T., Scheiter, K., Gerjets, P., & Gemballa, S. (2011). Can differences in learning strategies explain the benefits of learning from static and dynamic visualizations? Computers and Education, 176-187.
Mahmoudzadeh, S. (2014). The Effect of Using PowerPoint on Iranian EFL Learners' Knowledge of Abstract Vocabulary. International Conference on Current Trends in ELT.
Martins, J., Goncalves, R., Oliveira, T., Cota, M., & Branco, F. (2016). Understanding the determinates of social network sites adoption at firmlevel: A mixed methodology approach. Electronic Commerce Research and Applications, 10-26.
Ogilvie, G., & Dunn, W. (2010). Taking teacher education to task: Exploring the role of teacher education in promoting the utilization of task-based language teaching. Language Teaching Research, 14(2), 161-181.
Patil, D. P. (2020). Trends and Challenges in English Language Teaching. Studies in Indian Place Names, 40(39), 158-164.
Tajeddin, Z., Rezanejad, A., (2019). Intercultural teaching in L2 classrooms: Exploring English language teachers' beliefs. Teaching English as a Foreign Language, 1(2), 12-15.
Yadav, N., Gupta, K., & Khetrapal, V. (2018). Next Education: Technology Transforming Education. South Asian Journal of Business and Management Cases, 68-77.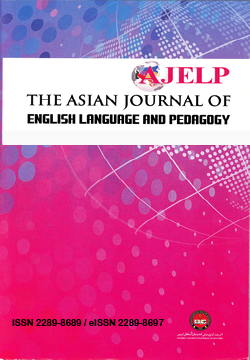 How to Cite
Khatoony, S., & Nezhadmehr, M. (2020). EFL teachers' challenges in integration of technology for online classrooms during Coronavirus (COVID-19) pandemic in Iran. AJELP: Asian Journal of English Language and Pedagogy, 8(2), 89-104. https://doi.org/10.37134/ajelp.vol8.2.7.2020
Copyright (c) 2020 UPSI Press, Malaysia
This work is licensed under a Creative Commons Attribution-NonCommercial-ShareAlike 4.0 International License.