Preparing Malaysian Pre-Service Teachers to Teach Students with Autism Using E-Module 'The Story of Khamdy'
Hui Min Low

Universiti Sains Malaysia, MALAYSIA

Lay Wah Lee

Universiti Sains Malaysia, MALAYSIA

Aznan Che Ahamd

Universiti Sains Malaysia, MALAYSIA

Sin Yin The

Universiti Sains Malaysia, MALAYSIA

Nur Zafirah A. Khadar

Universiti Sains Malaysia, MALAYSIA
Keywords:
Autism Spectrum Disorder, e-Module, Teacher Training, Special Education
Abstract
Despite increased awareness about autism, knowledge and skills to teach students with autism remains low among pre-service teachers globally. An e-module called 'The Story of Khamdy®' was developed to provide a means of introducing as many as 140 information and pedagogical strategies to teach students with ASD in inclusive environments. The entire module is presented through online platforms, via Facebook and Openlearning. Inspired by the pictorial narrative approach, each component in this module is specially designed to optimise the learning outcomes. This module, the first of its kind, delivers the content via pictorial narration, in which over 200 illustrations are presented sequentially for a systematic learning on the topics of identifying autism, early diagnosis and intervention, disputing the myths of autism, family and inclusion support, social communication strategies, differential instructions, preventing of bullying, and transition to puberty and adulthood. This study was conducted to assess the efficacy of this e-module to improve autism knowledge and reduce autism-related stigma among 91 pre-service teachers who had completed this online module. The pre-training and post-training autism knowledge and stigma scores were measured using Autism Stigma and Knowledge Questionnaire (ASK-Q). Significant changes in etiology and treatment knowledge scores, together with a significant reduction in stigma endorsement were recorded. Overall, the findings pointed to the efficacy of this module to better prepare pre-service teachers to teach students with autism.
Downloads
Download data is not yet available.
References
Abma, T. A., Cook, T., Rämgård, M., Kleba, E., Harris, J., & Wallerstein, N. (2017). Social impact of participatory health research: Collaborative non-linear processes of knowledge mobilization. Educational Action Research, 25(4), 489–505.
Blackwell Ph D, W. H., Sheppard, M. E., Lehr, D., & Huang, S. (2017). Examining pre-service teacher candidates' sources and levels of knowledge about autism spectrum disorders. Journal of Human Services: Training, Research, and Practice, 2(2), 1-25.
Brewer, N. T., Hall, M. G., Noar, S. M., Parada, H., Stein-Seroussi, A., Bach, L. E., ... & Ribisl, K. M. (2016). Effect of pictorial cigarette pack warnings on changes in smoking behavior: a randomized clinical trial. JAMA internal medicine, 176(7), 905-912.
Busby, R., Ingram, R., Bowron, R., Oliver, J., & Lyons, B. (2012). Teaching Elementary Children with Autism: Addressing Teacher Challenges and Preparation Needs. Rural educator, 33(2), 27-35.
Delli, C. K. S., Varveris, A., & Geronta, A. (2017). Application of the Theory of Mind, Theory of Executive Functions and Weak Central Coherence Theory to Individuals with ASD. Journal of Educational and Developmental Psychology, 7(1), 102-102.
Dimian, A. F., Symons, F. J., & Wolff, J. J. (2021). Delay to early intensive behavioral intervention and educational outcomes for a Medicaid-enrolled cohort of children with autism. Journal of Autism and Developmental Disorders, 51(4), 1054-1066.
Engel, K. S., & Ehri, L. C. (2021). Reading Comprehension Instruction for Young students with autism: Forming Contextual Connections. Journal of Autism and Developmental Disorders, 51(4), 1266-1280.
Fuller, E. A., & Kaiser, A. P. (2019). The effects of early intervention on social communication outcomes for children with autism spectrum disorder: A meta-analysis. Journal of Autism and Developmental Disorders, 1-18.
Harrison, A. J., Bradshaw, L. P., Naqvi, N. C., Paff, M. L., & Campbell, J. M. (2017). Development and psychometric evaluation of the autism stigma and knowledge questionnaire (ASK-Q). Journal of Autism and Developmental Disorders, 47(10), 3281–3295
Hodges, H., Fealko, C., & Soares, N. (2020). Autism spectrum disorder: definition, epidemiology, causes, and clinical evaluation. Translational Pediatrics, 9(Suppl 1), S55-S65.
Jick, H., & Kaye, J. A. (2003). Epidemiology and possible causes of autism. Pharmacotherapy: The Journal of Human Pharmacology and Drug Therapy, 23(12), 1524-1530.
Kaur, N. (2019). Impact of photonovel interventions among people with low levels of health literacy: A literature review. Education for Information, 35(1), 21–34.
Lecheler, M., Lasser, J., Vaughan, P. W., Leal, J., Ordetx, K., & Bischofberger, M. (2021). A matter of perspective: An exploratory study of a theory of mind autism intervention for adolescents. Psychological Reports, 124(1), 39-53.
Loi, S. W. & Mohd Yasin, M. H. (2017). Teacher Training to Increase Teacher's Competency in Teaching Autism Child. Journal of ICSAR, 1(1), 1-5.
Low, H. M. (2019). The Story of Khamdy®. https://www.facebook.com/groups/965835180415612/learning_content
Low, H. M., Lee, L. W., & Che Ahmad, A. (2018a). Pre-service teachers' attitude towards inclusive education for students with autism Spectrum Disorder in Malaysia. International Journal of Inclusive Education, 22(3), 235-251.
Low, H. M., Lee, L. W., & Che Ahmad, A. (2018b). Preparing special education pre-service teachers to address the speech, language and communication needs of students with ASD: a needs assessment. Speech, Language and Hearing, 21(3), 142-151.
Low, H. M., Lee, L. W., & Che Ahmad, A. (2020). Knowledge and Attitudes of Special Education Teachers Towards the Inclusion of students with autism Spectrum Disorder. International Journal of Disability, Development and Education, 67(5), 497-514.
Low, H. M., Wong, T. P., Lee, L. W., Makesavanh, S., Vongsouangtham, B., Phannalath, V., ... & Lee, A. S. S. (2021). Can pictorial narration offer a solution to teacher training on the effective inclusion of students with autism spectrum disorder in low-resource settings? Investigation on knowledge and stigma change. Autism, 1362361320984899.
Muturi, N. (2016). Community perspectives on communication strategies for alcohol abuse prevention in rural central Kenya. Journal of Health Communication, 21(3), 309–317.
Nahmias, A. S., Pellecchia, M., Stahmer, A. C., & Mandell, D. S. (2019). Effectiveness of community‐based early intervention for children with autism spectrum disorder: a meta‐analysis. Journal of Child Psychology and Psychiatry, 60(11), 1200-1209.
NASOM (2021). Autism. https://www.nasom.org.my/autism/
Ozonoff, S., Young, G. S., Brian, J., Charman, T., Shephard, E., Solish, A., & Zwaigenbaum, L. (2018). Diagnosis of autism spectrum disorder after age 5 in children evaluated longitudinally since infancy. Journal of the American Academy of Child & Adolescent Psychiatry, 57(11), 849-857.
Rattaz, C., Michelon, C., Munir, K., & Baghdadli, A. (2018). Challenging behaviours at early adulthood in autism spectrum disorders: topography, risk factors and evolution. Journal of Intellectual Disability Research, 62(7), 637-649.
Sharma, U., & Rangarajan, R. (2019). Teaching students with autism spectrum disorders in South Asia: a scoping study and recommendations for future. International Journal of Developmental Disabilities, 65(5), 347-358.
Sheehy, K., Kaye, H., & Rofiaha, K. (2020). Indonesian educators' knowledge and beliefs about teaching children with autism. Athens Journal of Education, 7(1), 77-98.
Teo, J. X., Lau, B. T., & Then, P. (2020). Autism Spectrum Disorders in Sarawak: An Overview and Analysis of Educator Awareness, Training, Development Opportunities, and Challenges. International Journal of Disability, Development and Education, 1-17.
Thunberg, G., Ferm, U., Blom, Å., Karlsson, M., & Nilsson, S. (2019). Implementation of pictorial support for communication with people who have been forced to flee: Experiences from neonatal care. Journal of Child Health Care, 23(2), 311-336.
Vincent, J., & Ralston, K. (2020). Trainee teachers' knowledge of autism: implications for understanding and inclusive practice. Oxford Review of Education, 46(2), 202-221.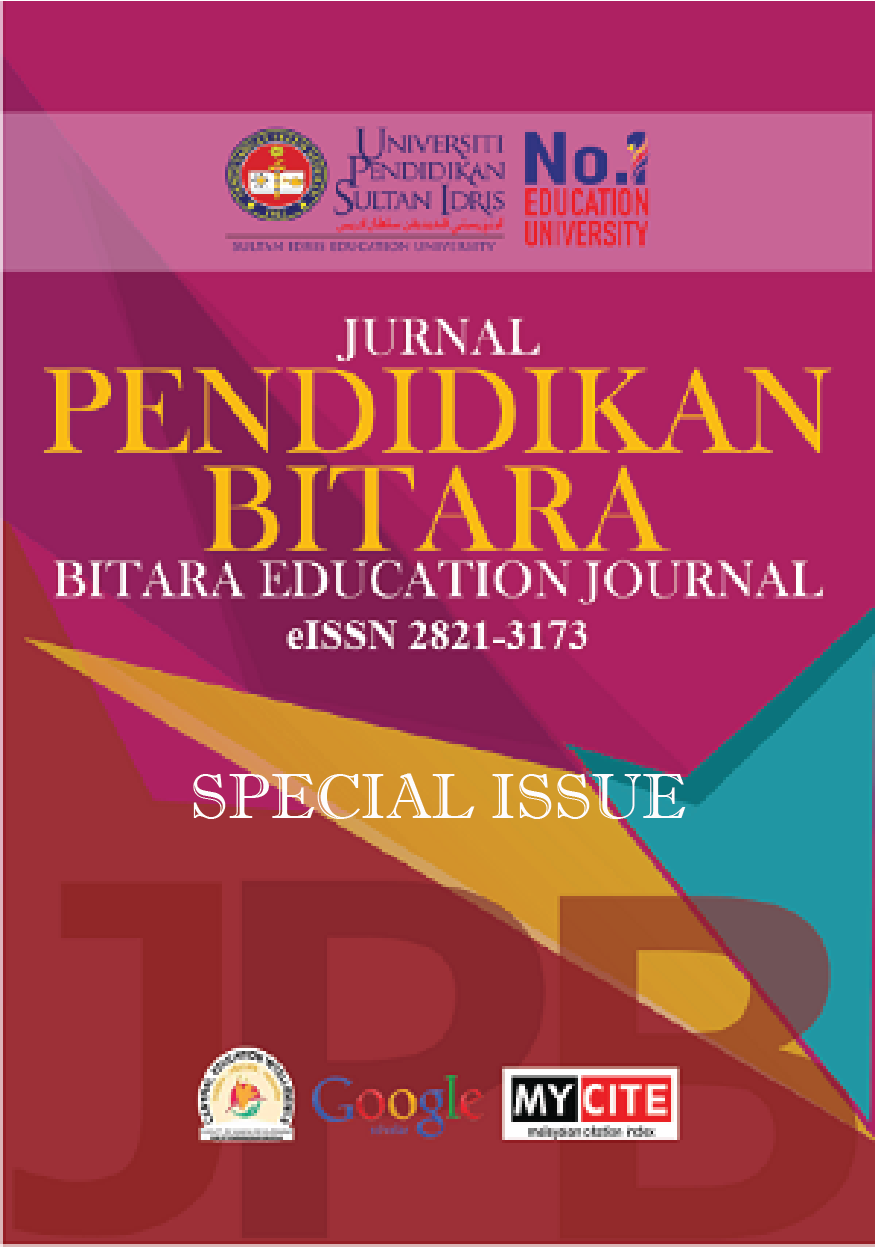 How to Cite
Low, H. M., Lee, L. W., Che Ahamd, A., The, S. Y., & A. Khadar, N. Z. (2021). Preparing Malaysian Pre-Service Teachers to Teach Students with Autism Using E-Module 'The Story of Khamdy'. Jurnal Pendidikan Bitara UPSI, 14, 47-56. https://doi.org/10.37134/bitara.vol14.sp2.5.2021
Copyright (c) 2021 Hui Min Low, Lay Wah Lee, Aznan Che Ahamd, Sin Yin The, Nur Zafirah A. Khadar
This work is licensed under a Creative Commons Attribution-NonCommercial-ShareAlike 4.0 International License.