Development of Complete Breakfast Nutrition for Children Based on PERMATA Curriculum for Children 2 Years Old
Pembangunan Buku Resipi Nutrisi Lengkap Sarapan Pagi Kanak-Kanak Berdasarkan Kurikulum Permata Bagi Kanak-Kanak Yang Berumur 2 Tahun
Keywords:
Recipe book, DDR, questionnaire, document analysis, interview, SPSS
Abstract
This article is the development of a complete children's nutrition recipe book based on the PERMATA Curriculum for children aged 2 years. This study produced a complete nutritional breakfast recipe book for children. The objective of this study is to analyze the needs of 2-year-old children's breakfast nutrition practice, they form and develop a recipe book to evaluate the usability of the breakfast nutrition recipe book for 2-year-old children using the Development Design and Research (DDR) design, which is data which is obtained through qualitative and quantitative methods. The researcher used questionnaires, document analysis and interviews to obtain research data and information. Questionnaires were distributed to 100 respondents consisting of parents, teachers, guardians and Early Childhood Education students. Meanwhile, the PERMATA Curriculum is the best document for researchers to conduct document analysis and interviews with task teachers and experts to obtain more detailed data. All responses from the questionnaire will be measured using a scale and analyzed descriptively using Statistical Packages for Social Science (SPSS) version 23.0 software. The overall result of the study on the development of this children's breakfast recipe book is important and suitable as a reference for preparing more interesting meals for two-year-old children.
Downloads
Download data is not yet available.
References
Abdul Wahid dan Ida Astrie. (2010). Amalan Pemakanan Di Kalangan Remaja Di Kawasan Felda Bukit Ramun, Kulai, Johor. doi:http://eprints.utm.my/id/eprint/11334/.
Ahmad Amirulhadi Mohamad dan Mohd Radzani Abdul Razak. (2018). Kelaziman Lebihan Berat Badan Dan Obesiti Di Kalangan Pelajar Di Sebuah Sekolah Rendah Di Bandar Selayang, Selangor. Seminar Antarabangsa Isu-Isu Pendidikan.
Amey Rozalina Azeman, Nurul Farhana Mohd Raduan & Nur Farhana Othman, Kolej Universiti Islam Melaka. (2012). Pemilihan Makanan Di Kalangan Pelajar Kolej Universiti Islam Melaka: Satu Tinjauan. Jurnal Hospitaliti dan Jaringan, 1, 71-80.
Bahagian Pendidikan Awal Kanak-kanak. (2017). Kurikulum PERMATA Negara. Selangor: Jabatan Perdana Menteri. Kementerian Pendidikan Malaysia.
Icha Pamelia. (2018). Perlaku Konsumsi Makanan Cepat Saji Pada Remaja dan Dampaknya bagi kesihatan. Jurnal Ekesma, 14(20), 144. doi: https://www.researchgate.net/deref/http%3A%2F%2Fdx.doi.org%2F10.19184%2Fikesma.v14i2.10459
Kementerian Kesihatan Malaysia. (2016). Siri Promosi Makanan Sihat di Sekoah: Kuasa Sarapan. Diperoleh daripada http://nutrition.moh.gov.my/wpcontent/uploads/2016/03/kuasa-sarapan.pdf.
Shazli Ezzat, Noor Aini, Ponnusamy dan Shahiza. (2005). Pengambilan Sarapan Pagi dan Pengaruh ke atas Pencapaian Kognitif Kanak-kanak Sekolah Rendah. doi: http://journalarticle.ukm.my/979/1/jurnal32.pdf.
Suraya et al. (2019). "Sarapan Yuks" Pentingnya Sarapan Pagi Kanak-kanak. Jurnal Bakti Masyarakat Indonesia, 2 (1), 201-207.
Sutrisno et al. (2018). Edukasi Bahaya Junk Food (Makanan dan Snek) dan Jajan Sembarangan di Kalangan Remaja. Journal of Community Engagement in Health, 1(1), 7 – 10. doi: 10.30994/10.30994/vol1iss1pp16.
Silvia Scaglioni et al. (2018). Factors Influencing Children's Eating Behaviors. Nutrients, 10, 709. doi: 10.3390/nu10060706.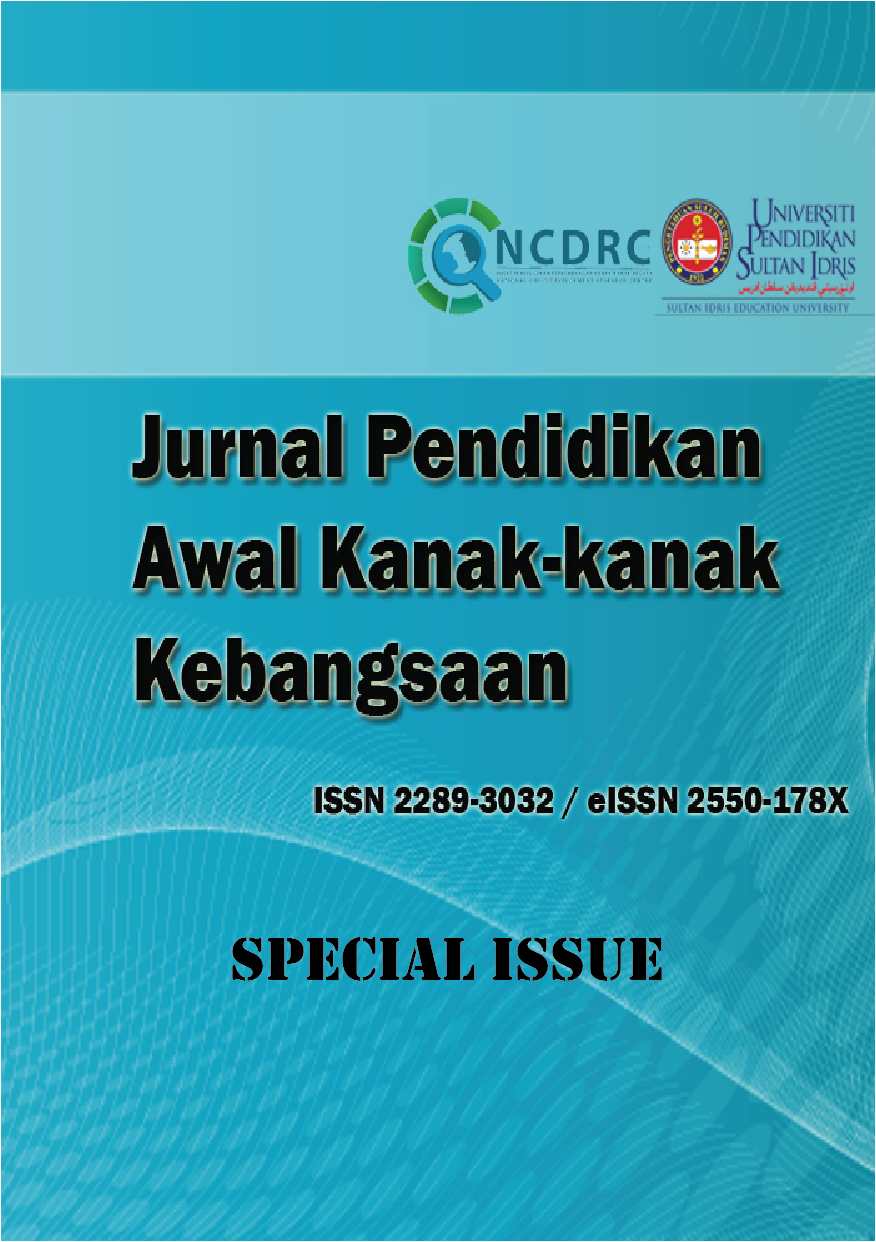 Downloads
How to Cite
Abdullah, N. A., Omar, R., & Zakaria, S. Z. (2022). Development of Complete Breakfast Nutrition for Children Based on PERMATA Curriculum for Children 2 Years Old: Pembangunan Buku Resipi Nutrisi Lengkap Sarapan Pagi Kanak-Kanak Berdasarkan Kurikulum Permata Bagi Kanak-Kanak Yang Berumur 2 Tahun. Jurnal Pendidikan Awal Kanak-Kanak Kebangsaan, 11, 64–72. https://doi.org/10.37134/jpak.vol11.sp.6.2022