Learning Module Development using Android Technology Application based on Interactive White Board on Preschool Reading Proficiency: Theoretical framework review
Pembangunan Modul Pembelajaran menggunakan Aplikasi Teknologi Android berasaskan Papan Putih Interaktif terhadap Kemahiran Membaca Kanak-kanak Prasekolah: Ulasan kerangka teori
Haiza Hayati Baharudin

Faculty of Human Development Universiti Pendidikan Sultan Idris, Tanjung Malim, Perak Malaysia

Abdul Halim Masnan

Faculty of Human Development Universiti Pendidikan Sultan Idris, Tanjung Malim, Perak Malaysia

Azizah Zain

Faculty of Human Development Universiti Pendidikan Sultan Idris, Tanjung Malim, Perak Malaysia
Keywords:
Learning Module Development, theoretical framework, technology of android application, interactive whiteboard
Abstract
This study aims to provide a review related to the theoretical framework used to develop learning modules using technology of android appplication and interactive whiteboard (IWB) on reading skills of preschool children. Data were obtained through a literature review related to Robert's Gagne's Teaching Theory (1985), IEPC Learning Strategies (Wood, 2002), Dual-Coding Theory (Paivio, 1971) and The National Preschool Standard Curriculum (KSPK) used as a guide to the development of this module. The results of the study show that the combination of these three theories and KSPK in the development of modules using IWB technology and android application ( learning to read) will form a comprehensive reading skills learning module in improving reading skills of preschool children as well as the quality of teaching. This review paper suggests that learning developmet modules need to make theories related to teaching strategies balanced from the aspect of caring for the quality of teaching teachers and also the quality of student learning.
Downloads
Download data is not yet available.
References
Angela, L. & Yen, H.J. (2015). Interactive whiteboard into music teaching and Learning: Preschool children as a case study. Procedia-Social & Behavioral Science, 177, 449-458. Doi: 10.1016/j.sbspro.2015.02.394
Bungga, F. (2018, Nov 30) Program LINUS dihentikan mulai 2019. Berita Harian Online. bharian.com.my/berita/pendidikan/2018/11/503726/program-Linus-dihentikan-mulai-2019.
Bandura, A. (1997). Social Learning Theory. Prentice Hall.
Boubour, M., & Bjorklund, C. (2014). Preschool teacher's reasoning about IWB embedded in Math education in Swedeen preschool. Journal of Nordic Early Childhood Education Research. 7, 1-16. Doi: 10.7777/nDf.608
Chee, S. C., Arshad, M., & Ayob, A. (2018). Penilaian semula pengajaran dan pembelajaran dalam pembacaan awal. International Journal of Education Psychology and Counseling, 3(10), 1-8.
Dede Warman, L.A. (2016). Using IEPC strategy to improve students' reading comprehension at Grade VIII.4 of SMP Negeri 3 Pekanbaru. J. SHMIC Journal of English for Academic, 3(2): 36
Drigas, A.S., & Papanastasiou, G. (2014). Interactive whiteboard in preschool and primary education. iJOE.104(4). Online-journals.org/index.php/i-joe/article/view/3754
Gagne, R. (1985). The condition of learning & the theory of instruction (4th ed.). Holt, Rinehart & Winston.
Kementerian Pendidikan Malaysia (2017). Dokumen Standard Kurikulum Prasekolah. Kementerian Pendidikan Malaysia: Bahagian Pembangunan Kurikulum.
Khor, H.C., Noh, M. N. (2016). Keberkesanan penggunaan papan putih Interaktif dalam pembelajaran Bahasa Malaysia dalam kalangan murid tahun 3,. JPBU Edisi Khas, 9, 11-17. Myjurnal.my/filebank/published_article/53592/2.pdf
Mousa Malkawi, N. A. (2017). The effect of using smart board on the Achievement of tenth grade students in English language and on verbal interaction during teaching in public school. International Research in Education, 5(1). researchgate.net/publication/320491050_The_Effect_of_Using_Smart_Board_on_The_Achivement_of_Tenth_Grade_Students_in_English_Language_on_Verbal_Interaction_During_Teaching_in_Public_School.
Paivio, A. (1971). Imagery and verbal processes. Rinehart & Winston.
Rostan, N. N. A., Ismail, H., & Mohamad Jaafar, A. N. (2020). The use of multisensory technique in the teaching open syllables reading skill for preschoolers from a teacher's perspective. Southeast Asia Early Childhood Journal, 9(2), 155-165.
Saleem, T., & Masadeh, Y. (2016). The effect of interactive whiteboard use on the academic achievement of pupils in English. Researchjournali's Journal of Education, 4(10). https://www.researchgate.net/publication/337632550_The_Effect_of_Interactive_Whiteboard_Use_on_the_Academic_Achievement_Of_Pupils_In_English
Hick, T. (2018). 6 strategies for teaching with Bloom's Taxonomy. https://www.Teachthought.com/pedagogy/using-blooms-taxonomy-21st-century-4-Strategies-for-teaching/
Wood, K.D. (2002). Aiding comprehension with the Imagine, Elaborate, Predict and Comfirm (IEPC) strategy. Middle School Journal, 33, 47-54. Doi: 10.1080/00940771.2002.11494674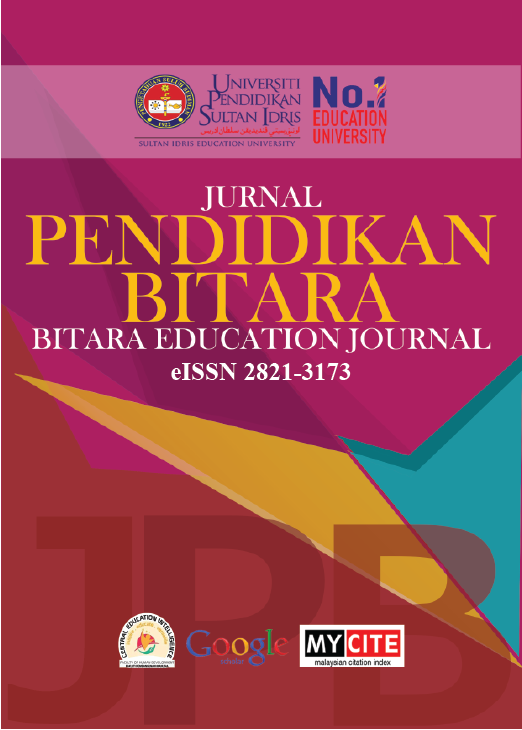 How to Cite
Baharudin, H. H., Masnan, A. H., & Zain, A. (2021). Learning Module Development using Android Technology Application based on Interactive White Board on Preschool Reading Proficiency: Theoretical framework review. Jurnal Pendidikan Bitara UPSI, 14(1), 1-14. https://doi.org/10.37134/bitara.vol14.1.1.2021
Copyright (c) 2021 UPSI Press, Malaysia
This work is licensed under a Creative Commons Attribution-NonCommercial-ShareAlike 4.0 International License.