Systematic literature review on development of Biology learning module through bot telegram application for Matriculation students
Kajian literatur bersistematik ke atas pembangunan modul pembelajaran Biologi melalui aplikasi telegram bot bagi pelajar Matrikulasi
Keywords:
Systematic Literature Review, Module Development, Biology, Telegram Bot, Matriculation Students
Abstract
The effects of the Covid-19 pandemic resulted in various teaching and learning approaches in various educational institutions including at the pre-university level especially in Matriculation. Various online learning alternatives are used by instructors to ensure that learning objectives can be achieved. This systematic literature review was conducted to see the suitability of the development of learning modules and the applicability of Telegram Bot application as one of the alternative methods of student learning in the subject of Biology. Two databases namely SCOPUS and Google Scholar were used to search for articles starting from 2017 to 2021. A total of 45 articles were obtained using appropriate keywords and after going through several phases in the PRISMA statement, a total of 15 articles were selected for this systematic review.  Makes Telegram Bot as a learning module is very timely and appropriate to the students' self -learning process. The results prove that the features and advantages of Telegram Bot which can gather various activity and assessment inputs make students more focused, learning objectives can be achieved, can attract students and encourage students to be more responsible for their learning. For future studies, it is proposed to expand the use of Telegram Bot as a student learning module for online learning that can be used synchronously and asynchronously.
Downloads
Download data is not yet available.
References
Aisyah, R. N., Istiqomah, D. M., & Muchlisin, M. (2021). Developing E-learning Module by Using Telegram Bot on ICT for ELT Course. Proceedings of the 5th International Conference on Arts Language and Culture (ICALC 2020), 534(534), 106–111. https://doi.org/10.2991/assehr.k.210226.054
Alahmad, M. (2020). The Effectiveness of Telegram App in Learning English. Budapest International Research and Critics in Linguistics and Education (BirLE) Journal, 3(3), 1274–1280. https://doi.org/10.33258/birle.v3i3.1165
Al-Rahmi, W. M., Alias, N., Othman, M. S., Alzahrani, A. I., Alfarraj, O., Saged, A. A., & Rahman, N. S. A. (2018). Use of E-Learning by University Students in Malaysian Higher Educational Institutions: A Case in Universiti Teknologi Malaysia. IEEE Access, 6, 14268–14276. https://doi.org/10.1109/ACCESS.2018.2802325
Amanina, N., Hamid, A., Jasmy, M., & Rahman, A. (2021). Penerimaan Pelajar Institut Pengajian Tinggi Terhadap Pembelajaran Dalam Talian: Tinjauan Di Daerah Muallim Perak (The Acceptance of Higher Learning Institution Students Towards Online Learning: Survey in Muallim District Perak). 3(2), 164–173. http://myjms.mohe.gov.my/index.php/jdpd
Ardimansyah, M. I., & Widianto, M. H. (2021). Development of online learning media based on Telegram Chatbot (Case studies: Programming courses). Journal of Physics: Conference Series, 1987(1). https://doi.org/10.1088/1742-6596/1987/1/012006
Dewantari, N., & Singgih, S. (2020). Indonesian Journal of Natural Science Education (IJNSE). Indonesian Journal of Natural Science Education (IJNSE), 03(2), 366–371.
Gnanasagaran, D., & Amat @ Kamaruddin, A. H. (2019). The effectiveness of mobile learning in the teaching and learning of probability. Jurnal Pendidikan Sains Dan Matematik Malaysia, 9(2), 9–15. https://doi.org/10.37134/jpsmm.vol9.2.2.2019
Heri Khariono, Rizky Parlika, Haidar Ananta Kusuma, & Dimas Arif Setyawan. (2021). Pemanfaatan Bot Telegram Sebagai E-Learning Ujian Berbasis File. Jurnal Informatika Polinema, 7(4), 65–72. https://doi.org/10.33795/jip.v7i4.696
H. Iksan, Z., & Mohd Saufian, S. (2017). Mobile Learning: Innovation in Teaching and Learning Using Telegram. IJPTE : International Journal of Pedagogy and Teacher Education, 1(1), 19–26. https://doi.org/10.20961/ijpte.v1i1.5120
Iqbal, M. Z., Alradhi, H. I., Alhumaidi, A. S. A., Alshaikh, K. H., AlObaid, A. M., Alhashim, M. T., & AlSheikh, M. H. (2020). Telegram as a tool to supplement online medical education during covid-19 crisis. Acta Informatica Medica, 28(2). https://doi.org/10.5455/aim.2020.28.94-97
Kementerian Pendidikan Malaysia. (2013). Pelan Pembangunan Pendidikan Malaysia 2013-2025: Pendidikan prasekolah Hingga Lepas Menengah.
Khayrunsalihaty, D. Y. G., Abang, B., & Mai, C. A. N. N. (2021). NetFun Bot : An Aide for Delivery of Learning Materials in Computer Networking Fundamental Course during Online Learning. 2(2), 30–39.
Mohd Shapri, N. I., & Che Ahmad, C. N. (2019). The development of Bio-Gamyx module for teaching and learning Biology. Jurnal Pendidikan Sains Dan Matematik Malaysia, 9(2), 1–8. https://doi.org/10.37134/jpsmm.vol9.2.1.2019
Moher, D., Liberati, A., Tetzlaff, J., Altman, D. G., Altman, D., Antes, G., Atkins, D., Barbour, V., Barrowman, N., Berlin, J. A., Clark, J., Clarke, M., Cook, D., D'Amico, R., Deeks, J. J., Devereaux, P. J., Dickersin, K., Egger, M., Ernst, E., … Tugwell, P. (2009). Preferred reporting items for systematic reviews and meta-analyses: The PRISMA statement. PLoS Medicine, 6(7). https://doi.org/10.1371/journal.pmed.1000097
Muhamed Ganasan, H., & Azman, N. (2021). Kesihatan Mental dan Motivasi Pelajar Semasa Pembelajaran Dalam Talian Sepanjang Pandemik Covid-19. Malaysian Journal of Social Sciences and Humanities (MJSSH), 6(10), 25–40. https://doi.org/10.47405/mjssh.v6i10.1100
Nur Aisyah, R., Istiqomah, D. M., & Muchlisin, M. (2021). Rising English Students' Motivation in Online Learning Platform: Telegram Apps Support. Utamax : Journal of Ultimate Research and Trends in Education, 3(2), 90–96. https://doi.org/10.31849/utamax.v3i2.6464
Oktaviani, H. (2021). Persepsi Mahasiswa dalam Pemilihan Media dan Metode Pembelajaran Online di Perguruan Tinggi. JINOTEP (Jurnal Inovasi Dan Teknologi Pembelajaran): Kajian Dan Riset Dalam Teknologi Pembelajaran, 8(2), 167–177. https://doi.org/10.17977/um031v8i22021p167
Ong, J. S. H., Mohan, P. R., Han, J. Y., Chew, J. Y., & Fung, F. M. (2021). Coding a Telegram Quiz Bot to Aid Learners in Environmental Chemistry. Journal of Chemical Education, 98(8), 2699–2703. https://doi.org/10.1021/acs.jchemed.1c00201
Putu Gede Abdi Sudiatmika, I., hari Santhi Dewi, K., & Stikom Bali, I. (2020). E-Learning Berbasis Telegram BOT. Jurnal Riset Inovasi Bidang Informatika Dan Pendidikan Informatika (KERNEL), 1(2).
Rahayu, Y. S., Wibawa, S. C., Yuliani, Y., Ratnasari, E., & Kusumadewi, S. (2018). The development of BOT API social media Telegram about plant hormones using Black Box Testing. IOP Conference Series: Materials Science and Engineering, 434(1). https://doi.org/10.1088/1757-899X/434/1/012132
Setiaji, H., & Paputungan, I. V. (2018). Design of Telegram Bots for Campus Information Sharing. IOP Conference Series: Materials Science and Engineering, 325(1). https://doi.org/10.1088/1757-899X/325/1/012005
Subiyantoro, A. (2020). Pengembangan Media Pembelajaran Mobile Learning dengan BOT API Aplikasi Telegram Pada Mata Pelajaran PPKn di SMAN 12 Jakarta. Kajian Moral Dan Kewarganegaraan, 08(3), 15. https://ejournal.unesa.ac.id/index.php/jurnal-pendidikan-kewarganegaraa/article/view/36178/32207
Syed LamSah Syed Chear. (2017). Jurnal pendidikan Malaysian journal of education. Pengajaran Dan Pembelajaran Melalui Aplikasi Whatsapp Dan Telegram Di Universiti Swasta, 42(2), 87–97. http://ejournal.ukm.my/jpend/article/view/23847/7425
Xiao, Y., & Watson, M. (2019). Guidance on Conducting a Systematic Literature Review. Journal of Planning Education and Research, 39(1), 93–112. https://doi.org/10.1177/0739456X17723971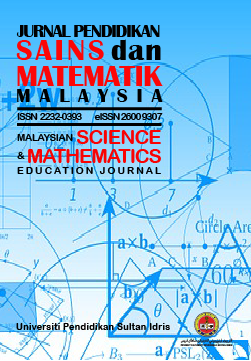 Downloads
How to Cite
Kamaruddin, H., Che Ahmad, C. N., & Ahmad Rashid , F. A. (2022). Systematic literature review on development of Biology learning module through bot telegram application for Matriculation students: Kajian literatur bersistematik ke atas pembangunan modul pembelajaran Biologi melalui aplikasi telegram bot bagi pelajar Matrikulasi. Jurnal Pendidikan Sains Dan Matematik Malaysia, 12(2), 39–50. https://doi.org/10.37134/jpsmm.vol12.2.3.2022
License
Copyright (c) 2022 Hazana binti Kamaruddin, Che Nidzam binti Che Ahmad, Fatimah Azzahra binti Ahmad Rashid
This work is licensed under a Creative Commons Attribution-NonCommercial-ShareAlike 4.0 International License.