Development of Practical Video Module (V-Lab) to enhance teaching and facilitation of form four biology
Pembangunan modul Video Amali (V-Lab) bagi mempertingkatkan pengajaran dan pemudahcaraan biologi tingkatan empat
Che Nidzam Che Ahmad

Sultan Idris Education University, Tanjong Malim, Perak, Malaysia

Asmayati Yahaya

Sultan Idris Education University, Tanjong Malim, Perak, Malaysia

Siti Shamsiah Sani

Universiti Pendidikan Sultan Idris, Tanjong Malim, Perak, Malaysia
Keywords:
Development, biology practical, video module, teaching
Abstract
This study aims to develop a biology practical video (V-Lab) and a practical manual to assist in teaching and facilitation of form 4 biology subject. The design of the study used is the development design and the model used is the ASSURE model. This study was conducted in a school laboratory and involved students as respondents. As a result, twelve biology practicals has been successfully videotaped. Each video was edited by the inclusion of text, music and shortened to a period of 60 seconds. The V-Lab and practical manuals are validated by experts with a 92% of expert agreement and have a Cronbach's alpha reliability score of 0.82. The suitability of V-Lab and practical manual were also high (min = 4.25, sp = 0.67) from the students' point of view. The conclusion is that the V-lab and the practical manual are good and suitable for teaching and facilitating biology practical.
Downloads
Download data is not yet available.
References
Allchin, D. (2014). From science studies to scientific literacy: A view from the classroom. Science & Education, 23(9), 1911-1932.
http://dx.doi.org/10.1007/s11191-013-9672-8
Aubusson, P. (2011). An Australian science curriculum: Competition, advances and retreats. Australian Journal of Education, 55(3), 229-244.
https://doi.org/10.1177/000494411105500305
Altherr, S., Wagner, A., Eckert, B., & Jodi, H. J. (2004). Multimedia materials for teaching physics (search, evaluation and examples). European Journal of Physics. 25,7-14.
http://dx.doi.org/10.1088/0143-0807/25/1/002
Bravo, E., Amante-Garcia, B., Simo, P., Enache, M., & Fernandez, V. (2011). Video as a new teaching tool to increase student motivation. In Proceedings of 2011 IEEE Global Engineering Education Conference, 638-642.
http://dx.doi.org/10.1109/EDUCON.2011.5773205
Che Nidzam, C.A., Lilia, H., Meerah, T., Kamisah, O. & Arbaat, H. (2009). Malaysian science laboratory: Issues and constrains, Paper presented at the ESERA conference, Istanbul, Turkey, 28th August-4th September
Chiappetta, E.L. & Koballa, T.R. (2006). Science Instruction in the Middle and Secondary Schools. Ed. Ke-6. Upper Saddle River, NJ: Pearson/Merrill Prentice Hall.
Cohen, L., Manion, L., & Morrison, K. (2007). Research Methods in Education (6th ed.). London and New York, NY: Routledge Falmer.
Hakinson, B.L. & Rangsdale, T.W. (2000). Laboratory Safety Program at Francis Marion University. Journal of Chemical Health & Safety 7(2), 10-13.
Hodson, D. (2001). Research on practical work in school and universities: in pursuit of better questions and better methods. Proceedings of the 6th European conference on research in chemical education. University of Aveiro; Aveiro, Portugal.
Hofstein, A & Lunetta, V.N. (2004). The laboratory in science education: Foundations for Twenty-First Centuary. Science Education, 88 (1), 28-54.
https://doi.org/10.1002/sce.10106
Hofstein, A. & Lunetta, V.N. (2003). The laboratory in science education: Foundation for the twenty-first century. Science Education 88(1), 28-54.
Hofstein, A. (2004). The laboratory in Chemistry Education: Thirty years of experience with developments, implementation and research. Chemistry Education: Research and Practices, 5(3), 247-264.
Heinich R, Molenda M, Russell JD (1989). Instructional media and the new technologies of instruction (2nd edition). New York: John Wiley and Sons.
Kamarudin, N., Halim, L., Osman, K. & Mohd. Meerah, T.S. (2009). Pengurusan penglibatan pelajar dalam amali sains. Jurnal Pendidikan Malaysia 34(1), 205-217.
Kareem, A. A. (2018). The use of Multimedia in Teaching Biology and Its Impact on Students' Learning Outcomes. The Eurasia Proceedings of Educational & Social Sciences (EPESS), 9 157-165.
Mei Chi Lee & Fauziah Sulaiman. (2018). The Effectiveness of Practical Work on Students' Motivation and Understanding towards Learning Physics. International Journal of Humanities and Social Science Invention (IJHSSI), 7(8), 35-41.
Nabilah Sadali @ Talib. (2008). Evaluation of Science Teachers On The Efficacy Of Laboratory Activities. Tesis Master, Universiti Malaya. Tidak Diterbitkan.
Norlidah Alias. (2010). Pembangunan modul pedagogi berasaskan teknologi dan gaya pembelajaran Felder-Silverman kurikulum fizik sekolah menengah. Tesis PhD Universiti Malaya.,Malaysia.
Nur Liyana, A.,, Goh, C.T,, , Sharifah Zarina, S.Z.,, Sharina. A. H.,, Mazlin, M.,, Lee, K.E.,, & Lubna, A. Al (2018). Assessing Awareness on Laboratory Safety: A Case Study in Pahang, Malaysia, Jurnal Pendidikan Malaysia 43(2), 73-80
Kosterelioglu, l. (2016). Student Views on Learning Environments Enriched. Universal Journal of Educational Research 4(2): 359-369.
DOI: 10.13189/ujer.2016.040207
Polit, D.F., Beck, C.T. & Owen, S.V. (2007). Is the CVI an Acceptable Indicator of Content Validity? Appraisal and Recommendations. Research in Nursing & Health, 30, 459-467.
http://dx.doi.org/10.1002/nur.20199
Richey, R.C., & Klein, J.D. (2007). Design and developmental research. New York, NY : Routledge.
Ruslina Omar (2001). Masalah-Masalah dalam Pelaksanaan Pentaksiran Kerja Amali (PEKA) di Sekolah-Sekolah Menengah Daerah Temerloh. Tesis Sarjana Universiti Kebangsaan Malaysia, Malaysia.
Sidek Mohd Noah & Jamaludin Ahmad. (2005). Pembinaan Modul: Bagaimana Membina Modul Latihan dan Modul Akademik. Serdang: Penerbit Universiti Putra Malaysia.
Siti Aisyah Abd. Rahman & Suhaili Zakaria. (2004). Pendidikan Sains dan Teknologi di Malaysia: Tinjauan terhadap perlaksanaannya ke arah pembangunan Malaysia. Kertas kerja persidangan kebangsaan sains, teknologi dan masyarakat: ke arah pembangunan yang bersepadu. Universiti Malaya, Kuala Lumpur. 10-11 Disember.
Sousa, L.; Richter, B & Nel, C. (2017). The effect of multimedia use on the teaching and learning of Social Sciences at tertiary level: a case study. Yesterday and Today. 17.
Stoerger, S. G. (2013). Using video to foster presence in an online course. In E. G. Smyth & J. X. Volker (Eds.), Enhancing instruction with visual media: Utilizing video and lecture capture (pp. 166-176). Hershey, PA: IGI Global.
Taiwo, S. K & Emeke, E. A. (2014). Relationship among learning style preference, gender, age and students' achievement in senior secondary school biology. West African Journal of Education, XXXIV
Ting, K. S. & Woo, Y. L., (2005), Penggunaan ICT Dalam Proses Pengajaran Dan Pembelajaran Di Kalangan Guru Sekolah Menengah Teknik Dan Vokasional: Sikap Guru, Peranan ICT Dan Kekangan / Cabaran Penggunaan ICT, Fakulti Pendidikan UTM, Seminar Pendidikan 2005, Fakulti Pendidikan UTM, 15 Oktober 2005
Wheeler, G. F. (2000). Three faces of inquiry. In E.H. Minstrell & Van Zee (Eds.), Inquiring into inquiry learning and teaching in science (ms 14-19), Washington, DC: American Association for the Advancement of Science, 164.
Zol Azlan. (2000). "Strategi Pengajaran: Pendekatan Sains, teknologi masyarakat" Selangor: Prentice Hall.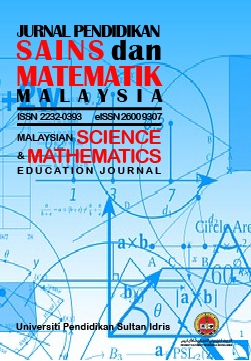 How to Cite
Che Ahmad, C. N., Yahaya, A., & Sani, S. S. (2020). Development of Practical Video Module (V-Lab) to enhance teaching and facilitation of form four biology. Jurnal Pendidikan Sains Dan Matematik Malaysia, 10(2), 1-7. https://doi.org/10.37134/jpsmm.vol10.2.1.2020
Copyright (c) 2020 UPSI Press, Malaysia
This work is licensed under a Creative Commons Attribution-NonCommercial-ShareAlike 4.0 International License.