The Effect of the Self-Questioning Strategy as a Generative Learning Strategy on Iranian Intermediate EFL Learners' Reading Comprehension
Keywords:
strategy, self-questioning, comprehension, intermediate EFL learner
Abstract
This study examined the effect of selfquestioning strategy as a generative learning strategy on the Iranian English as a Foreign Language (EFL) learners'reading comprehension performance. The participants in this study were seventy five undergraduate students from two universities, Garmsar Payame Noor University and Sabzevar Tarbiat Moallem University, majoring in English. Out of the total seventy five students, only sixty students met the criterion of scoring between two standard deviations above and two standard deviations below the mean of Teaching of English as a Foreign Language (TOEFL) proficiency test and were chosen as intermediate subjects of the current study. The selected students were pre-tested on a reading comprehension test. This resulted in thirty students at Payame Noor University and thirty at Sabzevar Tarbiat Moallem University were chosen and assigned to two groups of the experimental and control, respectively. They were given the same texts taught by the researchers during four sessions. In the control group, learners were allowed to use their own self-preferred strategies. But the experimental group was taught how to apply the self-questioning strategy. Then, both groups were post-tested on the achievement of the instructed texts. The results revealed that the use of the self-questioning strategy did have a significant effect on the readers' comprehension performance and the learners  in the experimental group outperformed the learners in the control group. Also, significant differences were found favoring the male learners in the comprehension level after using the self-questioning strategy.


Downloads
Download data is not yet available.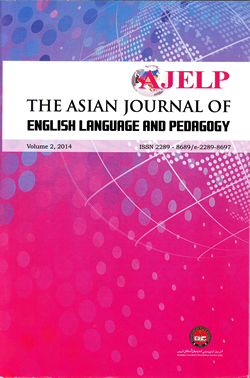 Downloads
How to Cite
Safarpoor, L., Ghaniabadi, S., & Moulavi Nafchi, A. (2015). The Effect of the Self-Questioning Strategy as a Generative Learning Strategy on Iranian Intermediate EFL Learners' Reading Comprehension. AJELP: Asian Journal of English Language and Pedagogy, 3, 66–87. Retrieved from https://ejournal.upsi.edu.my/index.php/AJELP/article/view/1221