An Investigation of the Relationship between Self-Efficacy, Self-Regulation and Reading Comprehension of Iranian EFL Learners
Sanaz Nejadihassan

Department of English Language Teaching, Golestan Science and Research Branch, Islamic Azad University, Gorgan, Iran

Ali Arabmofrad

Department of English Language and Literature, Golestan University, Iran
Keywords:
reading comprehension, self-efficacy, selfregulation
Abstract
Among the studies investigating the relationship between reading comprehension of EFL learners and motivational variables, no study has investigated the relationship between the two motivational factors of selfregulation, self-efficacy, and reading comprehension in preintermediate level in the Iranian EFL context.Therefore, the present study intended to investigate the relationship between self-efficacy, self-regulation and reading comprehension. One hundred pre intermediate university students in two different universities participated in the present study. Moreover, three instruments were used in the present study: (a) self-efficacy questionnaire, (b) selfregulation questionnaire, and (c) reading comprehension test. The Pearson-product formula was used to analyze the collected data. The results revealed that there was a significant relationship between self-efficacy and reading comprehension. However, there was no significant correlation between self-efficacy and self-regulation, and no significant relationship was found between selfregulation and reading comprehension. The results of the study draw the attention of EFL learners to attempt for improving their reading comprehension of second language texts through improving their self-efficacy beliefs.


Downloads
Download data is not yet available.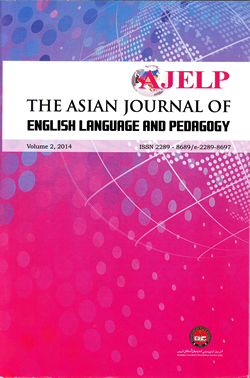 How to Cite
Nejadihassan, S., & Arabmofrad, A. (2015). An Investigation of the Relationship between Self-Efficacy, Self-Regulation and Reading Comprehension of Iranian EFL Learners. AJELP: Asian Journal of English Language and Pedagogy, 3, 119-144. Retrieved from https://ejournal.upsi.edu.my/index.php/AJELP/article/view/1223