Kajian keberkesanan aktiviti main peranan "I Can Communicate Too" terhadap murid masalah pembelajaran berkefungsian rendah
Keywords:
kajian kualitatif, komunikasi Bahasa Inggeris, murid bermasalah pembelajaran berkefungsian rendah
Abstract
Bahasa Inggeris kini dianggap sebagai bahasa yang penting bukan sahaja di sekolah malah juga dalam kalangan masyarakat. Sehubungan itu, kajian ini bertujuan untuk meneroka keberkesanan aktiviti main peranan "I Can Communicate Too" dalam mempertingkatkan komunikasi Bahasa Inggeris murid masalah pembelajaran berkefungsian rendah. Kajian ini melibatkan Program Pendidikan Khas Integrasi di sebuah sekolah menengah di daerah Kuantan, Pahang. Kajian kes ini menggunakan kaedah kualitatif yang melibatkan temu bual, pemerhatian dan analisis dokumen. Peserta kajian melibatkan tiga orang guru Pendidikan khas yang mengajar Bahasa Inggeris dan 4 orang murid masalah pembelajaran berkefungsian rendah.
Downloads
Download data is not yet available.
References
Ackerman, D. J., Tazi, Z. (2015). Enhancing Young Hispanic Dual Language Learners' Achievement: Exploring Strategies and Addressing Challenges. ETS Research Report Series, 2015(1), 1-39.
Alshenqeeti, Hamza. (2014). Interviewing As A Data Collection Method: A Critical Review. English Linguistics Research. 3.
Ahn, R., Yeong I, J., White, J., Monroy, Liane., Tronske, N. (2018). Student-Centered Pedagody: Using Moses' Five-Step Approach as a Scaffolding Framework to Teach Diverse Learners.Transformative Dialogues: Teaching & Learing Journal 11 (2), 1-18.
Ain Mohd Fadzil. (2016). Main Peranan Dalam Meningkatkan Kemahiran Sosial Kanak-Kanak. Universiti Pendidikan Sultan Idris.
Aimi Najlaa Muhammad Noor, & Faridah Yunus. (2017). Kualiti Aktiviti Di Prasekolah KPM Dari Perspektif Guru. Jurnal Penyelidikan Pendidikan, 71-82.
Aiza J., Lokman M. J. & Dillah W. 2018. Investigating Spelling Errors In A Malaysian Learner Corpus. Malaysian Journal of ELT Research, 3(1): 74-93.
Ampatuan, R.A. & Jose, A.E.S. (2016). Role Play As An Approach In Developing Students Communicative Competence. International Journal for Innovation Education and Research 4(1): 18–24.
Ang, C. T., & Lee, L. W. (2018). Pendidikan Inklusif. Petaling Jaya, Selangor: Sasbadi Sdn Bhd.
Auni Bazilah Alias, & Mohd Jasmy Abd Rahman. (2019). Tahap Penggunaan Pendekatan Belajar Melalui Bermain Dalam Pengajaran Bahasa Inggeris Di Kalangan Guru Sekolah Rendah. e-Jurnal Penyelidikan dan Inovasi, 6(1), 176-190
Banerjee, R., Alsalman, A., & Alqafari, S. (2015). Supporting Sociodramatic Play in Preschools to Promote Language and Literacy Skills of English Language Learners. Early Childhood Education Journal, 44(2016), 299-305
Bahagian Pendidikan Khas, KPM (2015). Buku Panduan Pengoperasian Program Pendidikan Khas Integrasi (PPKI). dari www.moe.gov.my
Bahagian Pembangunan Kurikulum. (2017). Kurikulum Standard Prasekolah Kebangsaan. Kementerian Pendidikan Malaysia.
Bahagian Pendidikan Khas. (2018). Program Pendidikan Khas Integrasi. Retrieved from https://www.moe.gov.my/index.php/my/pendidikan-khas/programpendidikan-khas-integrasi
Candace, Cortiella, & Horawitz (2014). The Stage Of Learning Disabilities: Facts, Trends And Emerging Issues. (3rd Edition). Amerika, New York: National Center for Learning Disabilities.
Chiu, F.Y., & Hsieh, M.L. (2016). Role-Playing Game Based Assessment To Fractional Concept In Second Grade Mathematics. EURASIA Journal of Mathematics Science and Technology Education, 13(4),1075-1083.
Coleman, C., & Davies, K. (2018). Striking Gold: Introducing Drama-Maths. Teachers And Curriculum, 18(1), 9-18.
Chung, H. V. (2016). A Study Of Reading Comprehension Problems In English Encountered By First Year Students Of Faculty Of Vietnamese Studies At Hnue (Unpublished doctoral dissertation). Hanoi National University of Education, Hanoi.
Creswell, J. W. (2014). Research Design: Qualitative, Quantitative, And Mixed Methods Approaches (4th ed.). Sage Publicatons, Inc.
Creswell, J. (2015). Educational Research: Planning, Conducting, and Evaluating Quantitative and Qualitative Research. New York: Pearson.
Darusalam, G., & Hussin, S. (2018). Metodologi Penyelidikan Dalam Penyelidikan: Amalan dan Analisis Kajian. Kuala Lumpur: Universiti Malaya.
Derakhshan, Ali & Shirmohammadli, Marjan. (2015). The Difficulties of Teaching English Language: The Relationship between Research and Teaching. International Journal of Linguistics. 7. 102.
Desiningrum, D.R., (2016). Psychology Of Children With Special Needs. Yogyakarta: Psikosain.
Devi, A., Fleer, M., & Li, L. (2018). 'We Set Up A Small World': Preschool Teachers' Involvement In Children's Imaginative Play. International Journal of Early Years Education, 26(3), 295-311.
Dogru. S.Y. (2014). The Efficacy Of Attention Training On Upskilling The Children's Ability Tonotice Details And Attention Focusing Skills. International Journal of Academic Research6(1):143- 149.
Eturk, E. (2015). Role Play As A Teaching Strategy. National Tertiary Learning and Teaching Conference2014.Tauranga.https://www.researchgate.net/publication/284166003_Role_Play_as_a_Teaching_Strategy
Fariza Md Sham, Salmihah Che Mud, Manisah Mohd Ali, Zuliza Mohd Kusrin, Rosmawati Mohamad Rasit & Siti Norlina Muhammad. (2017). Panduan Syariah Untuk Ibu Bapa Menangani Perilaku Seksual Remaja Autisme (Islamic Guidance for Parents in Dealing the Sexual Behaviour of Adolescent with Autism). Jurnal Hadhari: An International Journal, 169-182
Fey, M.E., Yoder, P.J., Warren, S.F. & Bredin-Oja, S. L. (2013). Is More Better? Milieu Communication Teaching In Toddlers With Intellectual Disabilities. Journal of Speech, Language and Hearing Research, 56, 679-693.
Gemma, M. G., Pablo, M. C., & Cabedo-Mas, A. (2020). The Role Of Music In The Development Of Children With Down Syndrome: A Systematic Review. Interdisciplinary Science Reviews, 1–16
Genidal Riadil, Ikrar. (2020). Does Oral Presentation Affect The Development Of The Students' Ability To Speak In Efl Classroom?. Social Sciences, Humanities and Education Journal (SHE Journal). 1. 13. 10.25273/she.v1i2.6622
Halias, N., Ismail, Z., & Baharudin, H. (2017). Komunikasi Bukan Lisan Dalam Pengajaran Bahasa Arab. Bangi: UKM.
Halle, T., Hair, E., Wandner, L., McNamara, M., & Chien, N. (2012). Predictors and Outcomes of Early vs. Later English Language Proficiency Among English Language Learners. Early Child Res Q, 27(1), 1-20.
Haraway, D.L. 2012. Monitoring students with ADHD within the RTI Framework. Behaviour Analyst Today 13(2): 17-21.
Hasan, L.-N. K. (2016). The Effect Of Lack Of Vocabulary On English Language Learners' Performance With Reference To English Departments Students At Salahaddin University- Erbil. (ZANCO Journal of Pure and Applied Sciences), 211-227.
Heppner, D. H. (2016). 'Then What Happened?' Studying Emergent Literacy In The Narrative Play Of Preschool Children. 30(5), 459-477
Hoa, N. T., & Mai, P. T. (2016). Challenges In Teaching English For Specific Purposes: Empirical Study At Vietnam Universities. Canadian Center of Science and Education, 154-161.
Hussein, H., Nachiappan, S., Masran, M. N., & Mohammad Khasnan, S. S. (2020). Analisis Pemupukankem ahiran Berfikir Dalam Kalangan Murid Prasekolah Pendidikan Khas Masalah Pembelajaran.Jurnal Pendidikan Awal Kanak-Kanak Kebangsaan, 9(2), 34-47.
Kilgour, P.W., Reynaud, D., Northcote, M.T., & Shields, M. (2015). Role-Playing As A Tool To Facilitate Learning, Self Reflection And Social Awareness In Teacher Education. International Journal of Innovative Interdisciplinary Research, 2(4), 8-20.
Kirankumar, V. B. (2016). Teaching Strategies for Children with Special Needs. One Day National Seminar on Teaching and Training to PWDs: Issues and Challenges 1(1), 68-71.
Krebt, D.M. 2017. The Effectiveness Of Role Play Techniques In Teaching Speaking For EFL College Students. Journal of Language Teaching and Research 8(5): 863–870
Leong L, Ahmadi S M. (2017) An Analysis of Factors Influencing Learners' English Speaking Skill. IJREE.; 2 (1)
Long, Y. (2017). The Influence Of English Proficiency On Social Adjustment In Preschool English Language Learners. (Doctor of Philosophy), University of Nebraska.
Mohd Effendi @ Ewan, M. M., Hisyamsani, I., Normawati, A. R., & Ahmad Zamri, K. (2017). Kesahan Kandungan Pakar Instrumen IKBAR Bagi Pengukuran AQ Menggunakan Nisbah Kesahan Kandungan. In International Conference on Global Education, pp. 979-997
Nazariyah Sani, (2014) Merapatkan Jurang Literasi Murid-Murid Orang Asli: Apa Cabarannya? Jurnal Personalia Pelajar (17). pp. 19-30.
Nicolopoulou, A., Cortina, K. S., Ilgaz, H., Brockmeyer Cates, C., & de Sá, A. B. (2015). Using A Narrative-And Play-Based Activity To Promote Low-Income Preschoolers' Oral Language, Emergent Literacy, And Social Competence. Early Childhood Research Quarterly, 31(2015), 147-162.
Nik Murshidah, Rahimah Embong, Raja Hazirah, Nooranida Awang, Mohd Taufiq, Zaiton Mustafa & Normila Noruddin. 2014. Keberkesanan Kaedah Main Dalam Pembelajaran Kemahiran Lisan Arab. Seminar Pengajaran & Pembelajaran Bahasa Arab 2014 (1983): 1–9
Nishanthi, R. (2018). The Importance of Learning English in Today World. International Journal of Trend in Scientific Research and Development, Volume-3(Issue-1), 871–874.
Nurul S. K. & Ramlah M. 2020. Faktor, kesan dan strategi menangani permasalahan kurang tumpuan pelajar sekolah menengah di dalam kelas: satu kajian kualitatif. Kertas kerja International Counselling and Work. Anjuran Fakulti Pendidikan dan Pembangunan Manusia, Universiti Pendidikan Sultan Idris, Tanjung Malim, Perak, 13-15September.
Oers, B. V., & Duijkers, D. (2013). Teaching In A Play-Based Curriculum: Theory, Practice And Evidence Of Developmental Education For Young Children. Journal of Curriculum Studies, 45(4), 511-534.
Ogbu, G. C. (2018). Factors Contributing To The Poor Academic Performance Of Students In Social Studies In Junior Secondary School In Nkanu East Local Government Area Of Enugu State. Godfrey Okoye University, Nigeria
Özsoy, N., Özyer, S., Akdeniz, N., & Alkoç. A. (2017). An Example Of Prepared-Plannedcreative Drama In Second Grade Mathematics Education. European Journal of Education Studies, 3(8),516-529.
Piu, A., Fregola, C., & Santoro, A. (2016). Using A Simulation Game To Make Learning About Angles Meaningful. An Exploratory Study In Primary School. European Journal of Science and Mathematics Education,4(4),490-500.
Rahayu, S. L., & Fujiati. (2017). Penerapan Game Design Document Dalam Perancangan Game Edukasi Yang Interaktif Untuk Menarik Minat Siswa Dalam Belajar Bahasa Inggris. Jurnal Teknologi Informasi dan Ilmu Komputer, 5(1),341-246
Robertson, N., Yim, B., & Paatsch, L. (2018). Connections Between Children's Involvement In Dramatic Play And The Quality Of Early Childhood Environments. Early Child Developmentand Care, 4430(May), 1–14.
Rojas, M.A. & Villafuerte, J. 2018. The Influence Of Implementing Role-Play As An Educational Technique On EFL Speaking Development. Theory and Practice in Language Studies 8(7): 726–732
Ruth, G., J.I. Akwaji and P.M. Akos, 2016. The Role Of Counseling Services In Understanding The Characteristics And Etiology Of Learning Disabilities Among Primary School Pupils In Nigeria. Asia Pacific Journal of Multidisciplinary Research, 4(2):166-172.
Şahin, B. (2018). Learning Mathematics With Creative Drama. Journal Of Inquiry Based Activities, 8(1),37-50.
Saminathan, C., Lim, P. Y., Mustafa, Z. & Abdullah, A. (2020). Teachers' Challenges In Implementing The Highly Immersive Programme In The Classrooms. Language Education and Acquisition Research Network Journal,13(2),194-207.
Selvam, D., & Anal, A. (2022). Special Education Teachers' Skills and Knowledge in Handling Students with Hearing Problems in Special Education Integration Program.Jurnal Pendidikan Bitara UPSI,15(1), 19-28. https://doi.org/10.37134/bitara.vol15.1.3.2022
Shaari, Mariam & Ahmad, Sabarinah. (2016). Physical Learning Environment: Impact on Children School Readiness in Malaysian Preschools. Procedia - Social and Behavioral Sciences. 222. 9-18. 10.1016/j.sbspro.2016.05.164.
Suhami, Z. I., & Shaffeei, K. (2021). Analysis phase of self management instrument
development for pupils with special educational needs learning disabilities revised KSSR Year 1. Jurnal Pendidikan Bitara UPSI, 14(2), 87-95
Sujud, A., Sedik, N. A. A., Affendi, N. R. N. M & Gaisun, I. Z. (2014). Ekspresi Emosi Melalui Bahan Bacaan Sastera Kanak-Kanak. Jurnal Melayu, 13(1): 72-84
Suppiah Nachiappan, Edward Munovah, R. M., Abdullah, N., & Suffian, S. (2017). Perkembangan Kognisi Dalam Kanak-Kanak Prasekolah Melalui Teknik Bermain. Jurnal Pendidikan Awal Kanak-Kanak Kebangsaan, 6(1), 34–44.
Taufik, N. & Rosli, R. (2020). Kaedah Main Peranan Dalam Pengajaran Asas Matematik Di Sekolah Alternatif Semporna: Satu Kajian Kes. Jurnal Dunia Pendidikan 2(1): 1–10.
Unicef. (2018). Learning Through Play: Strengthening Learning Through Play in Early Childhood Education Programmes. UNICEF.
Valeria C., Ilaria G. & Veron O. 2017. Social And Emotional Learning For Children With Learning Disability: Implications For Inclusion. Special Issue9(2): 100-109.
Vardi-Rath, E., Lewin, T., Cohen, Z., Aillenberg, H., & Eylon, T. (2016). The Development Of Subteacher Discourse During Pretend Play In The Wake Of Reading A Story. Children's Play, Pretense And Story: Studies In Culture, Context And Autism Spectrum Disorder, 1, 198–226.
Veny Iswantiningtyas. (2017). Penerapan Metode Bermain Peran Untuk Meningkatkan Keterampilan Sosial Anak.
Vygotsky, L. (1978). Mind In Society: The Development Of Higher Psychological Processes. Learning (Vol. Mind in Society)
Vyvey, E., Roose, R., De Wilde, L., & Roets, G. (2014). Dealing with Risk in Child and Family Social Work: From an Anxious to a Reflexive Professional? Social sciences, 3(4), 758-770.
Whiteside, K. E., Gooch, D., & Norbury, C. F. (2017). English Language Proficiency and Early School Attainment Among Children Learning English as an Additional Language. Child Development, 88(3), 812-827.
Zaharah Kamaruddin, & Suziyani Mohamed. (2019). Keberkesanan Pendekatan Bermain Dalam Kemahiran Mengenal Hurul Melalui Permainan Bahasa. e-Prosiding Persidangan Antarabangsa Sains Sosial Dan Kemanusiaan, Kolej Universiti Islam Antarabangsa Selangor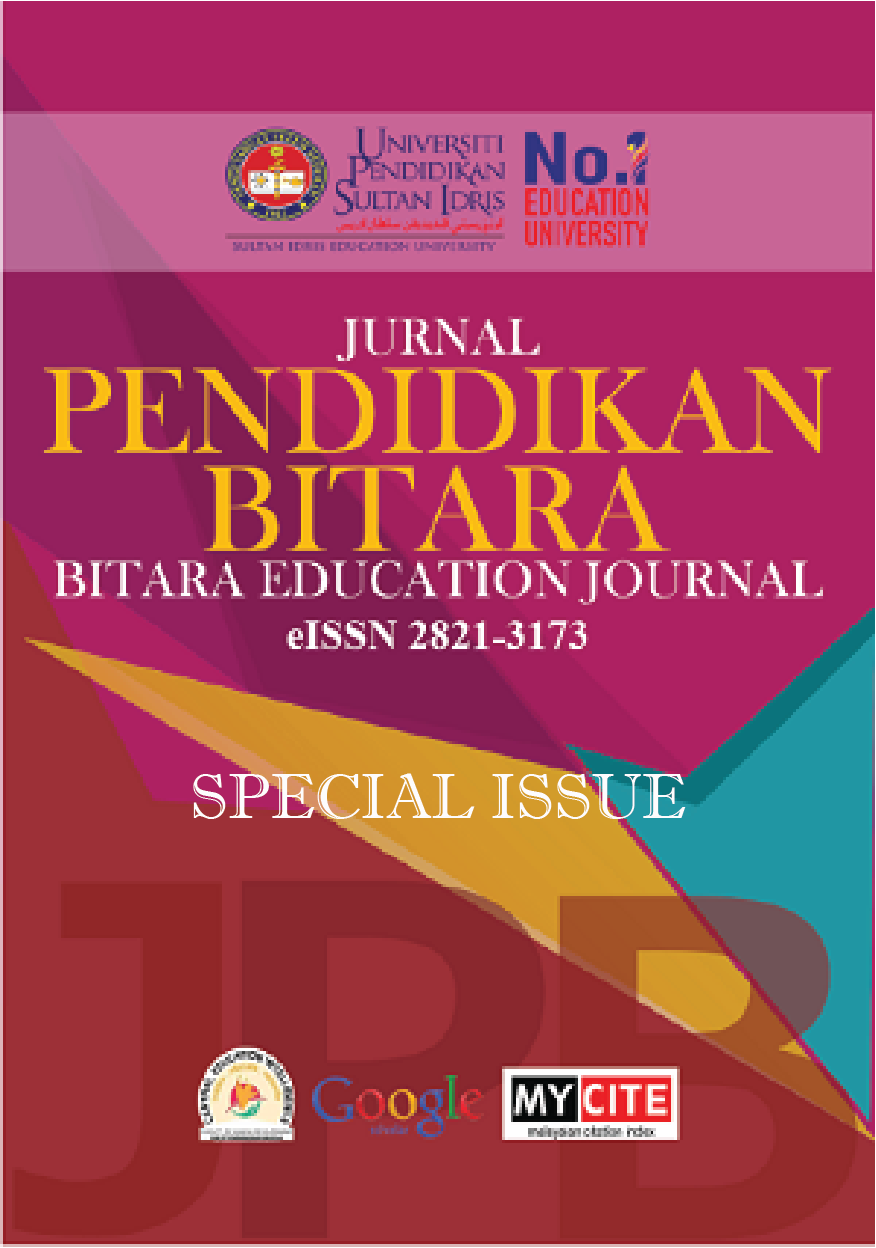 Downloads
How to Cite
Arumainathan, K., Kway, E. H., & Shaffeei, K. (2023). Kajian keberkesanan aktiviti main peranan "I Can Communicate Too" terhadap murid masalah pembelajaran berkefungsian rendah. Jurnal Pendidikan Bitara UPSI, 16, 55–76. https://doi.org/10.37134/bitara.vol16.sp.5.2023
License
Copyright (c) 2023 Kanniamah Arumainathan, Eng Hock Kway, Kama Shaffeei
This work is licensed under a Creative Commons Attribution-NonCommercial-ShareAlike 4.0 International License.