Language and Culture in the Civilising Process
Keywords:
Language, Culture, Civilising Process, Social, Rules
Abstract
The civilising process is simply one that makes life and behaviour more refined than its erstwhile state. This process pervades both the material and non-material culture. Throughout the history of mankind, it is this process that has transformed Man from cave dwellers to what they are today. Civilisation in itself may have a personal or a local interpretation. A person may consider someone else uncivilised, if this someone behaves in such a way that is unacceptable to her. Similarly, a particular community may have its own standards of refined behaviour which may not be similar to the ones accepted in another community.
Downloads
Download data is not yet available.
References
Asmah Haji Omar. 1981. The Iban Language of Sarawak: A Grammatical Description. Kuala Lumpur: Dewan Bahasa dan Pustaka.

.1983. The Malay Peoples of Malaysia and Their Languages. Kuala Lumpur: Dewan Bahasa dan Pustaka.

.1992. Indirectness as a Rule of Speaking Among the Malays. In The Language Scenery in Malaysia. Kuala Lumpur. Dewan Bahasa clan Pustaka, pp. 175-186.

. 2000. Malay Perception of Time. Kuala Lumpur: Akademi Pengajian Melayu, Universiti Malaya.

. 2002. Early Language Acquisition of a Malay Child, paper presented at the International Symposium of Language and Speech, organised by Universiti Kebangsaan Malaysia and Lund University of Sweden. Kuala Lumpur, 20-22 October 2002.

Elias, Nobert. 2000. The Civilzing Process. Oxford: Blackwell Publishers Ltd. Revised Edition. First Edition 1994.

Gregory, Michael and Susanne Carroll. 1978. Language and Situation: Language Varieties and Their Social Contexts. London, Henley and Boston: Routledge & Kegan Paul.

Hall, Edward T. 1961. The Silent Language. A Premier Book. Greenwich Conn: Fawcett Publications Inc.

. 1989. Beyond Culture. New York: Anchor Books.

Robins, R.H. 1971. Malinowski, Firth, and the "Context of Situation". In Edwin Ardener (ed.). Social Anthropolgy and Language. London: TavistockPublications 1971, pp. 33 —46.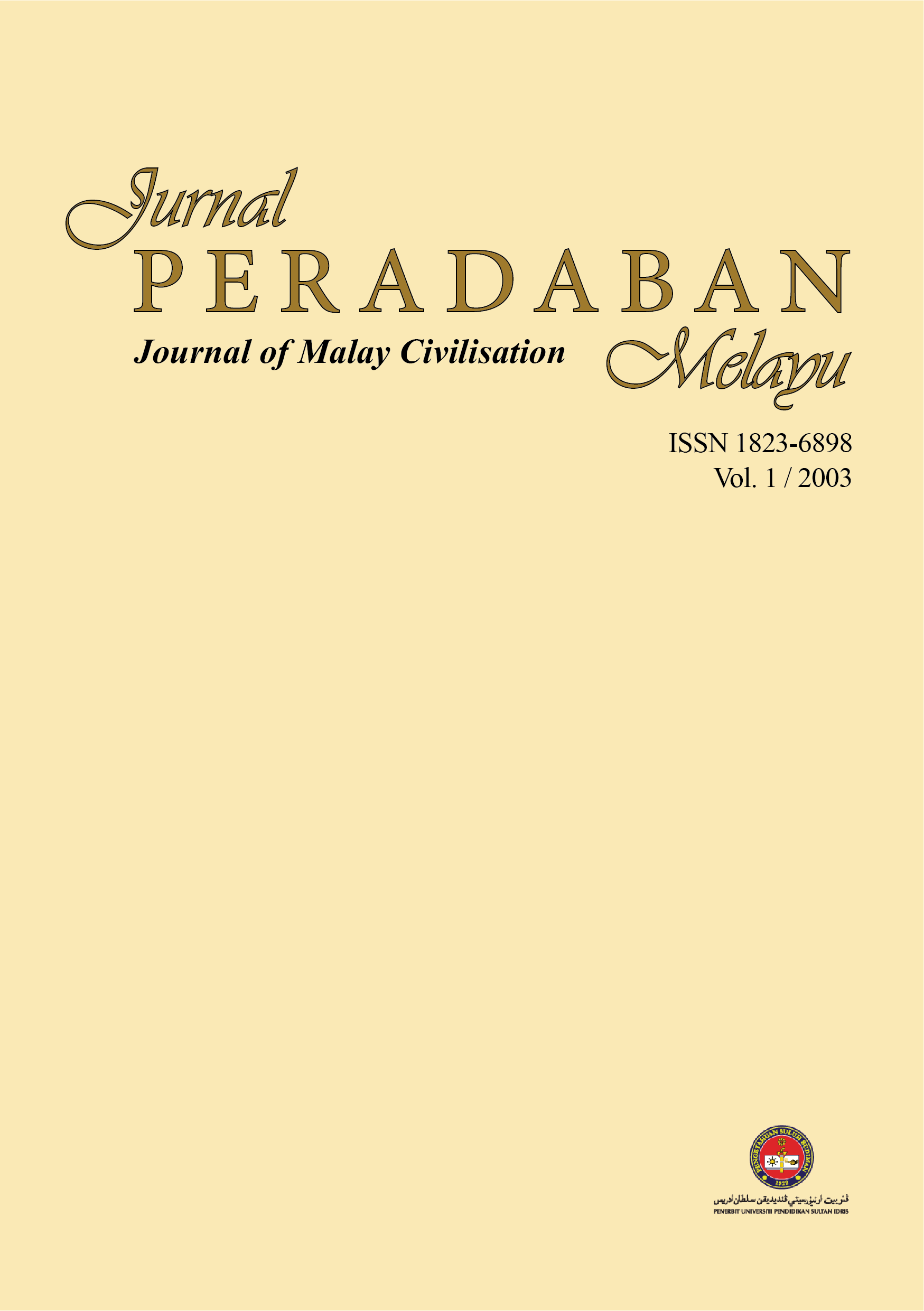 Downloads
How to Cite
Omar, A. (2003). Language and Culture in the Civilising Process. Jurnal Peradaban Melayu, 1, 83–106. Retrieved from https://ejournal.upsi.edu.my/index.php/JPM/article/view/3278