A Cerebral Palsy Student's University Reading Lived Experience
Keywords:
transcendental phenomenology, cerebral palsy (CP), reading comprehension
Abstract
This article presents a transcendental phenomenological study of the indigenous meanings of the reading challenges of a student with cerebral palsy. An understanding of the phenomenon could contribute to the conversation on academic literacy support for struggling readers, including those with medical and/or physical issues.


Downloads
Download data is not yet available.
References
Ary, D., Jacobs, L., Razavieh, A., & Sorenson, C. (2006). Introduction to research in education (7th ed.). Belmont, CA: Wadsworth.

Bakhtin, M. M. (1981). The dialogic imagination: Four essays. Edited by Michael Holquist and translated by Caryl Emerson and Michael Holquist. Austin: University of Texas Press.

Blauw-Hospers C. H, Hadders-Algra, M. (2005). A systematic review of the effects of early intervention on motor development. Developmental Medicine and Child Neurology, 47, 421–32

Blondis T. A. (2004). Neurodevelopmental motor disorders: Cerebral palsy and neuromuscular diseases. In: D. Dewey, D. E. Tupper (Eds.). Developmental motor disorders: A neuropsychological perspective (pp. 113–36. Guilford; New York.

Crowell, S. (2015). "Existentialism", The Stanford Encyclopedia of Philosophy. E. N. Zalta (ed.), Retrieved from https://plato.stanford.edu/archives/spr2015/entries/existentialism/

Isarji Sarudin, Ainol Madziah Zubairi, Mohamed Sahari Nordi & Mohd Azmi Omar. (2008). The English language proficiency of Malaysian public university students. In Zuraidah Mohd Don, Md Yusof Abu Bakar, Nor Aieni Haji Mokhtar, Rohana Jani, Ainol Madziah Zubairi, Norasma Othman & Aries Gan (Eds.), Enhancing the quality of higher education through research: Shaping future policy (pp. 40-65). The Ministry of Higher Education,
Malaysia.

Kedia S, et al. (2014). Neurologic and muscular disorders. In W. W Hay, Jr. et al., (Eds.). Current diagnosis and treatment: Pediatrics (22nd ed), (pp. 776-861). New York: McGraw-Hill.

Kintsch, W. (2004). The construction-integration model of text comprehension and its implications for instruction. In R. Ruddell & N. Unrau (Eds.). Theoretical models and processes of reading (pp. 1270-1328). Newark, DE: IRA.

Maxwell, J. A. (2005). Qualitative research design: An interactive approach (2nd ed.). Thousand Oaks, CA: Sage.

Mendler, A. N. (2000). Motivating students who don't care: Successful techniques for teachers. Bloomington, IN: National Education Service.

Mokhtari, K. & Reichard, C. (2002). Assessing students' metacognitive awareness of reading strategies. Journal of Educational Psychology, 94 (2), 249-259.

Moustakas, C. (1994). Phenomenological research methods. Thousand Oaks, CA: Sage.

Reznitskaya, A., Anderson, R. C., & Kuo, L. J. (2007). Teaching and learning argumentation.mElementary School Journal, 107, 449-472.

Streubert, H. J., & Carpenter, D. R. (1999). Qualitative research in nursing: advancing themhumanistic imperative. (2nd ed.), Philadelphia: Lippincott.

van Manen, M. (1990). Researching lived experience: Human science for an action sensitivenpedagogy. Albany: State University of New York Press.

Vygotsky, L. S. (1978). Mind in society: The development of higher psychological processes.nCambridge, MA: Harvard University Press.

Walqui and van Lier (2010). Scaffolding the academic success of adolescent English languagenlearners: A pedagogy of promise. San Francisco, California: WestEd.

Wigfield, A., & Guthrie, J. (1995). Dimensions of children's motivations for reading: An initial study. Reading Research Report No. 34.

Yin, R. (2011). Qualitative research from start to finish. New York: Guilford Press.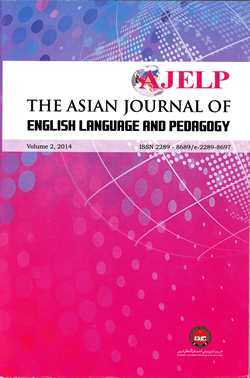 Downloads
How to Cite
Poh Heng, P. W. (2017). A Cerebral Palsy Student's University Reading Lived Experience. AJELP: Asian Journal of English Language and Pedagogy, 5, 80–89. https://doi.org/10.37134/ajelp.vol5.7.2017